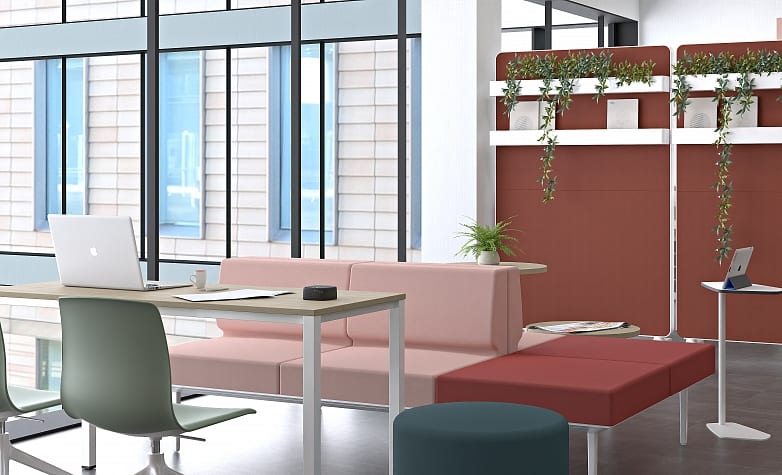 Actiu launches Gaia, the first smart platform for healthy and efficient high-performance spaces
Gaia by Actiu is a pioneering and disruptive IoT platform that incorporates sensors into the work environment to gather data on how it is used and the conditions of the environment, positively impacting user well-being, as well as the organization's results.
As well as optimising the use of space and promoting energy efficiency by integrating them into environmental control systems, which, in turn, leads to a reduction in costs. Gaia enables looking after the users working in these spaces, ensuring their comfort at all times and thereby safeguarding their health. This aspect also strengthens engagement and facilitates talent attraction.
Gaia therefore makes it possible to make spaces more profitable, boost energy savings and safeguard worker well-being, connecting them with a safe and high-performing work environment, having been awarded the Best Innovative Solution at the City Awards as part of the international architecture and city 2020 Madrid Open House festival.
To create Gaia, Actiu turned to a range of technology experts in AI, IoT, analytics, Big Data and user experience as well as in corporate well-being and health. Actiu is currently rolling out this technology in its own facilities and to develop the first projects Actiu is collaborating with several Spanish companies, leaders in their respective industries. Gaia will be available internationally from June.
A smart analytical environment
By simply installing sensors in any piece of furniture, Gaia facilitates collecting data and transmitting it to the cloud to be processed by a series of algorithms that provide extensive knowledge on how the spaces are used, with a view to correctly managing the work environment, both in the offices themselves and in third-party spaces where remote work is carried out, as well as other industries such as the education industry, among others. Furthermore, Gaia uses its own communication infrastructure, guaranteeing anonymity as well as ensuring maximum security in data processing.
The platform improves people's safety by providing information to guarantee social distancing measures and ensuring density in open areas, as well as meeting rooms, while monitoring parameters such as space occupancy, temperature, humidity, light, sound, carbon dioxide (CO2) levels and airborne particles.
Just as the Gaia hypothesis itself suggests that the presence of life on Earth fosters conditions suitable to maintain the biosphere, Gaia by Actiu behaves as a self-regulating system that seeks balance by connecting people with the environment.
Intuitive dashboard, user app and innovative devices
As well as the administration platform itself and the dashboard with business analytic functions, Gaia also has a mobile app which enables users to search, reserve, evaluate available spaces and services, report incidents, as well as to receive a feed of content and manage alerts. This operability is also reflected in the design of the sensorised devices themselves, where both aesthetics and functionality are at the heart of it.
Pioneering experience-based solution
Gaia by Actiu brings together Actiu's more than 50 years' experience designing solutions to improve people's well-being in their interaction with workspaces. It is also the result of the knowledge acquired by the company in its processes of being awarded the LEED and WELL Platinum certifications, which have enabled its headquarters in the Actiu Technology Park to become the world's first industrial building to obtain both of them, certifying it as a healthy and sustainable space that safeguards the well-being of employees and takes care of the surrounding environment.
Find out more about Actiu, here.
All images courtesy of Actiu