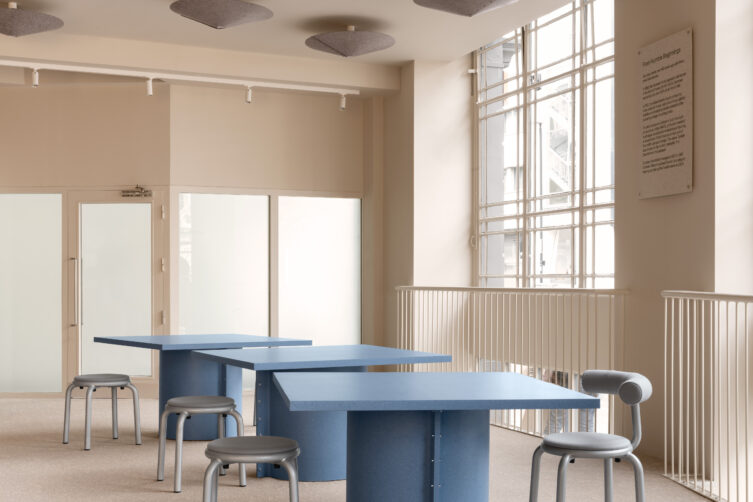 The newly revamped Clerkenwell space features a strong colour palette of red, beige and blue 
London's Clerkenwell district brims with showrooms, so Stockholm-based Note Design Studio was keen to make Tarkett's stand out as a brazen destination, a place "worth making a journey for," as Charlotte Ackemar, product designer at the firm, puts it. Inside the Tarkett Atelier, naturally Tarkett's sustainable flooring solutions, including clamoured-for collections like Desso Retrace and Parade Excellent, are the stars.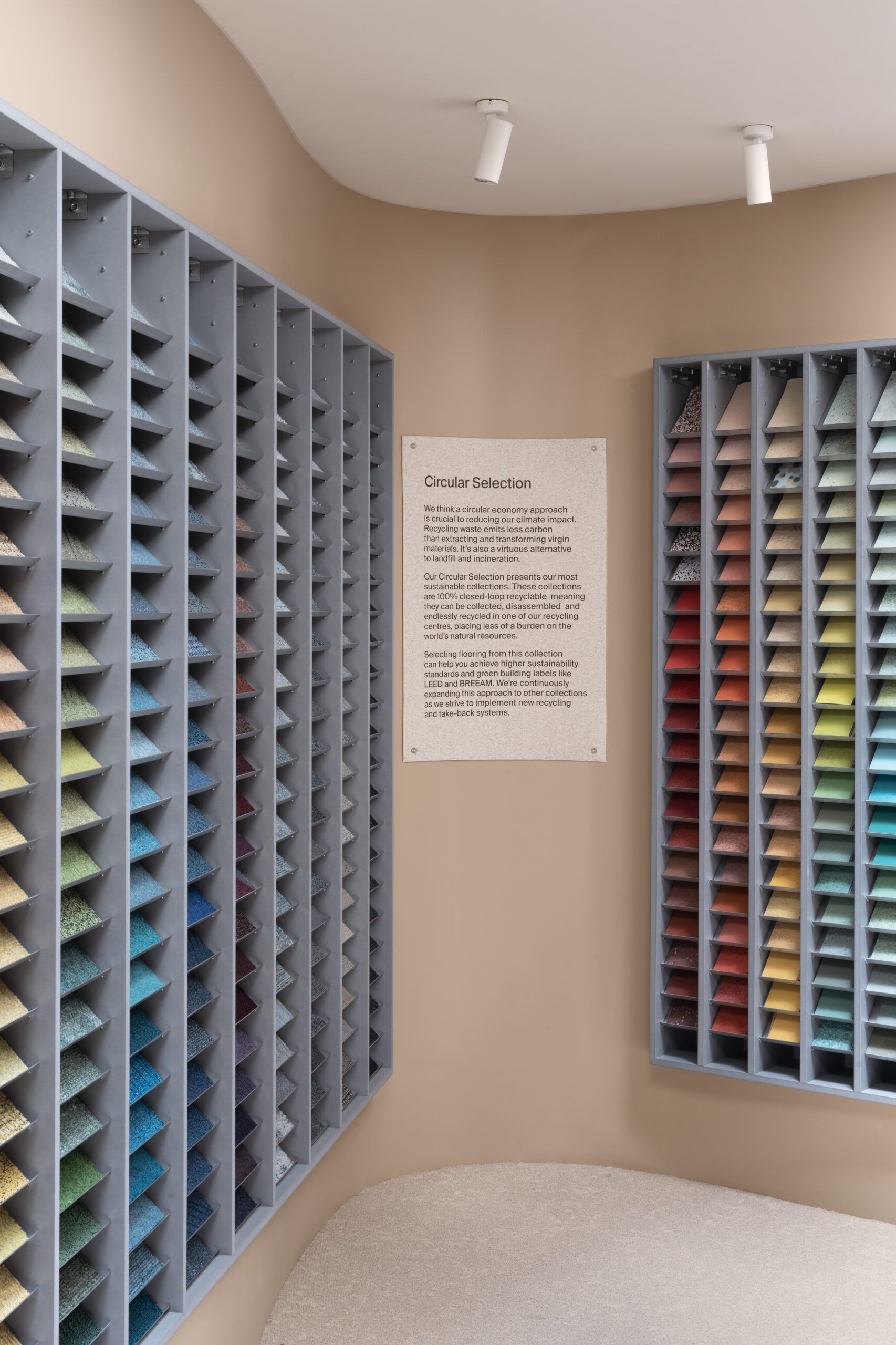 But Note Design Studio, well-acquainted with the brand's ethos following multiple collaborations with Tarkett Sweden, also looked beyond mere practical needs "to create a striking spatial experience that would inspire," adds Ackemar, an experience guided by Soft Industrial, a concept the studio dreamed up that combines "the soft aesthetics associated with textiles with rational components as a little wink to British industrialism."
Joining forces with English contractor Area Square, Ackemar and her team designed the showroom and workspace across two storeys that take cues from St Pancras International railway station, just over two kilometres away, "with its beautiful palette of strong brick red, calm beige, and vibrant blue," she points out. These hues merge with a soothing design language of curved forms, like the counter fashioned out of orange Linoleum bolstered by wood and built-in storage, "an eye-catching piece there to welcome you," says Ackemar. "The kitchen is clad with iQ Granit, yet subtly blends into the back wall, letting the counter get all the attention."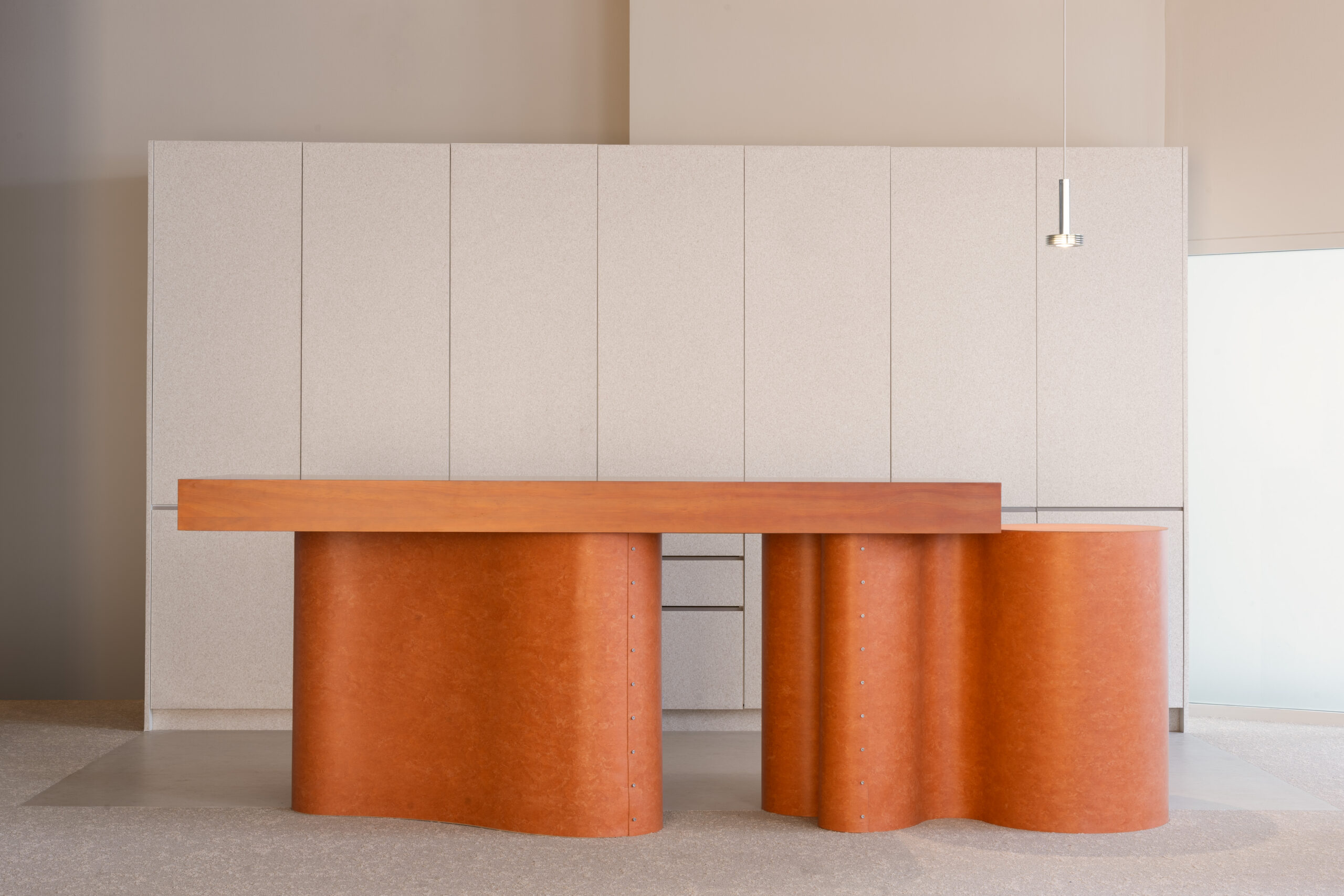 On the main floor, visitors peruse products and art installations in the gallery before entering the extensive, interactive material library, an enclosed area forged by a sweeping, sinuous wall where they "pull out samples and test and play on the big table," elaborates Ackemar. "The focus is on the lab and what's showcased in the light grey Valchromat display boxes."
Staff largely convene on the lower level, complete with a conference room, workstations, and phone booths. Note Design Studio struggled with the lack of natural light here and made the costly but wise decision to remove an existing structure blocking the windows. Considering the vastness of this underground space, Ackemar and her colleagues were eager for the first floor, located a couple steps up from the sidewalk, to reel in passersby. So, they upgraded an existing wall with bold graphic signage and dressed the ceiling with a constellation of simple yet elegant lampshades.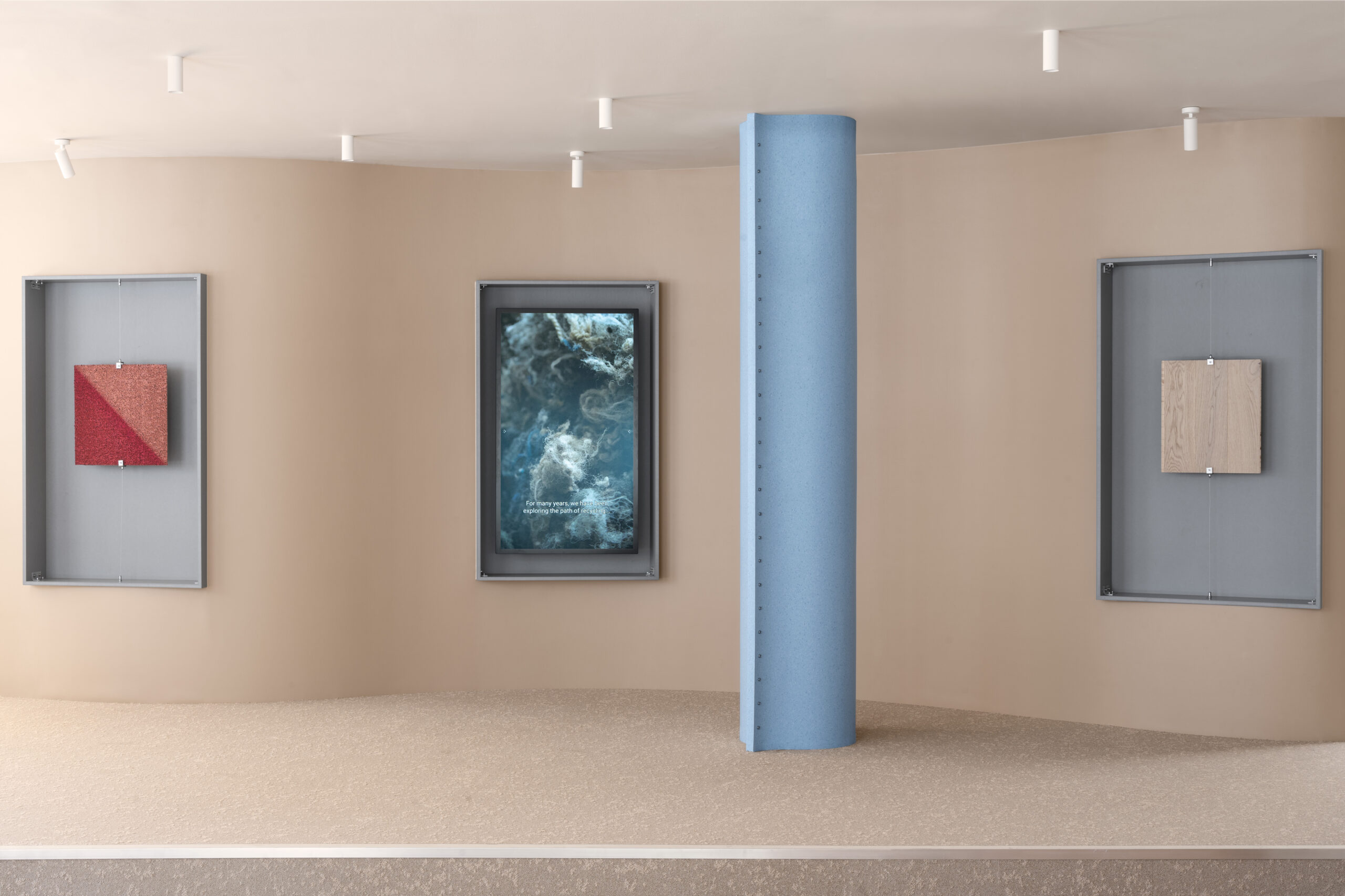 Like the counter base, those shades, along with tabletops, pillars, and handles, are bespoke, crafted from the 100 percent recycled offerings in Tarkett's Circular Selections portfolio. After experimenting with the materials, bending, stretching, and laminating them, Note Design Studio deftly revealed their breadth, "to show the textures, the colours, and how they reflect light," explains Ackemar. "They can do more than just be a floor."
Photography courtesy of Tarkett