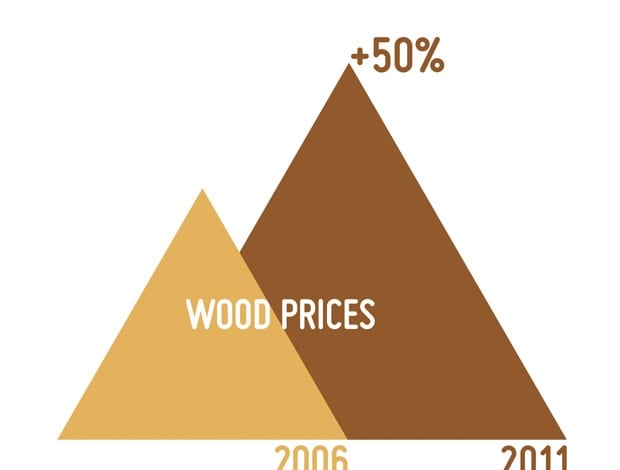 "Wood has gone up 50% over the last five years"|"Either we don't have a wood panel or sawmilling industry in the UK and we import all our wood products, or we survive and people pay a huge amount for their products"||
UK timber manufacturing says that it can't compete with government subsidies offered to the biomass industry to buy wood – and small businesses are feeling the burn. Will a new campaign level the playing field?
If you were passing through Victoria train station in early November you may have come across a giant Jenga tower in the middle of the concourse. The structure could easily be dismissed as one of those hip interactive advertising campaigns but for the slogan "Stop Burning Our Trees" charcoaled into each oversized block. Up the road in Westminster, people in light-green sweaters handed out saplings and leaflets carrying the same message.
The campaign is the latest move by the Wood Panel Industries Federation (WPIF) to highlight a growing problem facing the industry: the rapid rise in the cost of wood. WPIF represents a broad cross-section of the industry, from sawmillers to office furniture manufacturers. The problem lies in the government's commitment to renewable energy, and specifically biomass energy plants. "In the last five years there has been increasing interest in biomass," says WPIF director general Alastair Kerr. "And the preferred biomass fuel is wood." Burning wood to create electricity has led to spiralling prices, which is putting the squeeze on UK companies.
"So what?" one might reasonably ask. After all, there is nothing to stop different industries competing for the same raw materials. However, the government's Renewables Obligation – the current financial mechanism for supporting renewable electricity – means subsidies are available to the biomass industry, giving it an advantage. "In a free market we couldn't complain about it, but the market is rigged by the subsidy," says Kerr. "Wood has gone up 50% over the last five years as a direct consequence."
This is having a knock-on effect to companies that use wood to make their products. Kronospan makes wood panel products and laminate flooring, employing 600 people in Chirk, north Wales. Company director Gavin Adkins says there has been a tightening in the market. "The traditional manufacturers are scrabbling to make sure they have availability and that is driving the price up. Inevitably, the whole industry has pushed through a number of price increases over the last 12-18 months, not to even keep pace with the cost increase, but to try and haul something back."
Biomass is still a fledgling industry, but large plants are planned in Forth, Port Talbot and Tilbury, with two more in Selby and Immingham approved by energy minister Charles Hendry in August. However, plant owner Drax says the subsidy for biomass needs to be increased for the plans to go ahead.
The problem is the sheer amount of raw material biomass plants need to produce electricity. As things stand, the government estimates the biomass industry will consume 80m tonnes of timber a year by 2030. Currently, the UK produces 10m tonnes a year, with the wood panel industry consuming 4.5m tonnes of it; the biomass industry therefore needs to import wood, which the government says should alleviate pressure on the wood panel industry. In a statement to onoffice, the Department of Energy and Climate Change (DECC) said it expected larger conversion plants (coal-fired plants converted to biomass) to import 90-100% of wood from abroad. DECC also said that it would "retain support for energy crops, which should mean farmers taking the opportunity to grow miscanthus and willow, providing an indigenous supply". Which begs the question, how fast will a tree need to grow to make this a workable solution?
DECC's bioenergy strategy will be published at the end of the year, setting out how biomass will supply energy until 2020, but words like "should" and "expected" will be of little comfort to companies that are being affected now. Adkins explains: "Biomass has to import a lot and the government uses that as a reason why we shouldn't be worried. If they import 90% of the material it doesn't stop them buying the other 10% from the UK." If the scenario continues, Adkins says, the consequences could lead to the end of one of the UK's few remaining manufacturing industries. "Either we don't have a wood panel or sawmilling industry in the UK and we import all our wood products, or we survive and people pay a huge amount for their products."
Kerr believes the transportation costs should be reflected in the subsidy: "Why should they [biomass] have the same subsidy whether it is 25 miles or 25,000 miles away? Make it more favourable to import. That does not stop them buying locally, but at least it levels the playing field."
In industry terms, Kronospan are big hitters. But smaller sized furniture companies like Eborcraft are also under pressure. The 120-year-old company employs 34 people at its HQ just
outside York. It has recently seen its woodchip supplier in Ireland close down and is now sourcing its woodchip from Spain. Needless to say the import costs are not subsidised. Director Chris Williams says that so far Eborcraft has been able to absorb the costs without passing them on to his customers. That's set to change in January. "We are not a big manufacturer. We don't have the leverage to challenge price rises because we are using such a small volume of timber." As Williams points out it is hard to argue against renewable energy sources like biomass.
To the man in the street, subsidies for green energy production sound like a progressive environmentally friendly measure. But people need look more closely. "All we are saying is 'should our raw material go up in a puff of smoke?'," says Kerr. "At the end of its life you can still burn it – that's the beauty of wood. To burn virgin timber for electricity is scandalous. It is a tremendous waste."