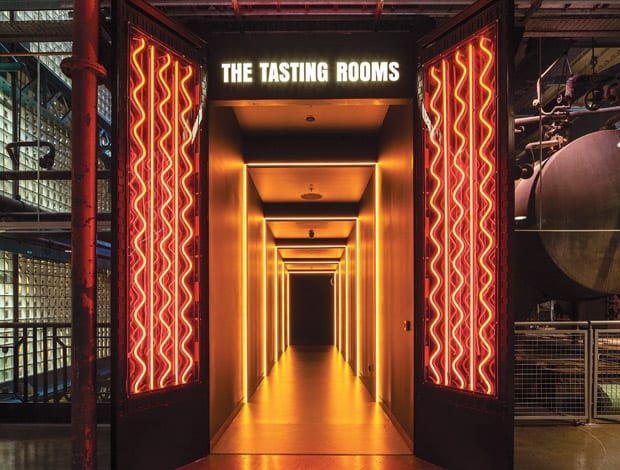 The visitors' journey begins down a disorientating corridor|Funnels pump out vapours in a room washed with white light|Visitors finally get to taste their stout in this theatrical setting||
Michael Grubb Studio uses vivid lighting to play with the senses at the Guinness Tasting Rooms at Dublin's Guinness Storehouse
The Tasting Rooms are designed by food artists Bompas & Parr to heighten the taste of Guinness, and lighting specialists Michael Grubb Studio's design plays a key role in its dramatic visual trickery.
The entrance gleams like a 1970s nightclub, with swung-open doors (meant to emulate the Guinness factory gates) glowing with neon squiggles. A dark tunnel, lit intermittently by frames of LEDs, disorientates visitors and builds momentum.
"The idea was to take visitors out of the atrium, which is bright with lots of daylight, and try to kill some senses, preparing for that moment of tasting," says studio founder Michael Grubb. "As lighting designers we usually try to graduate light levels so the eye can adapt, but here, we've deliberately upheaved that logic and done it back to front."
The second half of the tunnel is darker, only lit by borders of orange and gold LEDs at the top and bottom, and has a "Willy Wonka effect", says Grubb, as it gradually gets smaller towards the end, finishing around 2m high. At the end an opaque glass door glows from the light beyond. "It's like you're having a religious experience, walking towards the light," Grubb jokes.
" When staff walk in and out, they actually disappear into the light. It really confuses people "
With visitors' eyes now adapted to the darkness, the next room is a shock to the senses; a bright white clinical space furnished only by four towers, continuously spilling out vapours of beer, malt, roasted barley or hops, and a bar in the middle serving the black stuff. In this room, Michael Grubb Studio has used recessed fittings to wash the walls with soft, cool light, which bounces around the space creating an eerie ambience. The vapour funnels are lit by fibre optics, and behind the bar is a three-dimensional lightbox, which wraps around the staff doorway.
"When staff walk in and out, they actually disappear into the light," describes Grubb. "I think this is the biggest success of the project, because it really confuses people," he laughs.
Once visitors have taken in the sights and smells, they are poured a Guinness (but can't drink it yet) and guided to the next room, which has yet another entirely different atmosphere. This rich and cosy space is decked out in black and gold panelling and velvet curtains, with warm light created by recessed LEDS, picture lamps and a sparkling chandelier. A series of black pedestals with gold tops stand in the centre for visitors to place their drinks. When they do, the room lighting dims down, and lights within the pedestals get brighter, spotlighting the drink.
"The whole experience is drawn out to this moment," says Grubb. "This room is softer, it readdresses the balance and makes everyone more comfortable. That's the moment when everyone finally gets to drink their Guinness."