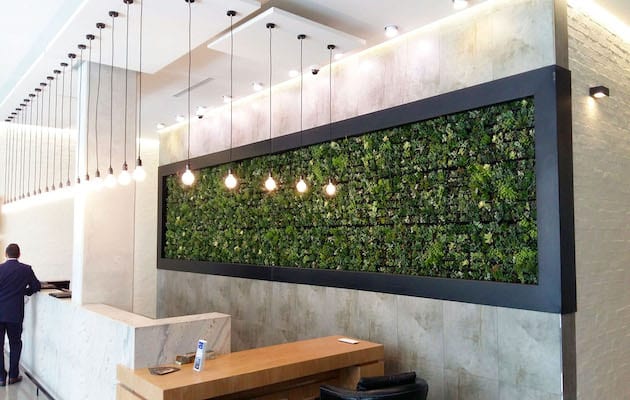 |||
Biophilic design plays on the inherent human need to be connected to nature, with plants and natural resources proven to have a positive impact on occupant's general health and wellbeing.
With accessible green space often limited within office environments, green features such as living walls are helping to bring the outside in and are quickly becoming common features in corporate spaces.
Offering far more than a few strategically placed potted plants, biophilic design features have been proven to improve productivity, creativity, mood and even cognitive functions; creating a healthier, happier and greener workplace.
Melissa Galeria – living walls provide a green display in this white space, with eight species of interior plants including Ficus pumila 'Green Sunny', Philodendron scandens (heart-leaf) and Adiantum raddianum 'Fragrans' fern
Wellbeing at work
Biophilic design provides benefits far beyond the aesthetic, having the ability to improve health and mental wellbeing within the workplace. Living walls offer a simple way of implementing green design with a difference, with research revealing that just thirty minutes of exposure to nature each week can reduce risks of high blood pressure, stress and even depression.
Synlait Milk – ANS Global incorporated native plant species to create this living wall, which stretches two stories providing a seamless connection between the reception and the upstairs offices
Plant power
Beneficial to employee performance, living walls can reduce noise levels by up to 15db and improve concentration by an impressive 6% (according to the London Living Roofs and Walls Report 2019), creating a more tranquil working area.
Improving the workspace atmosphere for the better, plants can also purify toxic air and reduce harmful particulate matter, helping to combat the issue of indoor urban air pollution.
Plants also work to moderate temperatures by acting as natural insulation barriers, ensuring the air is not only clean but comfortable; providing occupants with the added benefits of reduced carbon emissions, along with lower heating and air conditioning costs.
Century City Hotel – ANS Global designed a plant palette of textured succulents, complimenting the smooth surfaces and prominent lighting to create a sense of calm and serenity
Design identity
In order to create a living wall that thrives long term, it's advised to work with a living installation specialist. Helping to transform wasted vertical space into a thriving green oasis, experts will be able to advise on the right plant palette needed to suit the internal environment and conditions, ensuring it flourishes in the long term.
Providing a solution to today's environmental and urban space challenge, living walls have the potential to not only significantly improve occupant's quality of life, but are also helping to reintroduce the natural world back into daily working life.
Steve McIntyre, Urban Environment Consultant for ANS Global, reveals how living walls are breathing new life into office design