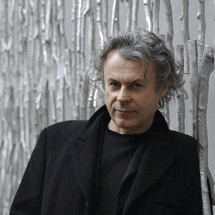 We got up close and personal with Parisian designer Edouard François for the launch of his pioneering – and rather cosy – Love Table workstation
I first spy Edouard François in a hotel lobby. He's wearing complicated knitwear – is it a scarf, is it a jumper, is it a woollen blouson? – teamed with expensive looking jeans and white shoes, flanked by two matronly French design critics in matching severe spectacles. He's not a man that likes to be kept waiting – he and his Parisienne posse soon leave the lobby and disappear off into the group minibus quick as a flash, leaving me wondering how I'll ever get to the launch party being thrown in his honour and whether I've missed my chance to even introduce myself. Fortunately, a couple of hours later, I see him again and, maybe it's that we started off on a slightly bad footing, but I can't help thinking how much he looked like a slimmed down, Hoxton version of Danny La Rue. I keep that to myself as I say my well-rehearsed opening gambit, in French, and he proffers a cashmere-clad arm as we talk about his latest project.
We were out in an industrial estate in Mechelen, located halfway between Antwerp and Brussels. The place is home to furniture manufacturer Bulo, which had invited François to collaborate in the latest design for the firm's Carte Blanche concept – previous collaborators have included Belgian fashion designer Ann Demeulemeester, who came up with a table with a repaintable surface, and Dirk Bikkembergs, who designed a gym-mat style table top inspired by his love of working on the floor.
We stroll through Bulo's football stadium-sized showroom to see François' Love Table. He insists we sit in one of the recesses of the desk to get a feel for how it is to be used. I later learn that this confined space is also all the better for him to wheel his task chair closer with, so that we're mere millimetres apart – something he does on a couple of unnerving occasions to emphasise a point.
"It's a project I developed for a client who works in advertising," he starts off. "I've worked with them for a long time from when there were 25 people in the office. Then they got a lot bigger and they asked me to redesign their office. Then there was an important debate with the managers about working together and maintaining individuality – every guy in
the office had become a star who wanted
to shape the business with their assertiveness and need for privacy."
The Love Table aims to satisfy this middle ground between an individual workstation, which can be isolating, versus the noisiness and impersonal nature of open-plan working. François continues: "Then, the advertising agency was 250 people and they moved to
a very commercial, corporate building and they said, 'Edouard, can you do something?' So the most simple thing I could do was edit this table."
He first met Bulo two years ago and from
there the Love Table concept developed. Bulo says the name comes from the recess being shaped by two wedding rings, but François insists it is actually part of a heart shape. It is manufactured in basic multiply pine, which makes it something of a Marmite product in terms of aesthetics, and its generous modular proportions are enough to give your average facility manager nightmares in terms of cost-effective space planning. But this isn't designed for your average office, your average facility manager, or, I would hazard a guess, your average budget. As a case in point, any interested parties have to present themselves to François directly, who then vets where it is specified. "It is another idea of designing. It is a still life. I don't want it to be in the middle of nowhere, so I have the control over where it can be. It is not for the whole of a building, but for some part of it."
The lamps made for this system are, he goes on, not just for lighting but to protect privacy as well. Real cacti are incorporated into the Love Table, but are again not just something to look at. "The cactus as a concept is a vegetable barbed wire, with a view to creating a sense of private property. It pricks and is conducive to engendering a sense of distance by creating a visual barrier," says François, manoeuvring himself and the plant to imitate this game of corporate peek-a-boo.
Nature has informed much of François' work. After studying at the Academie des Beaux
Arts in Paris and London's Architectural Association, he has focused on green architecture and sustainable development. In 2000, he created a "building that grows" in Montpellier, consisting of a vertical garden constructed using a layer of steel wire cages followed by a "flower tower" in Paris using 380 giant suspended flower pots, inspired by people's desire for nature in the city. A humble car park in Paris was given a green makeover using large greenhouses and tropical lianas. Rosaverde, his lighting design for Luceplan, was also inspired by flora and comes in wall light, suspension light and table light versions, each rotated to throw off delicate green, pink and white light.
As we end the interview, he adds finally that the Love Table, which comes in different lengths, "is like a game of golf. It could be 18 holes or nine holes." Do you play? "No," he answers. Maybe you should, I say, as he disappears back into the party throng. On reflection, I'm not sure he'd want to abide
by the rules of the game.