Changing trends in the workplace post-pandemic led to a radical reimagining of this new workplace, with an emphasis on combining the comforts of home with a spirit of collaboration
The global COVID pandemic radically redefined the way we work – and for American software company Zendesk, it meant a drastic rethink of the design for a new 26,000 sq. ft. office in Montreal that was already underway. The new office was to accommodate Zendesk's new Canadian team after the acquisition of Montreal start-up Smooch.
"Offices around the world were shutting down," recalls David Dworkind of architecture firm MRDK, who took on the project alongside Studio MHA. "We decided to cancel the build-out and reconsider our approach to work and the role of the office in the years to come."
The two teams undertook a company-wide survey to establish exactly how staff wanted to work. Unsurprisingly, they discovered that focused work was more suited to home environments, but that work-from-home and online alternatives were no substitute for face-to-face collaboration and problem solving.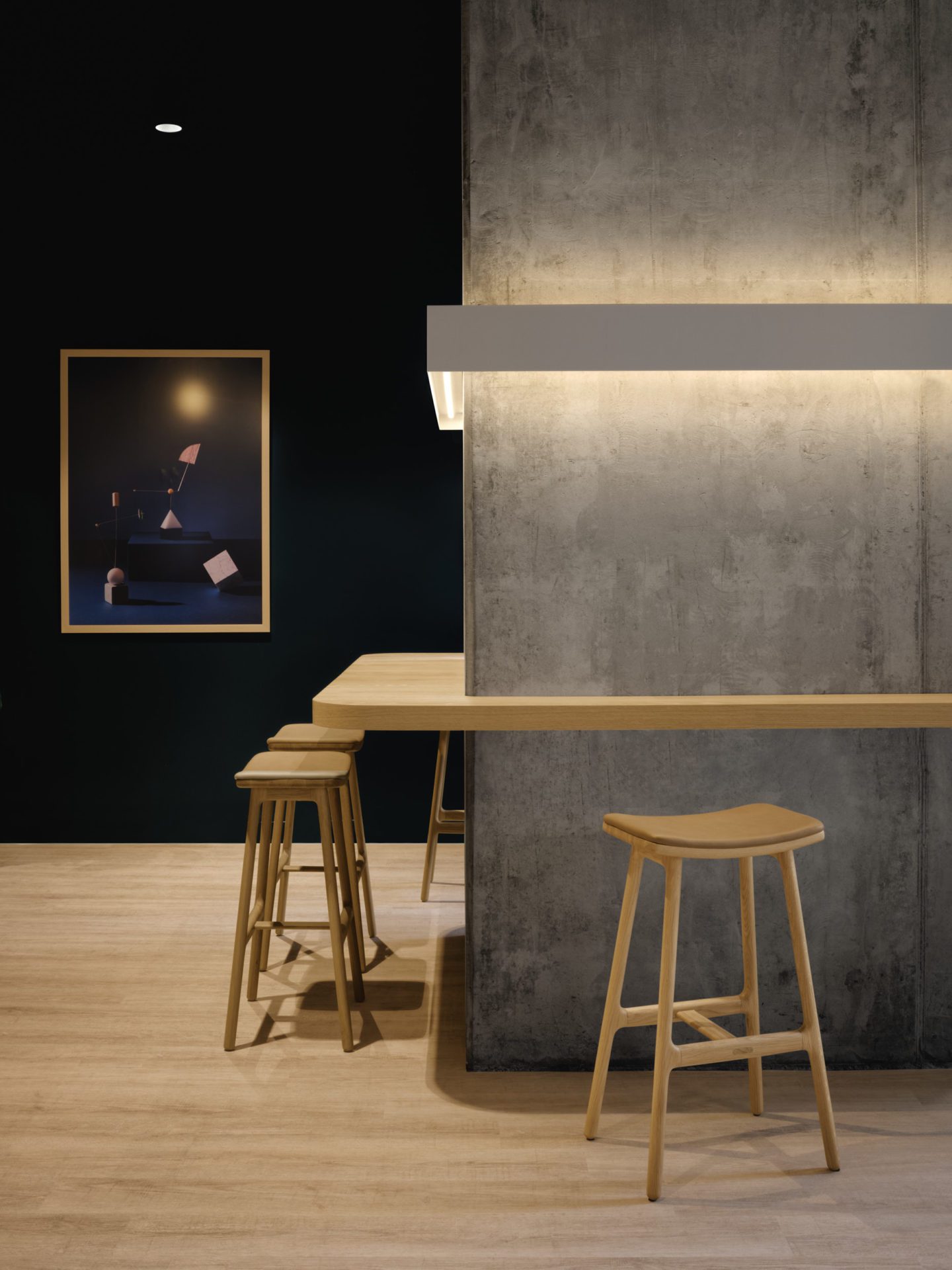 The solution? Halving the size of the planned office to 13,900 square feet and shifting the focus to collaborative and event spaces, from a communal kitchen and café, to a creative corner, garden, and ping pong room. "These spaces were designed to provide flexibility for the future, and to also be ideal to work with colleagues remotely," explains Michael Hall, founder of Studio MHA.
This flexible space has been designed to echo the comforts of home – think plenty of plants, artwork and murals by local artists, residential-scale breakout spaces, and a ping pong table – while providing the social and collaborative benefits of a centralised workplace. Traditional desks and assigned workstations have been replaced with bookable work areas, many of which are nestled amongst greenery to create privacy.
Throughout the workplace, a Scandinavian approach to materiality prevails, with a muted palette of finely crafted white oak joinery, stainless steel, grey felt, concrete, natural leather, and fluted glass. This is not only a nod to the 'zen' in the company name but also Zendesk's Danish origins. Creating a sense of context, however, was also important—and fluted concrete panels celebrate Montreal's brutalist architecture heritage.
The resulting fit-out responds not only to current trends but is designed with inbuilt flexibility to adapt to whatever the future may present – and to do so in a way that prioritises a healthy and happy workplace.
Images by Alex Lesage & David Dworkind
Enjoyed this article?  Read more: The Biosquare is a dynamic hub that draws on the creative energy of downtown Montreal