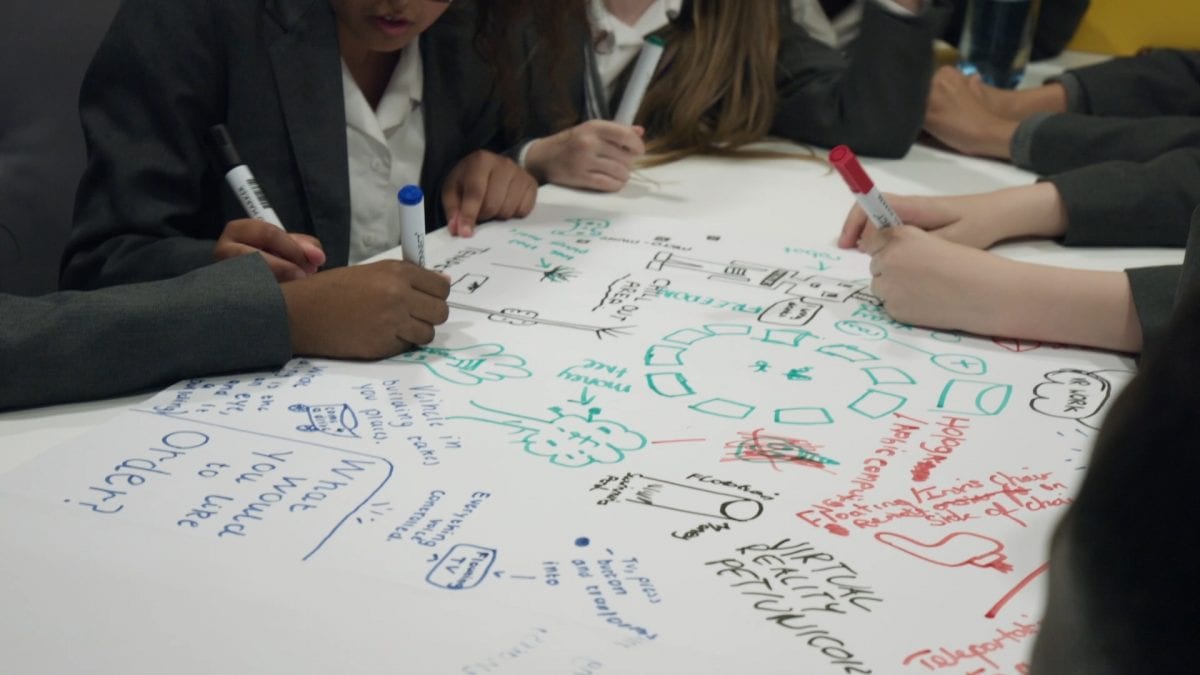 |||
What is the future of work? This million-dollar question, which has kept the industry guessing for years, was recently asked to an unsuspected audience – a group of 50 children. Run by workspace fitout specialist Area, the three-day workshop revealed some surprising, insightful facts about what's next in office design.
From weeping willows and waterfalls to LED carpets and wallpaper, the children's responses were sorted and filed under categories most of us will be familiar with:, wellbeing, technology and innovation, transport and travel, plus design and culture. Eddie, 12-year old, imagines a "mini Alexa that you can clip onto your clothes and would have iPads built into the tables", while 9-year old Bibi has a healthy vision of the reception area of the future: "In the entrance, we would have a swing and a weeping willow tree, which would have water coming out into the pool."
Interestingly enough, as Area's Design Director, Dan Callegari, points out, there isn't a single mention of the desk. "It's all about the space," says Callegari, who was involved in the workshop, and whose daughter took part of. All well and good, but would a 5-year old think about a desk? Callegari explains: "It depends on the schools. Some are still quite traditional with desks and tables and chairs, others are the complete opposite, with a campus-style environment where it's very modular. There are different things to take from both ends of the spectrum, and that's for us to translate, but I don't think we can ignore what's being said."
The sceptics amongst us might take an experiment of the sort with a pinch of salt – what do children know about real life after all? – but Callegari argues there's something to be said about the candour so often associated with young children. "You could look back through examples in the past – the well-known by now slide in offices. You may argue it wasn't practical, but it happened, that's where innovation comes from. You have to go outside of your comfort zone to be able to pair it back to something that's still revolutionary but delivers the future," he says.
Upon closer inspection, there certainly is a lot of food for thought. The personalisable carpet and wallpaper idea, futuristic as it may seem, reveals a trend very much entrenched in the present – the concept of choice. Employees want the ability to personalise their workspace, be it through art in the workplace or even particular finishes. "It's about physical choice but also beyond. Materials, finishes will begin to read your mood and emotions. Life setting, technology – we're already there, it's about adapting these conduits," says Callegari, who's adamant a space has to be "intuitive".
According to the World Economic Forum's Future of Jobs, 65% of children entering primary school today will work in entirely new jobs that don't currently exist. So, how do we design for something that doesn't exist yet? "The reality is we can't see into the future," says Callegari. "I don't think you can design something that works for you today and will still work in 3-5 years' time. Demographics change – talk about the gig economy – you have to expect the need to change and therefore accommodate that." Callegari is acutely aware of complications such as durability, efficiency and costs associated with such changes, but in his opinion, it can all be addressed by catering to flexible working. "The concept of choice – you can't get away from it."
Choice aside, perhaps the biggest takeaway is that the majority of the children's ideas revealed the value of human-centric design. And as Callegari explains: "It starts with the individual and radiates out. We still have an element of control but there's automation coming through."
Subscribe to the OnOffice newsletter and get articles like this straight into your inbox
What does the future of work look like? The future generation might be best placed to tell.