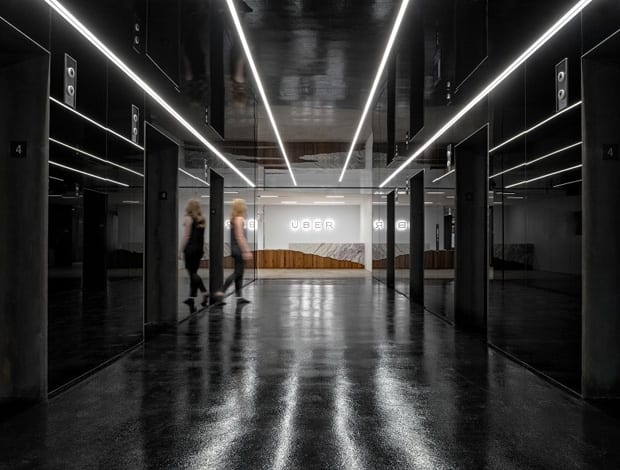 Uber's elevator lobby with tinted-mirror walls|Workstations are positioned by the windows for maximum light exposure|The corridor contains standing-tables|The reception desk made from marble and dark wood|The "war room"||
Minicab companies aren't generally known for having plush offices. Cramped corridors with Formica tables, a couple of chairs – maybe a pull-out poster adorning the walls – are probably the standard. Uber, of course, is raising the standard.
The cab-booking app launched three years ago and is already valued at $10bn (£6.3bn). The rapid expansion of its main office space provides a solid indicator for its continual growth. In May this year, Uber moved from its 2400sq m HQ to an 8200sq m premises in San Francisco's Mid-Market area. Formerly occupied by the Bank of America as a data centre, the space can be extended by a further 12,000sq m as the company expands.
Studio O+A, whose clients include tech stars such as Facebook, eBay and Yelp, was tasked with transforming Uber's new office to reflect its business culture. This meant embodying the "grit" of its standard service UberX and the "luxury" of its high-end service Uber Black. The latter ferries customers around in black SUVs making them feel like "frickin' pimps", according to Uber CEO Travis Kalanick.
"He explained the vision for the brand they'd created, and it was up to us to turn it into an office," said O+A principal Denise Cherry. Sleek lines, walnut and marble are combined with polished concrete and smoke-effect plastic to achieve a look that's perhaps more refined bachelor than pimp pad.
That said, the lift lobby provides an immediate hit of bling. Muted overhead strip lights reflect off the shiny black floor and ceiling, and walls of dark tinted mirrors. The other areas of the office, however, are unified by a subtle grey-scale palette and the extensive use of dark, heavily grained wood.
The large floorplate of the main room features windows down just two sides, which Cherry says provided the greatest challenge. To optimise light, the desk area is positioned alongside the windows, while transparent meeting rooms are located in the centre. These feature smoky, semi-transparent plastic panels around their upper sections to provide a degree of privacy. Additional conference and training rooms run down the far side of the room behind alternating weathered maple and copper-panelled walls.
The main meeting space or "war room" is dominated by a 12-foot slab table custom made by MASH Studios from a single walnut tree. The outer edges of the trunk have been turned inwards to create a flowing crevasse down the centre.
The glass walls can be fogged up at the flip of a switch for times when the "shit's really hitting the fan," says the ever-quotable Kalanick. The room also contains windowless booths with sleeping cots that, according to the Uber CEO, mean "you could live here".
Consultations with staff revealed that they enjoyed working in coffee shops, so O+A created one for them to the highest spec. It features a maple-wood coffee bar, marble-topped counter and a contemporary chandelier by Manhattan-based Lindsey Adelmen. Hans Wegner Wishbone chairs surround communal tables with raw steel tops.
The scale of the office, which is inhabited by a 600-strong workforce, allowed O+A to create a range of breakout spaces. Each contains different soft furnishings, which include Eames lounge chairs, Chesterfield sofas and beanbag chairs. The assortment of side and coffee tables by MASH Studios have been designed to show off the idiosyncrasies of the blocks of wood they're made from. Day beds are recessed into the walls and lined with felt to dampen sound.
Other unique features include the large-scale artworks, which are based on maps of the 118 cities in which Uber operates. These range from video installations to wall-panel etchings and a screen of perforated leather.
Having only inhabited its new office for a matter of months, Uber is already preparing for its next move. It recently announced the acquisition of a 39,300sq m chunk of land in Mission Bay, which has been touted as "one of the largest office deals" signed in the city for years. The company is clearly pleased with O+A's work on the former, as it has assigned the interiors firm to design this über-sized HQ, which is set to open in 2017.