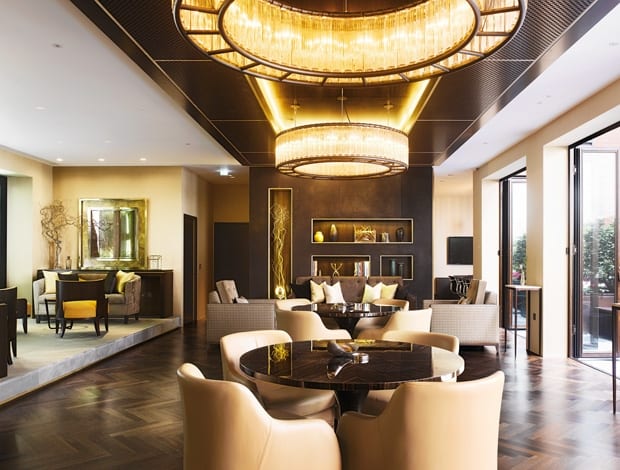 The book-free "library", where big business can be a little more informal|The chairman's office; a dining table replaces the traditional forboding desk|The main working areas will be customised over time by their incumbents|Existing pine panelling was stained to match the dark oak window shutters||
Mayfair has always held a certain allure. Compared to the City's flashy young upstarts or the East End creatives, the area cuts an air of a dignified old gentleman ensconced in private members' clubs and fine tailoring, at least in the popular imagination. For outsiders wanting a piece of wealthy Old London, it is the only place to be. But how do you enter into a world steeped in exclusivity? Well, providing you have the readies, you can always recreate it, which is what architecture firm Squire and Partners was called on to do for a client that must remain anonymous for the duration of this feature (they're a Middle Eastern property development firm).
The company hunted for a headquarters to house the multiple branches of its business, eventually settling for a neo-Gothic building on Stratton Street near Green Park tube. Despite a by-the-book modern extension, all was in good order on the outside. The interior, however, had suffered a similar fate as many other historic buildings of the area, namely blandification via a Cat A fitout. Strip lights and suspended ceilings ensured any character conveyed by the exterior had vanished by the time you had crossed the threshold. "It was painful," says Squire and Partners project leader (and partner in the firm) Tim Gledstone. Thankfully, his team's makeover could not be more different, drawing on peculiarly British idioms of drawing rooms, country gardens and gentlemen's clubs.
Squire and Partners worked with Urban Velvet, the client's architecture and design arm, which acted as design-adviser-cum go-between for the company chairman, an intensely private individual whose ideas were to dictate the fitout. "It was prescriptive in terms of taste. They wanted contemporary, very much anchored in classic high quality," says Gledstone of the brief. "They also didn't want anything that was second hand or old." So battered leather armchairs from eBay were out, replaced by classically styled new furniture from the likes of The Odd Chair Company and Davidson London.
Meticulous in preparation, Gledstone compiled a design code that drew on a quatrefoil motif discovered on the facade, which continued inside on the floor tiles, mouldings and ironmongery ("We were finding it everywhere"). The motif was either carefully restored or incorporated into the new additions to sculpt a consistent design lingo throughout.
You first notice it stamped over and over into the bronze-coloured MDF wall panels of the entrance hall. This short corridor abruptly cuts 90 degrees to frame the Portoro Macchia marble reception desk. The stone appears to have strands of gold spun into its pitch and is set off against a backdrop of impossibly rich rosewood panelling. From here you move into the new extension, and a luxury-hotel-style lounge illuminated by two massive circular chandeliers. This is the heart of building, an intense cocktail of quality materials and beautifully finished dark wood furniture. "International business is very much about hospitality," Gledstone says. "Doing business over a cup of tea is becoming more common even away from creative industries. Shoreditch House and Soho House represent that quite well."
Gledstone calls this the library, though there aren't any books on display. It's more a reference to the sophisticated rosewood cabinetry by super-yacht specialists Metrica, which also conceals kitchens, toilets and copy areas on each floor. In this room, though, one can imagine easing back into an armchair and sinking some scotch or nibbling cucumber sarnies in the garden courtyards flanking the room. Originally, the courtyards were merely light wells, inaccessible unless you abseiled in from above. Unlocking the untapped potential, Gledstone replaced the windows with glazed doors. Landscape designer Kim Wilkie was drafted in to select appropriate foliage and craft a layout that connects the garden and interior with a raised patio. The sunlight these gardens draw in provides a perfect counterbalance to the dark palette of materials on display. Today, the library is empty, but Melanie David De Sauzea, Urban Velvet's head of interiors, explains that it's normally more buzzy.
More formal is the large wood-panelled meeting room in the original building. Ornate window mouldings and a fireplace surround were carefully nursed back to health. The architects also managed to stain the cheap pine panelling to match the solid oak window shutters. "When we stripped it back we found it was pine underneath and the colour contrast was quite nasty," Gledstone says. "We had about four goes at getting it right."
Up a listed staircase, again carefully restored, the first floor is a game of two halves. Resting imperiously in the old part of the building is a suite of rooms for the chairman: a waiting area, a drawing-room-style main office and smaller annexed private office. In the newer building are more familiar workspaces designed to nurture a sit down, plug-in culture; a reception area bridges the gap between the two. Of all the work Gledstone's team carried out, the resurrection of the chairman's main office from bleached white cadaver to hale and hearty London gent is the most impressive. Gilded mouldings and green hand-painted silk wallpaper complement the palette of rosewood, marble and bronze. Noticeably absent is the intimidating chairman's desk,
de rigueur for many a company head. Instead, behind the leather sofa is a more conciliatory circular dining table. Overhead are two Venini chandeliers, in a design that went out of production sometime in the 1970s and was specially recommissioned for this project. Surrounded by all the finery, it seems appropriate to whisper, and indeed, hushed tones are helpful given all the hard surfaces ("Rugs are on the way," says David De Sauzea).
On the upper floors are the company's various branches, including Urban Velvet. Each office follows a similar blueprint, with an outdoor terrace, breakout space and meeting rooms. These areas are more generic, the idea being each company will forge its identity once it becomes more at home. So far there's little sign of this save for Urban Velvet's samples library, but David De Sauzea says that employees are often away on business.
Squire and Partners would not be the automatic choice to create this old-world sensibility. After all, the practice is perhaps better known for the assured modernism of the Unison headquarters or its part in the Chelsea Barracks saga. It all begins to make sense, however, upon examining its work for Urban Golf or
The Rockwell Hotel. With these personality-driven projects, success boiled down to the architects' skill in reflecting a disposition or brand. With Stratton Street, the architects, under the guidance of Urban Velvet, have well and truly pulled it off. "It was very complementary,
a great collaboration," confirms David De Sauzea.