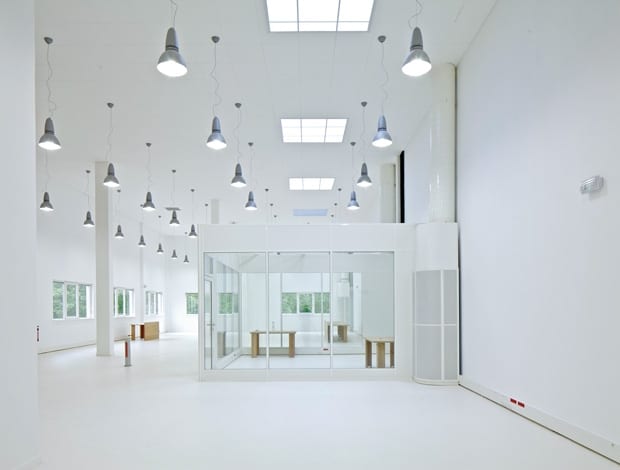 The redeveloped building is kept plain, so it can support a range of uses|The mezzanine floor of the platform, with beanbags instead of desks for working|Installing a pre-fab wooden platform was an inexpensive way to add space|Staff can access the network from anywhere|The 2004 building, now enhanced with QR codes|Cheap, cheerful and very orange: the canteen||
Back in 2008, recession hit the historic city of Dijon right where it hurts – its mustard industry. A factory for two major brands (Amora and Maille), originally set up on the same site in 1911, was closed by owners Unilever in order to consolidate production elsewhere in France, leaving a hole in the province's proud heritage. The building, a fairly generic industrial white block completed in 2004, was left empty and in need of a new life, if anything to detract from the shell that stood as a gravestone to its lost identity.
Just over 100 years since it was first built upon, the site has now become home to a new kind of factory – a call centre. But not just any call centre. Noticing that the majority of its employees are young people in career transition, French company TeleTech bought the building with the intention of creating a part-office-part-open-studio that would cater for both sides of their staff's personalities.
"The owner wanted to encourage staff to stay there between shifts and use the space creatively to study or start their own businesses," explains Jan Knikker, head of business development for MVRDV, the architects tasked with the building's regeneration. "So the interior couldn't have too much identity, as it had to host a range of uses and act as a canvas for future activities."
TeleTech found the architects through instigating a competition between French cities to provide a location for their new project, and MVRDV pitched for the city's tender. By working with the architect of the original 2004 building, the team was able to give the most precise plans and the most cost-effective quote. Given the city's involvement, money was a deciding factor in MVRDV winning the project. "We got commissioned for a public fee, ie hardly any money! So we couldn't do any major work," says Knikker. "But we wanted to do it because it's very simple to transform a beautiful old building with lots of money, but it's a different thing altogether to transform an extremely ugly building with a low budget. Basically it's a big experiment. We wanted to show what we could do."
The bulk of the project's costs went towards extending the existing facade, installing a huge window to bring in more natural light, and turning the parking garage into more office space. After that, there was little left in the pot for the fit out, and it meant that the architects had to get extra creative with the money they did have. Outside the dull facade was jazzed up with a decoration of QR codes, which, when scanned, led to TeleTech's website. "This was also to show the city that something new was happening," says Knikker. Inside, a large pre-fab wooden platform, complete with mezzanine floor, staircase and private meeting room, breaks up the expanse of white space without the need for expensive internal architectural work. In the canteen, the practice took a no-holds-barred approach to colour. Well, one colour: orange. "We love working with colour, but in a work environment it can be distracting," says Knikker. "Here, it is a cheap way to camouflage an ugly room. Plus, it's uplifting and provides a change of mood to the other more tranquil surroundings."
At the moment, tranquil seems like something of an understatement – sparse is more fitting – but apparently this is because the project is still getting started. At full capacity the office/studio will accommodate 600 staff, all part time, with desk space and breakout areas for any employee to spontaneously inhabit. They can sit down and log in from any point, be it picnic bench, beanbag or good old desk chair, and this in itself is a design breakthrough, according to Knikker. "It might not be our most outspoken project, but for this type of business and this location it is quite radical. In France, they don't really have open plan spaces, they have more cubicles." TeleTech's director, who was fascinated to find out his daughter and her friends preferred to work sitting on a bed or sofa with a laptop, had the idea to use the beanbags. Much of the other furniture, again due to budget constraints, was sourced at garage sales.
Straying from the norm, in this case swapping a standard-issue desk cubicle for more comfortable and casual work areas, has gone a step towards tailoring this environment to a younger workforce. It also fits the changeable nature of the work. During busy periods – usually short bursts in the morning, afternoon and early evening – the call centre workforce will be at full throttle. In between shifts, the office needs to become a different landscape, open to multiple uses. There is an education centre, a gallery and a so-called projects incubator – all open spaces ready and waiting to be personalised. "What they didn't want was the Google offices; it had to be fairly neutral," says Knikker. "The work is creative and active, and the employees have to improvise and take on different characters. This space is like that. It looks austere at the moment, but it will be interesting to see what it will become in four years' time."
Knikker refers to the Dutch pavilions the 2010 and 2012 Architecture Biennale in Venice, whose ongoing theme of bringing new life to desolate structures fits with this project. With so many empty buildings in Europe, it shows how some could be rejuvenated in a tough economic era. Through careful consideration of what can be reused, rejigged and spruced up, MVRDV has revived this space and shown what can be done when a practice thinks laterally with a stringent budget.