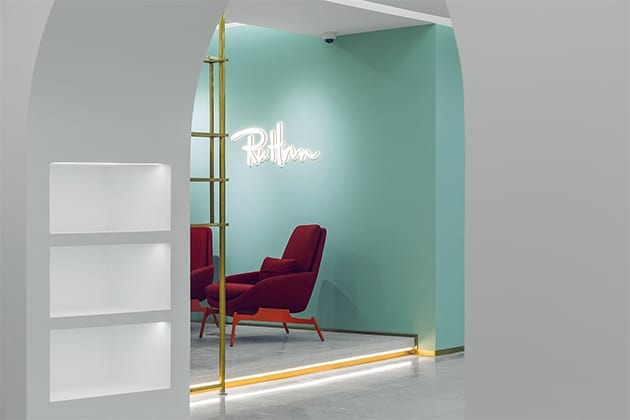 inDeco transformed Ruhnn Culture's office using a vibrant colour palette|||
Chinese tech firm Ruhnn Culture, which works within KOL incubation and marketing in e-commerce, has opened the doors to its new office, set on the 37th and 38th floors of GT Land Plaza in CBD of Hangzhou, China.
The firm entrusted design studio inDeco, a leading provider of workspace solutions, to spruce up the 3,558 sq metre expanse, which encompasses open office areas, photography studios as well as a display hall and leisure areas where employees can connect and socialise.
A bright colour palette dominates the office, inspired by Giorgio Morandi's paintings. Photo: Li Mingwei, Zhou Yan, Zhao Donglin
inDeco utilised a pastel colour palette throughout the space to add warmth. Inspired by Italian painter and printmaker Giorgio Morandi's paintings, plush, vevlety seats are offset by baby pinks and punchy greens throughout. Clean lines and zingy shades connect the continuous spaces, which the design team carefully studied to maximise light and flow.
The interiors are modern and minimal. Photo: Li Mingwei, Zhou Yan, Zhao Donglin
To optimise user experiences, inDeco devised a clear strategy. While some rooms serve for live streaming, photo shoots and display purposes, others are used as an office, where workers can make use of various supportive functions, including a welcoming foyer and reception.
Other rooms, especially the bright and airy display halls, are designed to accommodate the many stylists and photographers using the space by providing more than 300 storage units combined. Playful hues like dusty greys and mint greens add an informal touch, while also breaking the boundaries and limitations of conventional display halls.
The display halls feature more than 300 storage units combined. Photo: Li Mingwei, Zhou Yan, Zhao Donglin
As public leisure spaces continue to be an important extension of work and living spaces, Ruhnn Culture reconstructs the boundary between work and life in an effortless fashion. At the firm's dining hall, employees can socialise with coworkers in a tranquil space that feels world's away from a classically corporate environment.
Colleagues can socialise in a communal kitchen. Photo: Li Mingwei, Zhou Yan, Zhao Donglin
With terrazzo tiles and crystallised surfaces, this office knows how to serve its people. The design team said in a statement, "Only when users experience and interact with the space, can they establish a sense of belonging and happiness in it. Through redefining Ruhnn Culture's workspace, inDeco hopes to bring users brand new working and living experiences."
A Chinese tech firm receives a colourful makeover