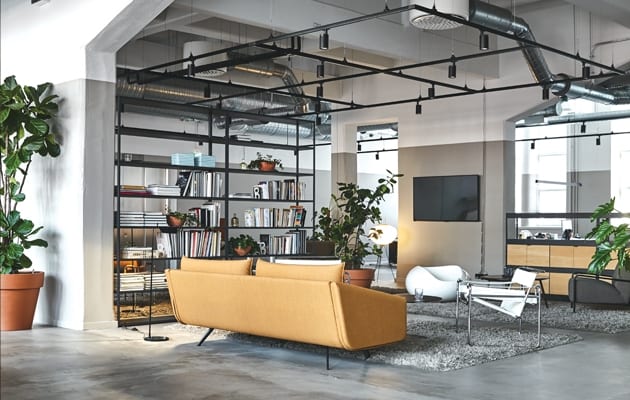 |||
A sense of familiarity pervades the home of Helsinki-based ad agency Bob the Robot – a multi-layered design by Studio Joanna Laajisto that provides its users with different modes of use. It's one of those places you feel like you've been before, but you can't quite put your finger on when, or where.
There are touches you'd expect to find in the home of a tasteful friend: sprawling deep-pile rugs, comfy old sofas and houseplants aplenty. Velvet curtains and clusters of globe ceiling lights speak of boutique hotel lobbies, while the rows of vintage cafe chairs remind more of a school refectory. The vast scale of the space – housed in a former bread factory – is a further disguise. Look closely enough and you'll see it's not a domestic, hospitality or institutional space, but a finely tuned office that blends elements of all three.
"In all of the office projects we do, we're asked to do a non-office. And that's our thing," says Laajisto. "Our creative clients really don't like the typical office feel. They don't like to spend time in cubicles. So we take a lot from residential design, and this time from more curated spaces." More precisely, the brief referenced a "private members club", a place where employees could feel a sense of belonging.
Laajisto notes that in a competitive environment, she sees creative companies increasingly using bespoke office design as a tool to attract and retain staff. Bob the Robot's sophisticated Helsinki headquarters may be a world away from the wacky early-2000s office designs of Silicon Valley, but it shows that the trend of putting employees first is still going strong. There's evidence the good feeling flows back to the company too: "We've had comments that the staff feel lucky to work in a place like this, but also that they feel they need to produce better work in this environment," Laajisto says. "I think that's a very good effect."
The most remarkable thing about Bob the Robot's office is the vast post-industrial space it occupies. Both client and interior architect loved the rough shell of the factory they inherited, but quickly realised that leaving it as one cavernous space would not work. Dividing up the 6m-high hall would not only help the staff concentrate, but offered opportunities to create a variety of areas to work from, along a spectrum of private to public.
The space is organised on two levels, but the ground floor still has the benefit of full-height windows all around the perimeter. Desks and meeting spaces occupy these edges for maximum natural light. The cafe and public lounge are at one end, with more private breakout spaces at the other. In the centre of the hall is a service block, on which sits a shallower upper level with further employee lounges and meeting rooms.
Fluted-glass partitions and doors are one of the repeating elements in this variety of spaces, and Laajisto says this was a key device in achieving a balance of spaciousness and privacy. "We loved how the light went through the space, so we had dividers that give visual privacy but still allow the light to go through really nicely," she explains. These full-height screens are used to separate different working teams – between the public lounge and cafe – and also close off conference rooms.
Colour is another simple yet hardworking element of the design. Used to frame particular areas, blocks of warm ochre and brown are seen halfway up walls before they meet pale grey in a crisp line that follows the building's contours. Mustard yellow brightens a snatch of space above the bathroom mirrors and continues down to the moss green cabinetry. Warmer grey rugs blend with the concrete floor and provide a kind of soft plinth for the furniture. All of these colours are picked up again in the upholstery and fittings.
Laajisto says primary colour is rarely used in office design because it is so subjective. Her tactic was to use "muted non-colours that are not saturated and contain a lot of grey". This forest-like palette has a calming effect on the staff, and also brings continuity to the various functions of the building. The ambiguous colours prove a talking point too; some see mustard where others see brown. A wall that one might call grey, another sees as green. "It's really in your own eye," says Laajisto.
Selecting furniture for Bob the Robot was less about specifying the latest pieces, and more about creating a collection that could evolve with the client, in this space and in future. The company already had some vintage pieces that were reconditioned and put back into use, allowing the lived-in look to instantly make the visitor feel at home. This look mingles with classic Alvar Aalto Artek pieces, quirky Cassina 637 Utrecht armchairs, and feather-filled sofas that staff could sink into while working from a laptop. "It's kind of an eclectic mix of furniture," Laajisto says. "Scandinavian, Italian, contemporary and classical. Pieces that fit."
Where many businesses are tempted to reinvent themselves every five years, throwing everything out in the process, Laajisto's approach is to encourage her clients to think long term and invest in collecting furniture the way you would for home.
The sheer scale of the building required some fittings to be custom-made, and with it the opportunity to create something unique. Suspended globe lights are connected together with black cable, providing focal points over the public lounge and refectory-style dining bench. These minimal-looking chandeliers speak the same language as the exposed ducts, cables and spotlights overhead, but also manage to break through that noise to stand out as a feature. These huge fixings look extravagant, but are actually made of lampshades and other materials that can be picked up in a regular hardware store.
There are other examples of the interior architect's resourcefulness too: the Carrara marble on the cafe and lounge tables is low-grade but still apparently luxurious; the stair rails and millwork are natural MDF with a black oil finish. Reusing lots of vintage pieces also helped keep the budget on track.
Laajisto hesitates to define Bob the Robot as belonging to a certain style, as she believes the whole business of style is outdated. She prefers to speak of the space having a "mood" or "personality". Although the crisp light, natural tones and calm atmosphere of the space echo the Scandinavian design we see so prominently in commercial interiors, the material choices here are darker and edgier. There's not a bit of blond wood in sight. The charm of this project is that, while the space is clearly contemporary, it defies being categorised as belonging to any place or era.
Laajisto studied and started her career in California, before setting up her studio in Helsinki eight years ago, growing a reputation for her carefully curated "non-office" designs. International experience gives her the ability to blend different influences, although her principles of resourcefulness and longevity come from a place closer to home. "I don't see the work we do as very Scandinavian in terms of looks," she says. "But in terms of values we do very purposeful, meaningful design that's always functional first. We don't really decorate, and that keeps a sense of calm."
In a future that will demand more responsible use of materials, resources and time, she thinks the power of the Scandinavian approach shows no sign of fading. "Our main goal is to make spaces that last. And good values can't go out of style."
Bob the Robot's Helsinki office space retains its industrial heritage thanks to Studio Joanna Laajisto's clever use of space, colour and vintage furniture