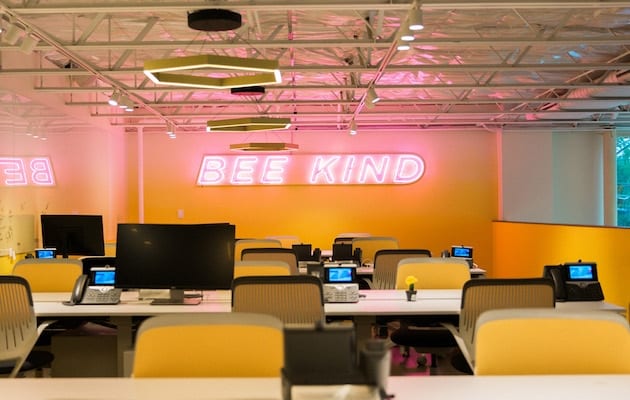 Bumble HQ interior by JEI Design, Inc.|||
Companies often seek to immortalise their brand in bricks and mortar through the establishment of their headquarters. But what happens when a brand's identity is so intrinsically associated with one gender, or is 'gender-biased'? What effect does this have on the space created?
Bumble HQ. Photo by Laura Alexandra
Bumble's headquarters in Austin, Texas, is a prominent example of one brand that made its ethos all about empowering women. Bumble's USP as a dating app is that when both a woman and a potential (male) suitor swipe right, the woman must message first. (For same sex matches, anyone can make the first move.) The company says its aim is to "shift old-fashioned power dynamics", meaning it's the women, or queen bees if you will, who are in charge. So, when it came time to create her very own beehive, CEO Whitney Woolfe decided that the future was unequivocally female.
Glam room. Photo by Laura Alexandra
Woolfe hired Julie Evans and her team at JEI Design, Inc. to design the interiors, with the brand's signture yellow a strong constant. Boasting a glamroom, meditation area and a pumping station for mothers, Woolfe wanted to cater to the needs of her employees: women comprise approximately 85% of her workforce. With such a notable gender split and ethos centred around empowering women, the design is arguably female first. What kind of impact can this type of office space have? Could it be that ideas of 'feminine', or 'masculine', environments only serve to drive the gender gap wider?
Bumble HQ lobby. Photo by Laura Alexandra
Daphne Spain, professor emeritus at the University of Virginia and author of 'Constructive Feminism', 'How Women Saved the City' and 'Gendered Spaces', told OnOffice, "I applaud Bumble's CEO for designing an environment that suits the vast majority of her employees. Too often, 'gender neutral' design defaults to 'masculine' design."
CEO Whitney Woolfes office. Photo by Laura Alexandra
"None of Bumble's accommodations should discourage a man from working there any more than a lack of them would discourage a woman from working in a particular place," Spain adds.
Dining area. Photo by Laura Alexandra
Arguably Woolfe's company and HQ should be commended for attempting to claim a small piece of the male-dominated tech industry for women-kind. Whether more gendered spaces will become an office trend in other sectors, or even across the tech industry, is an open question – though 'gender neutral' might be seen as preferable, what that means in practice, and the impacts of gendered spaces, whether beneficial or damaging, are still open to debate.
Kitchen space. Photo by Laura Alexandra
However, as Professor Spain points out, gender-neutral design often falls short: failing to deliver on its promise of a neutral working environment. Perhaps it is time for architects and designers to redefine what constitutes gender conscious, gender diverse and gender-neutral design.
What does the future hold for offices such as Bumble HQ?