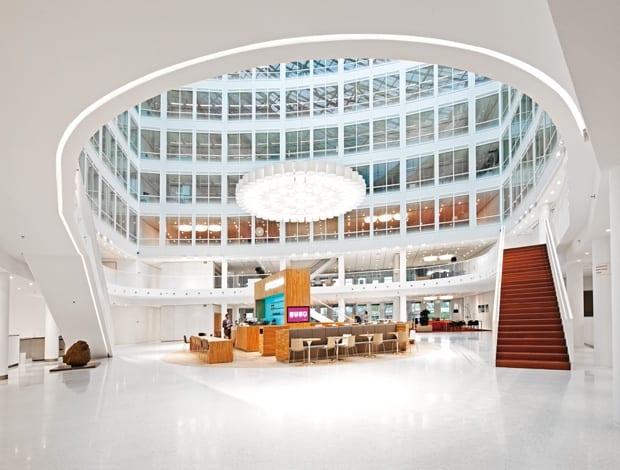 The building's central hub, dubbed "Eneco World" by its designers|Lots of meeting space in reception helps to foster a spirit of openness|Dam & Partners' building, with a living wall running up the lower floors|Receptionists stand up behind Corian pods, and walk to greet visitors|Breakout space next to the auditorium; both are in dramatic monochrome|Colourful islands of informal meeting space, with Vitra's Polder sofas|Core working areas also sit on "colour islands", with a more sober palette||
The spacious new HQ for Dutch energy company Eneco on the outskirts of Rotterdam has all the qualities a big corporate would wish to convey. Inside, the design is fresh, vibrant and clean, with a workplace strategy focused on collaboration and efficiency. Outside on the roof and southern wall, sun-tracking solar panels harness power for the building. And then there's the huge living wall that wraps around the first few floors of its exterior and stretches into reception, a reminder of the company's green credentials and a softener of its otherwise rather businesslike facade.
Eneco has a particular business focus on sustainable energy, and the reason for commissioning the new building also came from eco foundations. With five divisions at five separate locations, it wished to consolidate its 2,100-strong workforce in one place to reduce traffic between its offices and increase interaction between different departments. Dam & Partners designed the building itself, but fellow Dutch practice Hofman Dujardin Architecten came in during early planning stages to collaborate on the interior architecture and make sure it aligned with its vision for an open, lively space. "Eneco wanted the office to be flexible and dynamic, so we came on board early enough to influence spatial elements," explains Michiel Hofman, partner at Hofman Dujardin. "We added three staircases, we took out glass partitions, we added voids; we aimed to maximise openness."
At the heart of the building's form (a curvy-sided triangle) is a central atrium, a vast light well stretching up eight floors of the main building, with a glazed roof and ground-level courtyard. Overlooked by six floors of offices and two levels of open-plan communal areas without a gloomy corner in sight, the utopian, all-white atrium fills the building with natural light. It's also the centre of all the action. In the middle is a cafe, bordered by two floors of meeting areas, which are adjacent to the restaurant and auditorium within the attached tower; taken together they create a town-centre-type space through which people are constantly moving. Three staircases connect the two floors of communal areas, a further nudge towards centralising the flow of people, and there are no secret back routes. Besides various necessary hidden elements, like the Board of Directors' room and the food preparation area, the architecture dictates that employees walk through the atrium. "Our starting point was to create a central area for people to gather. We called it Eneco World," says Hofman. "Everybody goes through there, it's so easy to see and talk to colleagues. There are diagonal relations."
Community and transparency are big themes. It begins that begin the minute people walk in – visitors are met by three receptionists, each with a Corian pod to stand at, with views past reception into the atrium. "When you enter, there's not just a high wall with a logo," states Hofman, "you are immediately part of the experience. Usually at other offices, security guards are the first people you see, looking at you suspiciously, but here the receptionists come and meet you."
The entrance and atrium are clinical and, in parts, intentionally futuristic, but in contrast to the gleaming white backdrop, the work areas on the ground and first floors are hubs of bright colour. This is another technique the practice (together with Fokkema & Partners Architecten, which collaborated on the interior fit out) has used to determine how employees use the space. Dotted around a swish corporate setting, these meeting and working spots of various sizes and levels of formality – from clustered Egg chairs and sofas to good old-fashioned meeting tables – are clearly defined by blocks of vividly coloured carpet with furniture in harmonising hues. Hofman describes them as "islands", each serving its own purpose. "In the Netherlands there is a lot of development into activity-based working, where different environments suit different types of work. We explored how we could emphasise different atmospheres, so on the islands it is vibrant, and in between it is neutral." He adds that employees can also orientate themselves by the colours, for example arranging to meet at the orange island. The in-between areas feature a more muted palette, such as the cafe, done out in blonde oak, while an LED lighting scheme by Studio Rublek reaffirms the island effect. Instead of a constant and even light source, a sure-fire way to produce a banal atmosphere, light was concentrated on the islands to segregate pathways from areas of work.
To align with its new flexible way of working and improve efficiency, Eneco conducted in-depth research into the patterns of its workforce. From profiling every employee and assessing their individual schedules, it found that, because of sickness, work travel or holidays, only 1,500 of its 2,100 employees were present at once. The design therefore incorporated 1,500 desks, just enough for its newly adaptable, hot-desking workforce.
Most of the core working areas are housed in a 14-floor tower attached to the main building, which also contains the auditorium and restaurant, two starkly different, dramatic spaces with black ceilings and grey furnishings. The island theme is carried throughout, with pockets of colourful carpet adding warmth. The list of material and furniture suppliers namechecks everyone from Arper to Vitra, all recognisable quality brands to fit a brief for modern, classic and corporate. And as you might expect, every company's sustainability policy was checked from head to toe.