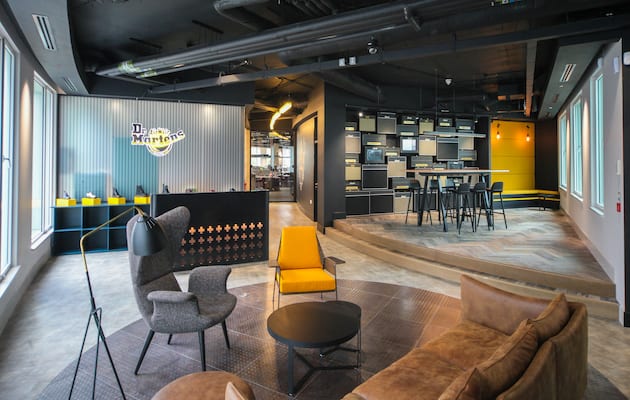 |||
Workplace Week sees some of the trendiest organisations opening their doors to the public to showcase their innovative spaces. The idea is that Workplace Week opens people's eyes to new thinking on ways of working, workplace design and technology, all while supporting a good cause.
LinkedIn office
Organised by workplace consultancy Advanced Workplace Associates (AWA), the event runs annually in New York in the summer and in London in the winter, raising money for children's charities. Having raised over £100,000 for BBC Children in Need, the UK event helps to support the charity which has one simple mission ‐ that every child in the UK has a childhood which is safe, happy, secure and allows them the chance to reach their potential.
With almost 30 separate tours being carried out across the week, Workplace Week London promises to deliver a unique look behind the closed doors of London's finest workplaces. Comprising of companies such as Condé Nast, Deliveroo, Frank PR, Ricoh, LinkedIn and many more, visitors will discover how organisations across the capital are ensuring their workplace strategies fulfil the potential of the workforce.
Deliveroo office
Following the success of June's Workplace Week New York, which saw Willis Towers Watson, Viacom and Deloitte host tours to sell‐out crowds, Andrew Mawson, managing director of AWA, said:
"We have now entered into a new age of workplace management that is about designing and delivering multi‐faceted, multi‐sensory experiences that reflect an organisation's personality, support human effectiveness and lure in the best talent. What Workplace Week attempts to do is find workplaces that best exhibit this crucial trend."
"Nurturing this event over the past nine years has become a fundamental part of AWA's DNA. We are so proud to see the event grow from strength to strength each year, and cannot wait for this year's tours."
Skyscanner office
This week the popular charitable event, Workplace Week, returns to London for its ninth year