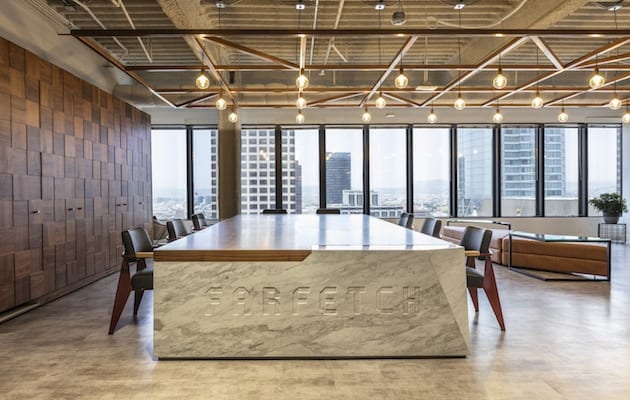 Welcome lounge with bespoke walnut and marble co-working table|||
Studiofibre's latest LA 'Urban Neighbourhood' marks the continuation of a long-standing collaboration between the studio and online retail brand Farfetch.
"We are excited about our new office at The Bloc as it further solidifies our commitment to Los Angeles as a critical hub for the global operations of Farfetch," Jeffrey Fowler, president of Farfetch North America, said in a statement about the launch.
Mobile dining/social space with bespoke bamboo bench seating
Since 2015, the collaboration has seen multiple 'Urban Neighbourhoods' rolled out across the globe, with the workspace in LA being the most recent.
Studiofibre's multi-location approach – the 'neighbourhood' of environments – is key to ensuring employees of the online retailer don't neglect to engage with life offline.
Library/quiet working space with custom-made raw metal storage
"Farfetch may be a digital company – but it is driven by real world fashion, trends and lifestyle," explains Fiona Livingston, co-founder, Studiofibre.
"Hence the city-centre locations and the company culture of encouraging movement – whether that be to very different environments within one workspace, or movement between the different Farfetch locations within a major city. Movement keeps the teams connected to the real world, and different macro and micro environments facilitate collaboration, creativity and stimulate productivity," Livingston adds.
Activity-based working lies at the heart of Studiofibre's design manifesto: the Farfetch LA office offers the highly mobile workforce the ability to choose the working environment that best suits their requirements, depending on the task in hand.
Relaxed meeting/lounge space with bespoke bamboo laptop side tables
Bespoke spaces such as the library, welcome lounge, 'speakeasy' phone booths, 'infinity' booths, 'power planters' and a reconfigurable entertainment space ensure that all employee needs are catered to.
Made from highly slatted polished plywood and beech veneer, the bespoke circular 'infinity' booths are designed to foster optimal collaboration and communication.
Power cabling disguised as wooden planters are mounted on bespoke copper frames. Providing power and structural support, these unusual features are used to deliver power from the ceiling supply to the floor level.
Bespoke beech/plywood 'infinity' round booths
Studiofibre pays homage to the Californian setting through their chosen colour and material palette: a mix of warm, rich ombres, natural woods (bamboo, beech and walnut), Calacatta marble and copper accents.
With Studiofibre currently designing spaces for the global technology platform in Dubai, Shanghai, Hong Kong, New York and London, to say that this has been a fruitful partnership would be anything but far-fetched.
Custom-made raw metal open shelving/partitioning with planting
Read more: The desk range designed for active meetings
Workplace design specialists Studiofibre unveil their latest 'Urban Neighbourhood' for London-based online fashion retailer Farfetch.