One year after launching a Shanghai branch, Clou's Beijing office has now expanded into sparkling new premises
Award-winning international design studio Clou has just opened the doors to its contemporary new Beijing office. Located within Sanlitun SOHO, the space has doubled in size to occupy half a tower floorplate on the 17th floor.
With a fully glazed facade, which fills the space with natural daylight, the office affords visitors endless views across Sanlitun and into the mountains of North Eastern Beijing.
The space is characterised by clean lines and features various zones of work. From communication to research and display, each work area is connected by Clou's signature galvanised walls – a feature tying all spaces together since the office's inception.
Hot-dip galvanised steel sheet (SGCC) is widely used in industrial engineering, but mainly revolves around household appliances. The material's sharp appearance, non-directional surface pattern, and magnetic properties render the surfaces of the functional wall and furniture cladding a versatile canvas.
Meanwhile, a monochrome colour palette is combined with contrasting textures – rough and smooth – and materials like warm wood, steel and terrazzo to create a statement look that doesn't look overpowering.
Each space of the office has a distinct personality – from a more intimate conference space featuring warm wood furniture on speckled green terrazzo to a cave-like, all-wood retreat for quiet work and conversation, the interior's accent walls and pops of colour add depth and personality.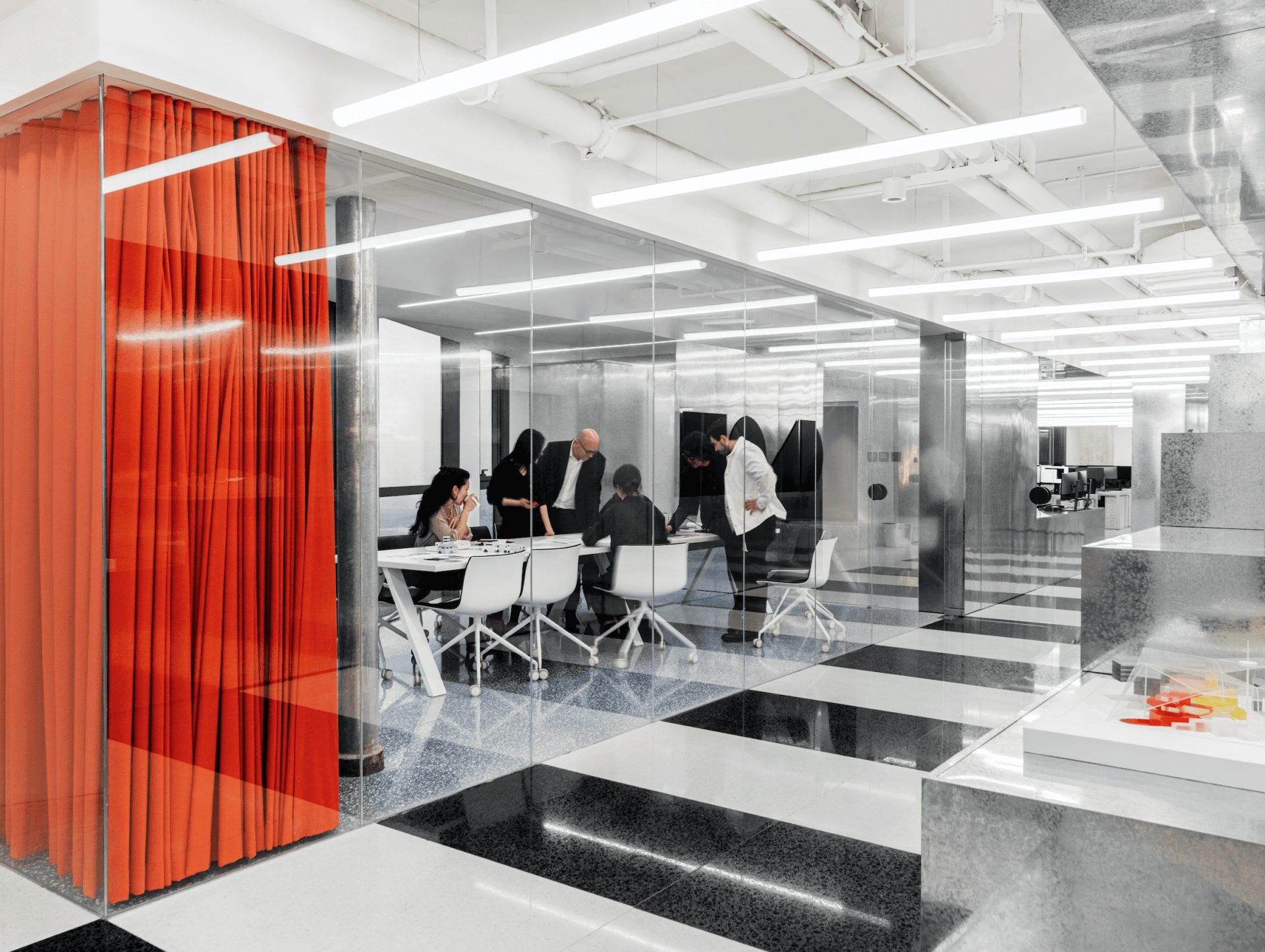 Clou is an award-winning international design studio with multi-disciplinary expertise in master planning, architecture, interiors, and landscapes. The team designs their projects on a variety of scales around community connectors and social spaces.
At Clou, a team of more than 65 experienced architects from China and all over the world work collaboratively on a wide range of projects. Clients include retail and mixed-use developers, residential investors, hotel operators, and governmental and educational institutions.
Images by Banye Lin
Enjoyed this story? Read more here: Holloway Li designs experimental showroom and workspace for Coalbrook