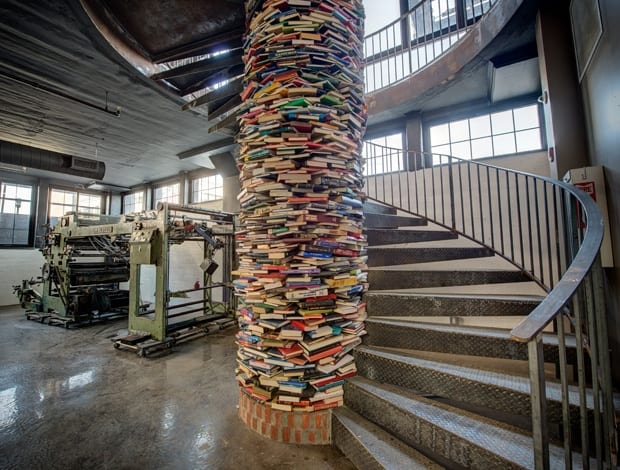 A tremendous three-storey stack of books in the lobby|The hotel, based in Long Island City, Queens|The Paper Factory facade|The reception desk|A hotel corridor with exposed features and a raw aesthetic|Laminated pages from The New York City newspaper are set into the concrete floor|The hotel lobby and 'coffee factory' area|An old-school Vespa in the lobby – of course!|A Queen room|A queen suite with antique/industrial look furnishings|A King deluxe suite|A King deluxe suite|One-off items from Gal Sela's travels|Each floor features its own communal area|The book tower provides a nice reference to the buildings previous usage||
Long Island City in Queens, once known for its derelict industrial buildings, has evolved into something of a hotel district. The Paper Factory Hotel – its name, a nod to its former use – sits firmly in this category.
The 100-year-old factory was converted from light industrial block into a cool hangout by DHD Architecture and Design and opened quietly at the beginning of the year. In November, Guillermo Lucerofabbi and Canalp Caner, the high-profile duo behind the Mundo restaurant at The Astoria that closed two years ago, re-opened their popular eatery within the hotel. Further developments have also been mooted such as a spa and a beer garden.
The hotel entrance is heralded by vast doors, made from the metal of the original floors, which lead into the lobby where a dramatic pillar of colourful books stacks up between a curved staircase to the ceiling three storeys above. A closer look at the stack reveals some 'ultra ironic' copies of Danielle Steel novels. The downstairs space features swathes of reclaimed wood; a marble bar top; tulip-shaped, carved barstools and tables that swivel on cast-iron bases; wall panels made of former lift doors; and laminated pages from the New York City newspaper set into the concrete floor.
The hotel offers 122 rooms in all. According to the developer Gal Sela, there was room for 160; however, spaciousness was prized over quantity. The rooms range from more affordable dormitories with bunk beds to private suites. Each one has been individually designed by Sela himself, who shipped furniture and other items back from Vietnam, China, Morocco and India.
The rooms are well-lit by factory windows and the original wood floorboards on the fifth floor remain intact, proudly bearing the scars and scorch marks from their past. Low beds – a sort of deluxe version of the Beatnik lumpy mattress on pallets – sit alongside reclaimed wooden chest-of-drawers and desks, plump leather sofa, industrial lamps, abstract artworks and an assortment of sturdy Modernist chairs.
Sela's haul of overseas curiosities can be found in both the bedrooms and communal areas. These include school chairs from China, a vintage radio and typewriter, oil-drum coffee tables, a bicycle rickshaw, an old printing press and a foosball table from Vietnam that cost a reported $12,000. These are so many quirky pieces you'd be hard pushed to mention them all without creating an inventory.
All the achingly hip elements could've turned a less sizeable place into a hipster parody, but they blend into the pared-back aesthetic and muted colours meaning they don't have to shout to be heard. Together they add to the laid back, idiosyncratic ambiance that befits a hotel in an old paper factory in Queens.