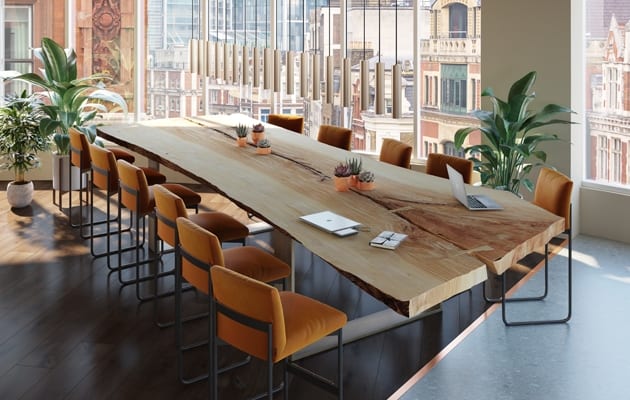 An image of what Uncommon's Liverpool Street office will look|||
The latest addition to Uncommon's selection of creative coworking spaces dotted around the capital, has been designed with a strict set of criteria related to the idea of "activity-based working", which is designed to create the most effective workspaces for productivity and creativity.
The cylindrical building, formerly Alan Sugar's Crosspoint, is on Liverpool Street, where the city of London's skyscrapers meet creative Shoreditch, and provides a mix of spaces both coworking and for private tenants, or members as Uncommon calls them.
Uncommon's founder and interior designer, Tania Adir, says that with every building it takes they ensure every workspace has natural light, and in the Liverpool Street space they achieve it thanks to the windows that encircle the building. The desk space on each floor will be designed to fit around the floor planes with access to the windows, with services and some meetings room housed within the central core.
The activity-based working theory relates to the different environments people require to optimise their personal workday, whether it's desk height, temperature or the number of colleagues in eyeshot. "It's been shown that lower tables build trust, and that there's a difference between generations – millennials prefer a choice of chair heights, where older generations don't as much." The spaces range from the now relatively standard standing/sitting desk, high chairs at a bar, lower sofas, and an auditorium space, with seating overlooking it for people who prefer a livelier atmosphere.
A render of Uncommon's Liverpool Street office
The office design goes in strong on the biophilia concept so popular in modern coworking spaces, with plans to crane in a ficus benjamina tree, which they say will be one of the largest living trees in a London workspace. There's plenty of greenery throughout the office space, as well as in the cafe, plus an outdoor terrace overlooking the city of London.
Additional touches come in the form of bespoke music designed to aid productivity – there are no lyrics or earworms, the designers explain – and in scent: the very subtle smells of cinnamon and lemon are used (to promote creativity and focus respectively).
The office space is set to have 850 places altogether, with 50 for coworking members, and the completion and official opening is due in April.
Uncommon's latest addition to its coworking spaces uses the principles of activity-based design