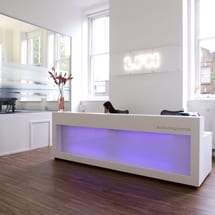 Sometimes the most inventive solutions are born from small budgets. A lack of funds can be a headache for designers and leave the client without everything it had hoped for, but there are times when it produces an unexpected treat.

Such is the case with the new home for packaging design agency LFH, a collaboration between Scott Brownrigg Interior Design and Fiducia Interiors. It's a simple space with minimal bells and whistles, but considering limitations of time and money, it goes
the distance.
LFH's 50 employees relocated from a three-storey office to a single floor of a Georgian building near Euston station. At £130,000, the budget was tight, while downsizing by 46sq m required an imaginative way of squeezing everyone in.
Angled partitions, very much inspired by glaciers, screen off a large working area from the reception and, on the inside, provide storage and display space for the design team behind it.
"You normally wouldn't have the reception adjoining a design studio because, well, it's usually a mess," says Graham Hawkin, managing director for LFH. "But this brings a buzz to the reception and puts our creativity on display."
The "glaciers", which work well thanks to high ceilings and an abundance of natural light, have been integrated with existing metal columns and fitted with white perspex skirting so that the inevitable black scuff marks can be wiped off.
If this has left you wondering "why glaciers?", you are not alone. But the idea, quite simply, was born from a desire to avoid boring rigid structures, all at the same height. LFH wanted something different, says Hawkin, and the idea originated from its own team.
"We wanted to avoid curves or that 1960s space-age look, because we thought it would date," says Simon Rogers, who headed the project for Fiducia. "The problem is that whenever someone wants to do something unusual, they go for curves. It's an easy solution." Whereas glaciers are tricky, a specialist roofer was called in to complete the work.
The overall goal of the project was to communicate the idea of "illumination", says Hawkin. In reception, a white corian desk with a changing back-lit frontage sits underneath a neon sign bearing the company's logo. All of this is contrasted by surprisingly inoffensive walnut vinyl flooring with inset feature lights to illuminate the glaciers.
"It was a very organic process, blending our conceptual ideas with Fiducia's experience and practicality – and of course all done with a good sense of humour and cooperation," says Hawkin.
Next to a basic break-out space and directors' offices, a bright pink archway leads back to the main open-plan work area, where prototype production takes place. Row after row of simple white desks seem slightly crammed in – but lots of natural light from the large windows facing the street do a lot to make up for it.