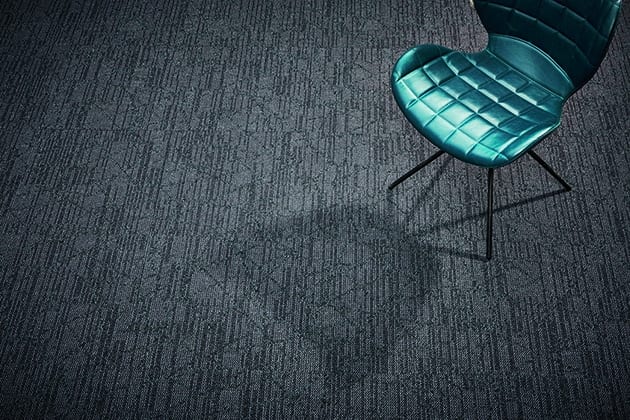 Tessera Nexus in Agenda|||
Many companies are putting emphasis on creating informal working environments to encourage collaboration and effective communication between employees. Creating connected spaces is now an important part of office design. Jason Holmes, Head of Textile Design at Forbo Flooring Systems takes a look at some of the ways design can help a workforce connect.
The interior design of a workspace can influence employee's concentration, productivity, privacy and creativity, but it can also help to encourage more face-to-face and informal interactions, with designs that provide distinct opportunities for collaboration, networking and problem-solving.
Tessera Nexus Groupchat
As such, when it comes to designing an office it's important to look at the space as one interconnected whole. One of the most popular layouts for offices, which can help with a holistic design approach, is the open-plan design – though the traditional open-plan design has evolved. Though part of a workspace may be open-plan, much of it is inspired by spaces at home, where people connect and spend time with family and friends – we see this in particular with break-out areas, meeting spaces, kitchens and working stations, all of which have their own unique identity, yet need to be connected seamlessly.
De-formalising an office is now key to creating a less stressful environment and providing employees with choices of where to work and/or relax is crucial for increased employee engagement. Rather than static desk layouts, movable furniture and soft partitioning can create engaging and desirable workspaces, which employees can adapt to their needs.
Although the layout of an office is the most crucial factor to get right, it's also important to specify flooring carefully, as if done correctly, it will help to deliver a multipurpose space that encourages connected working. There are floor coverings available on the market that have been designed to work alongside each other, in order to develop fully integrated flooring schemes.
Tessera Nexus Feedback and Engage
For example, throughout walkways, breakout areas or even kitchen facilities, where a practical and durable product is required, floor coverings such as vinyl sheet and loose lay vinyl tiles can withstand the heavy footfall and can be cleaned easily. Modular formats can also be installed alongside carpet tiles, which might be required in the adjoining working areas or meeting rooms, where a warmer, comfortable floor covering is needed. Carpet tiles are one of the most effective office solutions, as the modular format lends itself to a quicker installation time and allows office plans to be easily adapted for future requirements, to aid the ever-evolving workspace.
What's more, the design of carpet tiles is evolving rapidly to not only reflect interior trends and add visual interest, but to also encourage effective communication. Forbo's new Tessera Nexus collection has been conceived as a flexible tool to help unite multi-purpose spaces into one interconnected whole.
Featuring a subtle linear base overlaid with a soft kinetic silhouette, Tessera Nexus reflects the changing focus of the workplace. Drawing together simple colours, elements and tones, the collection gives designers the freedom to create connections across the interior – subtly linking spaces for quiet reflection or group collaboration.
For more information on the range available, visit Forbo's website.
A variety of design elements can help create a more connected office space