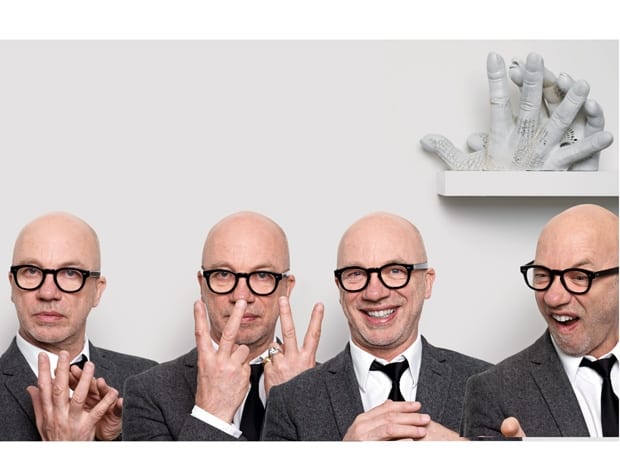 Designer Nigel Coates|Crusty Table, part of the 2008 Scubism collection for Fratelli Boffi, reinterprets Baroque cabriolet legs|The Oxo modular seating system for Hitch Mylius, launched in 1998, has been hugely successful|Animalia, a new collection for Fratelli Boffi, incorporates animal skins, wood and Arcadian tapestry|Tulipini vases, 2009, capture a feeling of movement|Genie Stool, 1988|Legover Chair, 1999|Branson Coates completed an extension to the Geffrye Museum, east London, in 1998|The National Museum of Popular Music in Sheffield, completed in 1999 and closed a year later|A drawing from Coates' Mixtacity exhibition as part of Global Cities at London's Tate Modern in 2007||
The prolific British designer and architect on erotic furniture, the evolution of cities and why he won't be designing an office any time soon
Nigel Coates doesn't do offices…end of story. He has staunchly declared it in the past, and even though it might disappoint his admirers in the workplace design world, Coates and office buildings just don't mix. Sorry.
But before we all get overly sniffy, let's hear the man out. Coates, one of Britain's leading designers and head of architecture at London's Royal College of Art, is perched in his new showroom-cum-workspace in South Kensington – a Georgian townhouse filled with pieces from past furniture collections as well as the two he's poised to launch in Milan this month. He carefully constructs an answer to the predictable question on offices: why not?
"It's obviously not a great thing to say in onoffice," he says, looking a bit concerned. "I don't want to come across as some cocky little bastard. It's just that I need to concentrate my efforts where I'm best able. I'm not an architect who is best utilised doing a relatively standard architectural product or who specialises in supplying risk-free spaces." Hurrah for candidness.
From the man who spent the 1980s as a kind of enfant terrible of the A&D world – designing, for example, a stool incorporating a big wooden penis (Genie Stool, 1988) – perhaps an allergy to the regulations of office buildings doesn't come as a major shock. Over the length of his career, which started in the late 1970s after training at the University of Nottingham and London's Architectural Association, he's been all over the map (literally, from Japan to Turkey, to western Europe and back to the UK), bringing his evocative brand of design to buildings, interiors, furniture and products.
He was never going to be a meat and potatoes type of architect, and so he has proven with projects like the Body Zone in London's Millennium Dome, the ill-fated National Centre for Popular Music in Sheffield, and the Powerhouse::uk exhibition venue on London's Horse Guards Parade – all causing a sensation and completed during his reign as the favoured architect of New Labour at the end of the 1990s.
Still, a niggling part of me is curious to know what Coates would do if he got his paws on a workplace – the man certainly knows how to raise eyebrows. Over the years his buildings and interiors, as well as his myriad pieces for (mostly Italian) brands including Fratelli Boffi, Slamp, Varaschin, Frag, Alessi, Hitch Mylius and AV Mazzega, have rarely swayed to passing fancy – no concrete, straight hard lines or obsession with form following function.
"Form follows fiction," he corrects. His design language is hyper-sensual and often references the human body or the boudoir, which quite frankly is a relief in the midst of all the austere shapes and virtuous materials we're now confronted with in design. Just the other side of 60, he's still a bit naughty – and thank goodness for that.
"We can have buses going by with naked boys and girls on the side of them, sprawled every which way, but if you do a chair that is a bit voluptuous and a bit erotic, people think you're really over the top," says Coates. "We're so prudish when it comes to forms in furniture. But we're not prudish when it comes to advertising or clothes. It's astonishing."
The titillating factor is something Coates has been questioned about a lot over the years. His design for the flagship Jigsaw clothing store in Knightsbridge, with its ribbed columns and architectural suggestion of corsets and stilettos, was called "faintly pornographic" in the press.
Even his fairly straightforward Oxo sofa system for Hitch Mylius in 1998, which was a huge hit and sits in receptions and break-out areas around the country, is ample and curvaceous. But for Coates it's more about touching on our latent unconscious desires.
"I try to capture a sense of the unexpected," he says. "If, for example, the client wants an environment to be quite controlled within a rigid organisation, like so many offices we all know, my suggestion would be to compensate for that with something else, with something that's a bit more playful, a distraction, an alternative."
"The polemical way of thinking about it is that now, the entire city is a working environment," Coates continues. "It's also a domestic environment and a leisure environment. And I'm pleased to say that the tendency is for these types to migrate into one another's territory. That is the reality. Round here [in South Kensington], how many of these houses are used as houses? They become offices, and then back again. Virtually every building that is familiar to us has been converted. Even 1960s office blocks have been turned into homes and vice versa. It's kind of a weird fact of life, that design accommodates that."
"If you do a chair that is voluptuous or erotic, you're over the top. We're so prudish when it comes to forms in furniture"
Coates himself was among the first in the 1980s to use a post-industrial space as his workshop and studio in Covent Garden. This idea of London as a living, changing organism is something that pops up time and again in his work. He's been theorising for years on the evolution of cities and how buildings can inspire the human experience and vice versa.
His exhibitions Mixtacity at London's Tate Modern three years ago, Ecstacity at the Architectural Association in 1992 and Hypnerotosphere at the 2008 Venice Architecture Biennale have established his voice as one to listen to, despite the fact that he's got relatively few UK buildings under his belt.
Even as far back as 1984, Coates garnered attention as a major thinker with the publication of NATO (Narrative Architecture Today) magazine – a kind of manifesto for "narrative-driven" architecture. It prompted readers to be "architects of their own lives, and in doing so, to radically adapt the buildings around them". It was an answer to a London in tatters, says Coates, at a time when designers were less constrained.
"In the 1970s and 80s there was no building going on," he says. "There was no vibrancy in the economy. We basically lived in the ruins of the city and we were all on the dole. You could do whatever you wanted."
That freedom of expression was a symptom of very hard times in London, but it's still something Coates misses. "In the 1980s, when Tom Dixon and all of these other people started, the vision was that you didn't have to justify what you did from x, y or z. It didn't have to incorporate Dyson's kind of ethic about design. It could be a frivolous personal statement and something you made in your garage, and that was perfectly ok as design."
In that vein, Coates is excited about Baroccabilly – a collection of limited-edition lighting and furniture launching in Milan in collaboration with Poltronova.
"It will be in a gallery and will allow my artful nature to come out without being embarrassed, because it's not trying to be an industrial product," he says.
It's obvious that Coates' focus has been less about architecture and more about design since the dissolution in 2006 of Branson Coates, the practice he formed with Doug Branson in 1985. "From that point on, design has played a more prominent role in what I do. It's not that I've given up architecture by any means – I love architecture. But the design has occupied a larger proportion of my time." (There may, however, be a building in the works – but that's all under wraps at the moment.)
"I try to capture a sense of the unexpected"
Coates has forged his own path, working with dozens of Italian manufacturers that he believes are superior in skill and artisanship. "It may be chaotic but they know what they're doing." It may also have been a rejection of what he calls "this English craft thing – the sort of churchy, heavy English workshop furniture, which I absolutely hate".
Coates formed a connection with Italy from the first time he visited at 16 in his father's camper van. "I just loved it. It was a revelation."
Animalia, an extensive domestic collection for Fratelli Boffi, also launches this month. It "builds on the complexity of human nature", with a combination of wood, skins, tweeds and Arcadian tapestry. "I wanted something with a bit of grunt, and a bit of natural energy," says Coates. "The energy in a deer leaping across a field – the sort of wildness and beauty of the animal world."
This is his second large collection with Fratelli Boffi, following Scubism in 2008, where Coates turned the traditional forms and techniques of the company on their head. The idea for the Crusty Table, for example, was to reinterpret a conventional Baroque cabriolet leg in computer-generated pixels.
Other recent pieces, such as his organic-looking glass vases (Tulipini, 2009), came from his desire to capture the feeling of movement and show the effort of an object being made – a recurring theme.
"I like things that suggest being alive, because we are, and I think we feel better in the company of things that feel alive," he says. "That's my kind of spirit. There are some people who like to be in the company of inertia, where it's grey stone floor and no declared extra shape. That's an aesthetic of its own, but it ain't mine."
Coates and the NATO group coined the term "industrial baroque" to describe their attitude to design, and it's a label he is still quite keen on. "It brought together two ideas that everyone could understand. The baroque part was about movement and sensuality, and the industrial part sprang from the fact that in the mid 1980s we began to appreciate that ex-industrial buildings could open up all sorts of possibilities that provided loose space. That process of reusing and reconfiguring has accelerated ever since."
This has happened particularly in offices, though Coates' own workspace has now moved from Covent Garden to the small studio in South Kensington – presumably a location his younger, revolutionary self might have scoffed at.
"It's a trade off," he says. "I'm more mature now. I'm basically the same spirit, but I've got more at my fingertips. I can pull more out of my head because I've been to more places, seen more things and learned over the years. But the spirit's identical. It's a bit subversive, a bit mischievous…" And long may it continue.