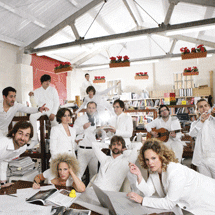 Even on a distinctly damp evening in Islington, the passion that CuldeSac displays for its home country and how it informs the studio's design philosophy is undiminished.
I'm walking around the Viva La Office! exhibition (as detailed in news, page 19) with CuldeSac's Sophia von Schönburg, Alberto Martinez and Lucia del Portillo, and it's as if they've brought a little bit of the Mediterranean to this part of north London. "We are inspired by the light and the sounds there, which we try and find a link with in our designs," says von Schönburg. That must go some way to explaining the presence of thousands of oranges and the refrain of Spanish guitars then.
The last time I met von Schönburg, along with founding members Martinez and Pepe García, we had rather better luck weather-wise, as we took time out from the madness of the Milan furniture fair for a quick chat on the sunloungers outside the Superstudio Più. Inside, CuldeSac's Sofa Lamp, designed in conjunction with fellow Spanish designer Hector Serrano, was suspended as part of Moooi's stand. This was, they explained, designed as a reinterpretation of the recognisable buttoned structure of the Chester sofa, and it fitted in perfectly among the Dutch firm's plethora of designs featuring a skewed classical aesthetic.
Since its inception six years ago, CuldeSac – which literally translates as "bottom of the bag" – has maintained a loose organisational structure meaning that designers from different fields and nationalities work alongside the permanent members, who are based in Valencia in southern Spain. Little wonder then that their expertise stretches so far. They have been involved with product design such as the Whisper chair for US manufacturer Bernhardt Design, the La Siesta water jug (another Serrano collaboration) and the La Santa light, which combines 16 traditional lampshades joined together by the humble bulldog clip. Then there's exhibition design for porcelain manufacturer Lladró, branding and communication such as for the Timeless collection of clocks and advertising agency AGR!, and the intriguingly named "How to cook a chair?" workshop in collaboration with the Vitra Design Museum and the Pompidou Centre.
As CuldeSac's photo attests, theirs is a workplace full of movement, ideas, energy and innovation.