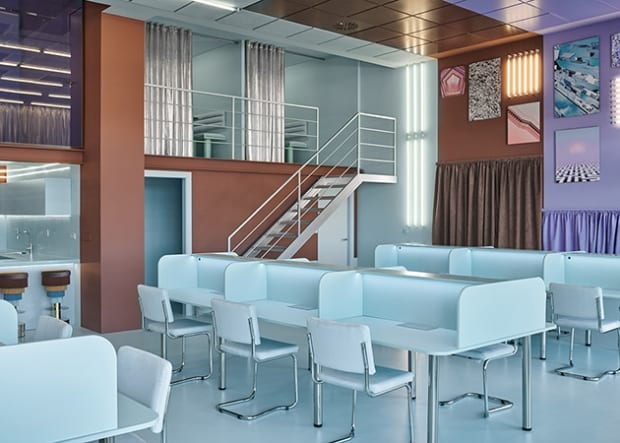 Taking inspiration from the 60s and 70s, this co-working office space in Spain is an unconventional design in myriad ways
When a design studio receives a brief that mentions avoiding stereotypes and cliché, it can be both a challenging and exciting project, but one that promises to transcend the everyday.
That was the case of Masquespacio's client Cabinette, a co-working concept in Valencia, Spain, specialising in creative and artistic disciplines. In creating an office 'for those who run away from conventional spaces, for those who want to surround themselves with charisma and good, bright vibes', out-of-the-box thinking was required, not relying on the design tropes and traditions of modern co-working spaces. 
Ana Milena Hernández Palacios and Christophe Penasse, who make up the creative consultancy Masquespacio, answered the brief with a design certainly achieves that desired result. An unconventional colour palette of saccharine baby blue, chocolate brown, retro purple and retro-futuristic silver in interwoven colour blocks has been used fearlessly as the canvas for this office space. 
And it's not only this palette which offers a wink to 60s and 70s style. Velvet, fringing and voluminous, bustled curtains are not the materials associated with the sleekness of the modern office. 
As well as the individual workspaces, separated with bulkheads as a new precaution in a post-pandemic design landscape, there are also private meeting spaces – both booths which can be separated by foil-like silver curtains and a dramatic meeting room fitted with Houtique fringed Wink lamps and mirrored ceiling and walls. An exterior terrace also offers a space to retreat to for some temporary privacy. 
The result of the design of this office space is a different kind of energy to the classic idea of a co-working space. More than simply creating a pleasing, productive workplace, Masquespacio's design promises to offer inspiration to the right creative soul who finds the beauty in this unconventional scheme. 
Images courtesy of Masquespacio