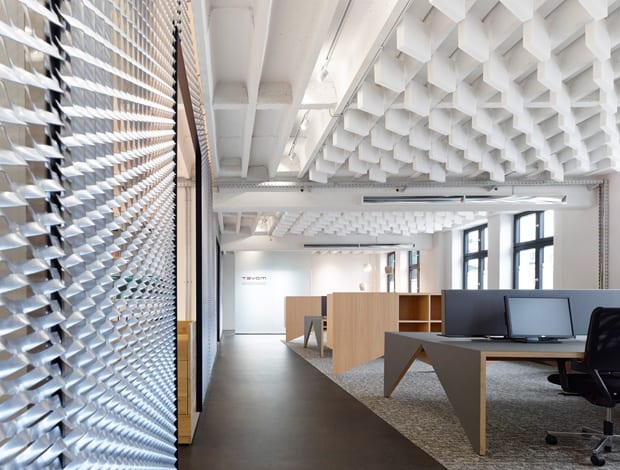 Bespoke plywood and lino desks with striking angular legs The mesh walls link the firm's office with its industrial purpose|The mesh walls link the firm's office with its industrial purpose|Expanded aluminium mesh makes for a low-cost way to divide space|Bespoke shelving even makes conveyor-belt parts look good||
Multifuctional spaces and bespoke furniture make for a hard-working office – and an industrial-lite aesthetic provides the niceties
You'd be hard-pressed to find an employer that would deny that transparency and teamwork are vital aspects of a successful business, but integrating them into a workplace can have an additional benefit too: saving space. Alexander Fehre's compact Schorndorf office for conveyor-belt technologist Movet has put client-facing elements, like the company showroom, at the heart of the open-plan space, making visitors feel part of the day-to-day business while ramping up space efficiency to improve the working environment.
Somewhat ironically for a company that specialises in parts, Movet's previous office had come to the end of its lifespan because it felt bitty and disjointed. As the technology specialist grew, its garage-based premises had been added to in a rather makeshift manner and, now at capacity, its directors decided to relocate to somewhere that better suited their needs. But, as Fehre soon found out, Movet's wishlist was ambitious. Alongside a large storage warehouse for its components, Movet needed workstations for eight people, two separate offices for the CEOs, a meeting room, a showroom and a staff kitchen – far more than could comfortably fit into the new place, a 200sq m industrial shell in a 100-year-old former tannery.
The solution was a floorplan that used every inch of space. Initially, Movet's CEO Hans Schüßler had wanted the client-facing showroom at the entrance of the building, creating a divide between the private and public spaces. But, after finding out that client visits were infrequent and so a permanent showroom would be dead space most of the time, Fehre developed a proposal that created a multipurpose room that could be used for internal meetings and also as a location to demonstrate Movet's goods to buyers. It also tripled up as a kitchen where employees could prepare food and eat together.
"It was really high on my agenda to encourage a strong team feeling in the office because of the small staff numbers," says Fehre. "A place to eat lunch together was integral to this idea."
Transparency and integration were key demands for this room, so Fehre introduced two large door-less entrances and used expanded aluminium mesh, more commonly used in industrial facades, to divide the space from the adjacent desk area while maintaining an open-plan feel. Not only is the material in keeping with the building and Movet's industrial heritage – something high up in the brief – but it's also very low-cost. "It's not very common to use expanded aluminium in an interior," says Fehre. "It's not very expensive and has a really nice shimmer in the light."
Fehre introduced a platform and oak flooring to contrast the recycled carpet tiles found elsewhere, and introduced a sculptural collection of oversized pendant lights over the main table. This 5m-long table was, like most of the furniture in the office, designed by Fehre especially for the space. Made from plywood with an oak veneer, its base is lacquered in coral red to contrast the blue-green kitchen cabinets. Taking cues from the retail world, Fehre designed wall-hung shelving units and an open-topped cabinet to decoratively display Movet's products. "You can take the parts out and handle them on the desk," says Fehre.
The effect is that the company feels more tangible; the design conveys an uncomplicated, modern and reliable impression
"Clients can get really involved, and that's something important within this industry: holding a product with your hand and inspecting quality."
Fehre also designed the furniture in the desk areas to ensure that workers got as much out of the space as possible. He developed a storage system made from four modules, each comprising of box shelving and an asymmetric leg.
Echoing the shelving's striking diagonal are the office's desks, arranged in two banks and constructed from lino-covered plywood. At the building's entrance, Fehre designed a freestanding divider that separates the main work space from a small reception, providing visitors with a waiting area and employees with a small area to make phone calls.
As with most open-plan offices, managing sound was important. As well as acoustic dividers built into the desks, Fehre created a geometric configuration of acoustic foam on the ceiling, which was then painted to match the white walls. Decorative in itself, the feature further stands out by being illuminated, providing indirect and comfortable background light. Each desk has an individual task lamp, and LED spotlights light the aluminium mesh and kitchen area.
Bookending these two zones are the private offices, constructed from floor-to-ceiling glass panes. Even these areas are visible to visitors, which encourages a positive attitude towards the firm, says Fehre.
"The effect is that the company feels more tangible; the design conveys an uncomplicated, modern and reliable impression," he explains. "Even more importantly, the space has had a huge effect on employee motivation, and hopefully encourages more team spirit."