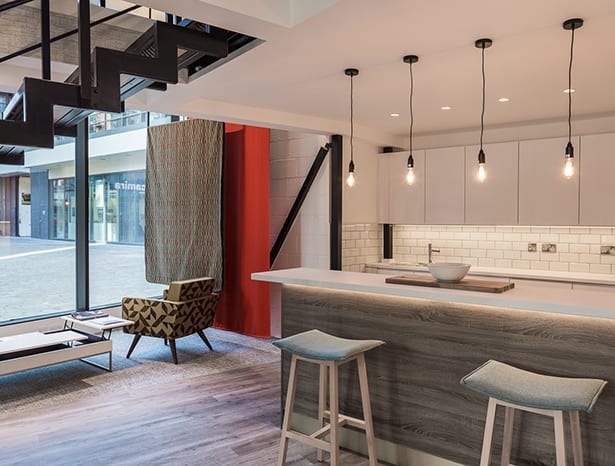 |||
There's no doubting it: Manchester is a vibrant, evolving and exciting city to be in at the moment. The number of quality construction projects rejuvenating or developing several areas around Manchester is outstanding – from Angel Gardens and Quay Street to the ever-impressive Spinning Fields' continued developments. And these are just the tip of the iceberg.
The new developments have seen more and more corporations and large businesses migrate to the north of England for a chance to get a foothold in this exciting emerging arena. With lower employment costs, lower business rates and more opportunities, it's easy to see why there is a mass migration. Southern companies can get far more for their money outside of London.
Among all this movement, a battalion of design-and-build fit-out companies are making their mark, such as the incumbent Spatial Office Environments, whose work is constantly producing stunning office suites at a fraction of the price of their counterparts in the south. The pure value for money seems to stretch much further in the north, and as a result, it has attracted attention from various companies in the south looking for fresh design ideas and fulfilment capabilities.
However, not all companies want to move to the north in order to take advantage of great workmanship and stellar pricing. More and more London-based companies are looking further afield and employing the services of the great northern fit-out companies such as Spatial for their value proposition.
Camira head showroom, Clerkenwell, London
In order to stand out from the crowd, it appears that design and flair seem to be a prerequisite these days and, as we all know, design and flair costs money. To make budgets stretch further and to allow London companies to afford the extravagancies that set them above their local competition, they have begun to reach out to northern fit out companies like Spatial. The ability to provide high end fit-out and furniture products but at a greatly reduced cost is extremely appealing.
"We are well established in the Manchester area, and the office fit-out scene is incredibly strong here, but recently we have found that we are getting around 15% of our business from the south," says Paul Eatock, sales director of Spatial Office Environments. "And the driving factor seems to be the amount of money our clients can save and then re-invest into having a more elegant or elaborate office scheme. Which, in turn, allows them to attract and retain the best staff as well as maximise their productivity. It's a win-win".
Spatial recently completed Camira Fabrics' premier Showroom suite (above) in the heart of the A&D design community in Clerkenwell, London – which has just been nominated for an award – alongside the impressive new offices of Premier Group Recruitment in Reading (below) and a classy office suite for Saunders Architects in Welwyn Garden City.
"As the word gets out about our quality, design capabilities and cost effectiveness, we only expect to see more clients from London and the surrounding areas jump on board," continues Paul. "There's something to be said about the Manchester design flair. Quirky and relaxed, yet it maintains that important element of professionalism. That, and the substantial cost savings to be had, seem to be making an impression in London."
To see how Spatial can help you, give them a call on 0161 850 7005
This is an advertisement feature
Premier Group Recruitment, Reading