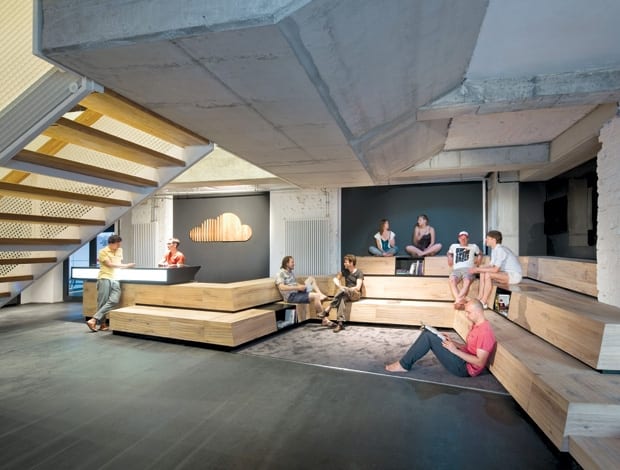 Tiered seating under the stairs. Brickword hints at the building's past life as a brewery|Wooden lockers are customised by staff with multi-coloured table-tennis balls|Communal spaces have been designed to comfortably fit both large and small groups|Workstations are arranged around long tables with no dividing space|Naps are welcome in padded cubicles that can be curtained off|OSB fins running along the ceiling help to dampen acoustics|The former Berlin brewery that is now SoundCloud's German HQ||
SoundCloud's Berlin outpost is housed in a former brewery, sharing a stripped-back space with other tech start-up sensations
Prior to moving to its new HQ, SoundCloud's Berlin employees were spread across up to four different venues in and around Rosenthaler Platz in Mitte, Berlin's tech startup district. Meetings would take place at St Oberholz, a well-known cafe and co-working spot frequented by the city's community of freelance digital bohemians, armed with their iPhones and Macbook Airs.
"It's a lot more efficient now that employees are not losing time co-ordinating themselves across different locations," says Chris Middleton, one of three directors of design, fit out and architecture company Kinzo. The Berlin-based firm came on board with the project to find a new HQ following a chance encounter on the street with a DJ they knew who worked at SoundCloud at the time, who told them about the search for a new space. Kinzo scouted five potential locations. The Factory, a large former brewery in Mitte, close to the former Berlin Wall, stood out. "It has an incredible location, and an incredible history," says Middleton. "The top floor was once used by the Stasi to make sure that nobody was climbing the wall. The building sticks out as everything around it was torn down by the GDR."
At the time, the building's owner was preparing a large-scale refurb to turn it into a campus for tech companies, but a lot of work was needed first. Julian Breinersdorfer Architecture extended the building, adding two new floors on top and removing plaster cladding to reveal the original brickwork.
"It was a historic and complicated building that needed to be stripped down and built back up in places," says Middleton. "It was fascinating to work with, a bit like a church: you could see where a new wing had been added, or the use of materials had changed. Some parts of the building have cast-iron ceilings, some have brick and some have concrete, all at different heights. For each space, we were dealing with very different types of architecture."
At the time, the online audio distribution platform employed around 60 people. This is now closer to 200, and the new space is designed to accommodate up to 350, to cater for future expansion of this young business. SoundCloud occupies three levels of The Factory, but still shares public areas on the ground floor and basement. For SoundCloud's offices, Kinzo has exploited the industrial features of the building and built in communal areas to cultivate the constant creative exchange, which is seen as integral to SoundCloud's company culture.
A two-storey atrium and staircase in the centre serves as a main hub, offering generous open space. Middleton explains how "it acts like a big living room. We placed all the main functions in this area, including the printer and the office's only coffee machine. This ensures people are always meeting by coincidence, and it is always lively. One employee said that since working here he has seen more people in a week than he would usually have done over six months.
Throughout the floors there are a combination of open workspaces and themed rooms, each with a unique identity, creating distinct mood shifts as people move around the space. "In the design and construction phase we gave each of the themed rooms to a different carpenter, so that each individual space has different materials, different solutions, different details and a different feel," says Middleton.
Versatility and adaptability were also key principles. One of the rooms has a stove at the centre and spaces you can pull a curtain around you to nap, if, for example, you've come from the San Francisco office and need to sleep off the jet lag. "If you light a candle in this room you know you won't be disturbed," Middleton explains. "If anyone else wants to use this space for a meeting and there are no candles lit, they know it's fine to go ahead."
There is also a lecture space with soft seating in the centre which can accommodate as many as 60 people for a panel discussion, or as few as five people for a meet up, without seeming empty.
One consideration that was very important to Kinzo and to SoundCloud throughout the project was noise. "Our approach was to create special acoustic solutions," says Middleton. "Whereas the common space can be louder, sound in the dedicated workspaces should be absorbed completely, for example." Some they made a feature of, such as the banks of wooden lockers for employees, each with a hole the size of a table-tennis ball in it, to absorb deep frequencies. "From a distance it looks a bit like a loudspeaker," says Middleton.
"Each staff member has a table tennis ball that they customise and use to personalise their locker. One of the founders is a semi-pro table-tennis player – it's their passion – so it all ties in."
"For every project that we do, we try to cultivate a personality for the space," continues Middleton. "We want to lend the place an identity – something that both reflects and develops the spirit and culture of a company. With this project, the challenge was to create a tangible reflection of a virtual community. SoundCloud is a young, expanding and innovative company and we let their world influence and inform the style, approach and design of their building."