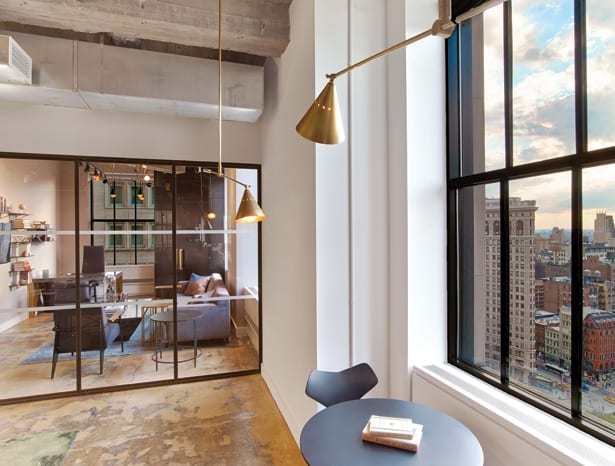 |Ebonised wood cabinets provide a backdrop for the che|A copper chandelier illuminates cooking demos in the kitchen|Concrete walls echo the pale greys of the materials palette|Open areas enable informal work meetings or allow staff to unwind||||||||||
You know chefs are the new rock and roll stars when a major talent agency includes crucial design features specific to its culinary clientele for its new offices.
The workplace for William Morris Endeavor/IMG (WME/IMG) in New York is the work of architecture and design studio Rockwell Group. This project includes an open show kitchen and a marble counter with a cantilevered rose gold-plated copper base, which provides a stage for these high-profile chefs, who are increasingly a part of WME's client base. A wall of ebonised wood cabinets is a backdrop for the cooking, while overhead a copper chandelier and angled mirrors provide views of the dishes being prepared.
The agency is moving from Midtown Manhattan to the 18th floor of a building situated on that most seminal of addresses, Madison Avenue, with sweeping views of Madison Square Park. The pale greys of the material palette give a nod to the art deco tower in which WME/IMG has made its new home. "This highlights the beauty, modernity and strength of concrete," says David Rockwell, the founder and president of the practice that bears his name.
For example, a concrete feature wall divides the reception area from a stage area. To balance out these industrial tones, there is some more of the delicate rose gold finished copper, this time combined with custom glass on the reception desk. As well as drawing a distinction between raw and refined materials, this desk will also serve as somewhere to show off an ever-changing display of objects that relate to WME/IMG's clients, such as new books or items from their product lines.
No major structural interventions were made, aside from additional framing to the operable wall and the introduction of more steel to support certain light fixtures. The overall concept of the project, meanwhile, centred around transparency, transformation and a strong sense of presence. As Rockwell continues: "The offices are designed to visually connect agents and staff, while still providing audio privacy." For example, a free-floating workstation is enclosed by a steel bead curtain on an oval track with LED spotlights. When these lights are turned on, they create a surface that is easy to see out of, but reflects noise.
This theme of transparency is continued in the design of the perimeter offices, which have glass-fronted walls. In-bound offices are shorter than ceiling height and resemble floating jewel boxes, which again helps to allow natural light to filter throughout the office space.
Rockwell explains: "The client also wanted more of a non-traditional work environment, so we incorporated elements found in hospitality to help create a welcoming space. We developed an area that we refer to as the heart space, which can be divided in half to separate a screening room from the pantry area."
As well as the aforementioned cooking demos, this space can also be used for staff meetings, presentations and that increasingly commonplace activity for the forward-thinking employer, yoga. The east and west flanks of the floorplate serve as terraces, either as places for informal work meetings or when the staff have the chance to relax and unwind. The inclusion of the terraces was inspired by the green space in the park below.
Taking the best of what the hospitality industry does in terms of design is a feat that Rockwell Group also achieved in another New York project, its NeueHouse coworking space, which completed in 2013 (and which featured in onoffice 82). There the floorplate of the project echoed a hotel lobby with little pockets of spaces where people could find their perfect place to hang out. In the case of the WME/IMG agency with its superstar chef client base, it seems the place to be is most definitely the kitchen.
Rockwell Group has put a kitchen at the heart of its Madison Avenue offices for talent agency WME/IMG