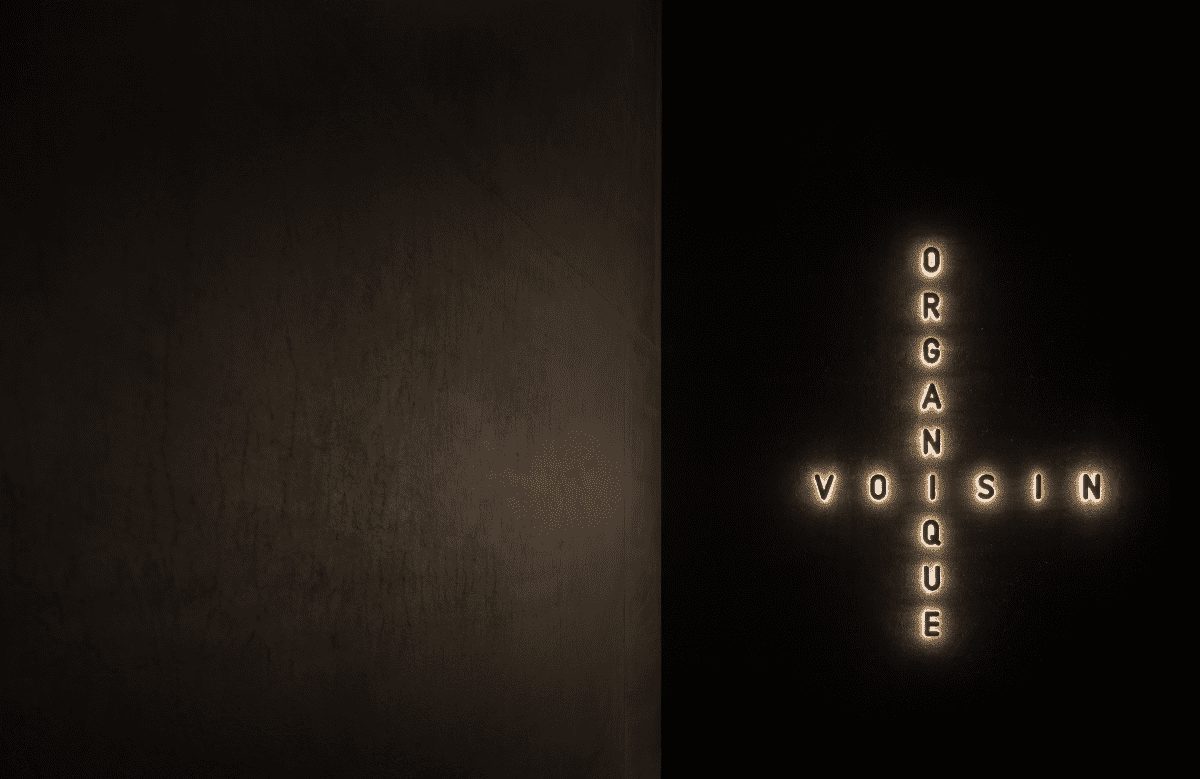 Various Associates' design for a Shenzhen organic restaurant uses shape and shade to provide a dark, sophisticated backdrop suitable for a cuisine focused on authenticity of taste
Planted in a trendy neighbourhood at the heart of China's fast-paced city Shenzhen, is a tranquil eatery where time is slowed, and the sensation of nature is braised into each and every bite of modern Chinese cuisine. Voisin Organique, a restaurant unfolding from the 'farm-to-table' concept, takes its diners on a journey into nature by fusing feelings to culture through the taste of food. It is a space to escape to and a valley to wander in.
"By simply believing in the richness embedded in the taste of food, we aim to use organic ingredients and continue exploring all its possibilities with our menus. We strive to give back to society, to contribute and uphold environmental sustainability in what we do," explains Rosetta Lin, co-founder and executive chef of Voisin Organique.
Situated in the urban complex Upper Hills, Voisin Organique is encircled by three central parks, as well as two majestic mountains. Echoing its surroundings, the restaurant enlisted Shenzhen-based architectural and interior design studio Various Associates to revive its interiors, creating a unique dining experience that would transport visitors into the natural landscape, while also emphasising Voisin Organique's journey from farm to table.
The 500sq m site is divided into a lounge, a fine dining enclave and 110sq m kitchen operation area. Taking the significant difference in ceiling height into account, a large pipe running across overhead and the L-shaped structure, Various Associates worked around the peculiarity of the site.
Originating with an aesthetic theme based on 'wandering in the valleys', the designers carved the oddities into the characteristics of the space. The VO Lounge, situated at the front of the house, features a wall-to-ceiling ensemble wrapped in rumpled silver foil that emits a dim yet glowing red light, much like the sunlight shining through the misty valleys of the surrounding hills.
Wandering along the hallway into an ever-deeper gloom, visitors are guided to a hidden fine dining area. Here soft white light falls from the brown-red heightened ceiling above. Darkness is intruded on by hints of white, like breezes of air, a glow of nature breaking through the rural landscape. At dawn and dusk alike, a brushed-up crowd adds a special lustre to the otherwise rustic interiors of Voisin Organique.
A place of infinite imagination, weaving through the thread of the stories it tells, the simple yet avant-garde ambience of the restaurant is embellished with a sleek collection of all-black furniture. The dining chairs, crafted in classic bentwood, come courtesy of Thonet and add to the modern and organic feel of the space.
Following the stream of natural light, peeking out through the row of convex windows, a series of Vigna tables and chairs by Magis further adorn the space. Inspired by climbing ivy, the twirling steel rods of the frame hint at the inner 'wanderland' and encourage a lingering atmosphere.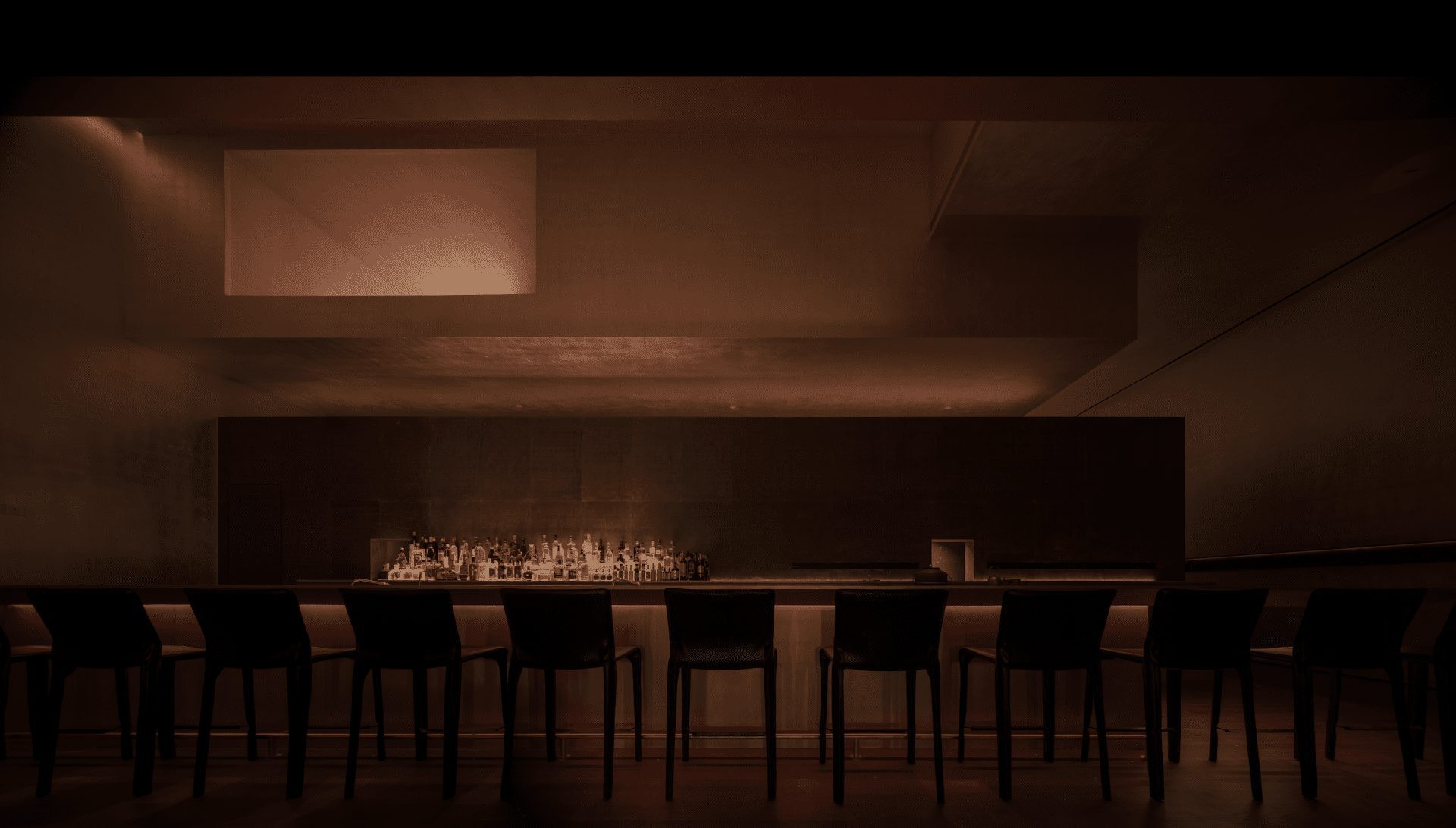 Meanwhile, the menu is devised by executive chef, Rosetta Lin, whose contemporary cooking style is informed by her artistic background. Much like art and music, cooking is another form of self-expression.
"When you discover different ingredients and delve into their various combinations and formalities, it is an incredibly novel and creative process. This feeling of ecstasy is the same as if I were to immerse myself into art or music. I feel free."
Voisin Organique's dishes – infused with Lin's childhood memories and topped with dashes of the paths she travelled on and the scents she discovered – then, each possess their own natural and unique flavour. Sourced from its own EU organic-certified farm, the Tesh Organic Farm, ingredients are picked by Voisin Organique's co-founder Tina Chen and delivered daily to the kitchen.
"We want people to enjoy our own produce of fresh, organic food served to their table," says Chen. The menu reads healthy here; seasonal vegetables, osmanthus and chestnuts, just to name a few, as well as seafood and wild matsutake round off their seasonal offerings.
In addition to the dining menu, the VO Lounge also serves an exquisite tea experience, inspired by Song dynasty tea culture, all complete with organic ingredients, Chinese-style beverages and tapas. In the future, Voisin Organique is hoping to further expand its authentic dining experiences by hosting food markets and cooking classes for green-fingered fans, as well as nature and aesthetic workshops; to embody – and relish – a natural and healthier lifestyle.
In an era of fast food and ready meals, and our attempt at catching up with the fast-paced world we live in, Voisin Organique brings back the intimacy of nature. With a respect for nature and the interdependency of life, this restaurant is a celebration of authentic food and a guiding light of the slow movement.
All images courtesy of Various Associates 
As featured in OnOffice 152, The Now Issue. Read it here.