Only in Black & White: The Office Group's latest venture explores the impact that thoughtful materiality can have on the workplace – and sets a new standard for integrating multiple narratives into a fit out, from student work to some of the UK's most established designers
Nestled inside central London's tallest mass timber office building is a delightfully inspiring interior that celebrates richly tactile materiality and the power it has to elevate the workplace. Drawing inspiration from different decades and styles, from the 1970s through the 1990s to today, the Black & White Building is a new vision for private offices and co-working spaces by The Office Group (TOG) with interiors by London-based Daytrip Studio.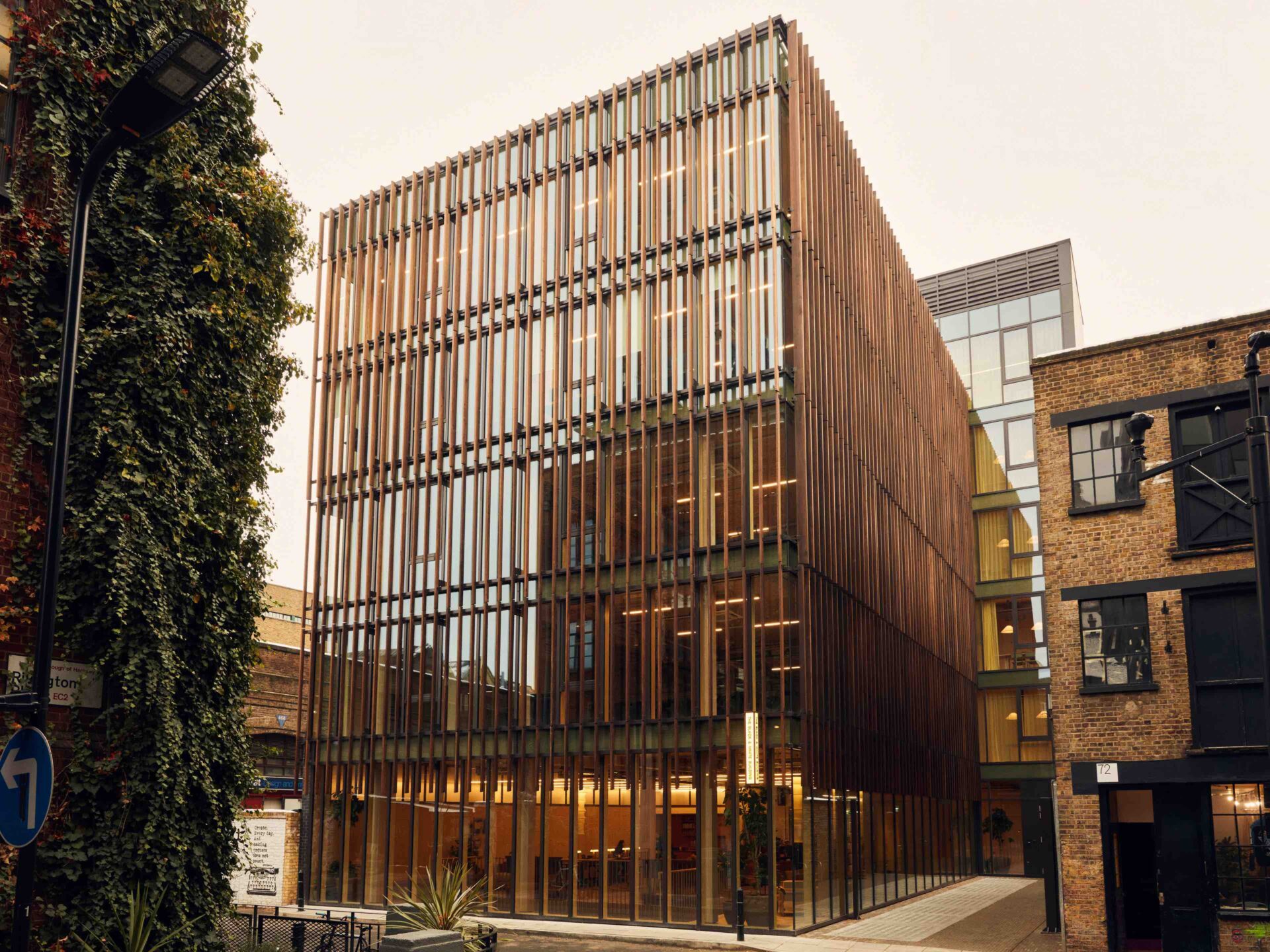 "The client's vision for the Black & White Building was clear – a pioneering new workplace with sustainability at its core," says Iwan Halstead, who co-founded Daytrip Studio with Emily Potter. "We were encouraged to think of a workplace for the future and TOG were particularly interested in exploring new ways to connect people, asking how the interiors could be designed to aid and benefit multiple ways of working."
This pioneering approach begins with the architecture, a striking timber and glass construction by Waugh Thistleton Architects with long timber fins and views into the ground floor lounge from the street. Approached down a discreet cobbled passage in Shoreditch, the building and its reception are noticeably less formal than a more conventional workplace.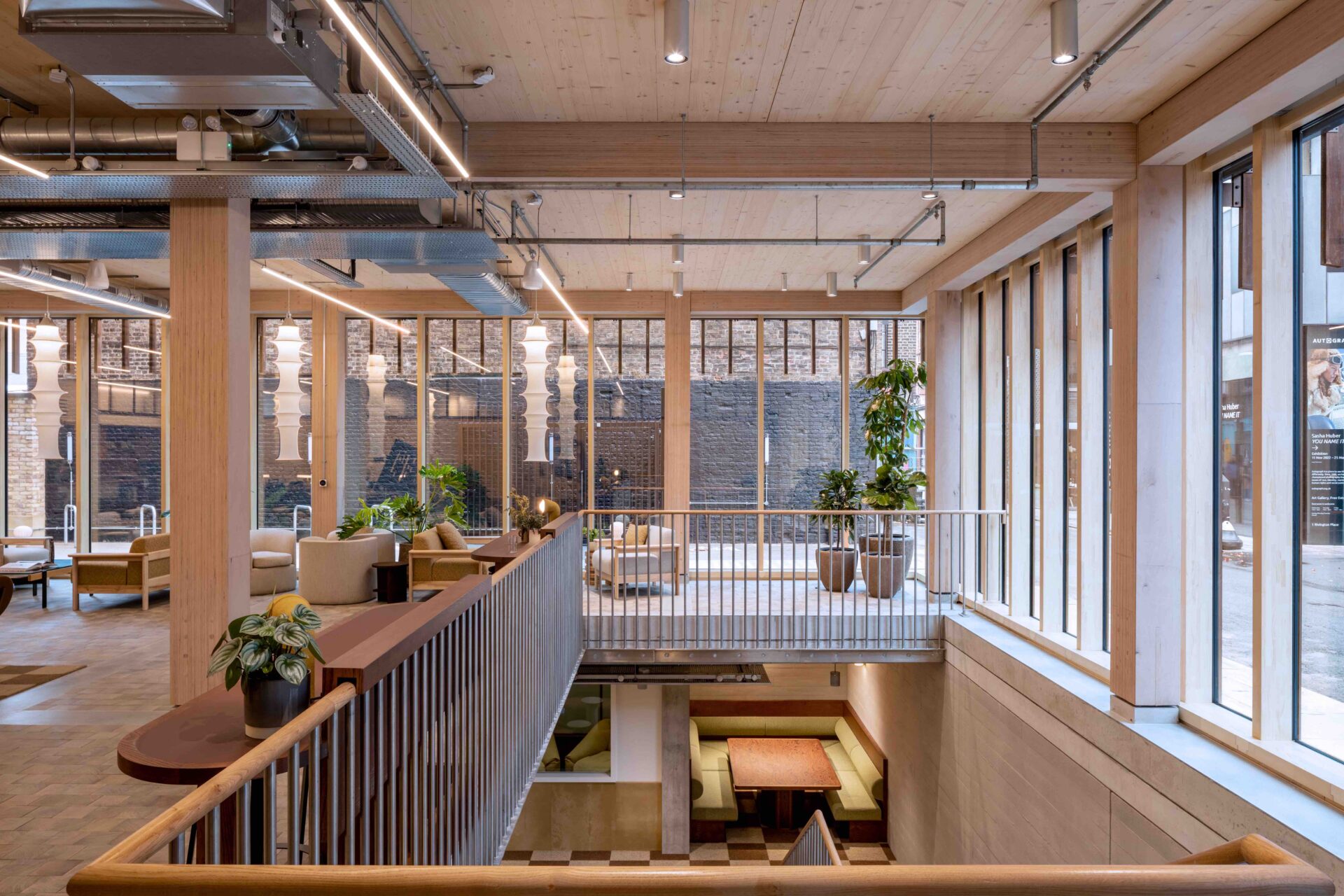 From the moment of entry, visitors to the building are immersed in what Daytrip Studio describes as a "maker space" – think large artworks, exposed stud partitions, various objets d'art and a crafted timber reception desk with a sculptural form. The ground floor lounge takes cues from the timber architecture, with soaring timber ceilings and expanses of glass that flood the interior with natural light. This open space is populated by bespoke seating, communal tables and Zoom booths, tapping into the needs of a contemporary workforce.
The lounge continues downstairs to the lower ground floor, which is big on naturally textured materials with playful pops of wasabi green and turmeric yellow. Here, breakout spaces and meeting rooms allow for team meetings, and individual loungers offer space to relax during the workday. There's also a therapy room designed for yoga and barre.
It's these two floors where the material exploration of the interior really shines. The lower ground floor, for example, features 'hairy' chequerboard carpet tiles that evoke the iconic 1960s-style lounge of Hotel Okura in Tokyo, while the ground floor is defined by end-grain timber blocks, that are a nod to both Victorian workshops and Isamu Noguchi's private studio in Japan, and colourful textiles by Finnish designer Antti Nurmesniemi. "The results play on nostalgia, with subtle twists and modern updates on otherwise outdated interior styles," says Halstead.
These tactile materials also have the very real benefit of acoustic dampening, which is key for busy co-working and collaborative workspaces to enable multiple conversations. The lower ground floor in particular benefits from the "hairy" tiles and a ceiling constructed from heavily textured, fire-treated recycled paper.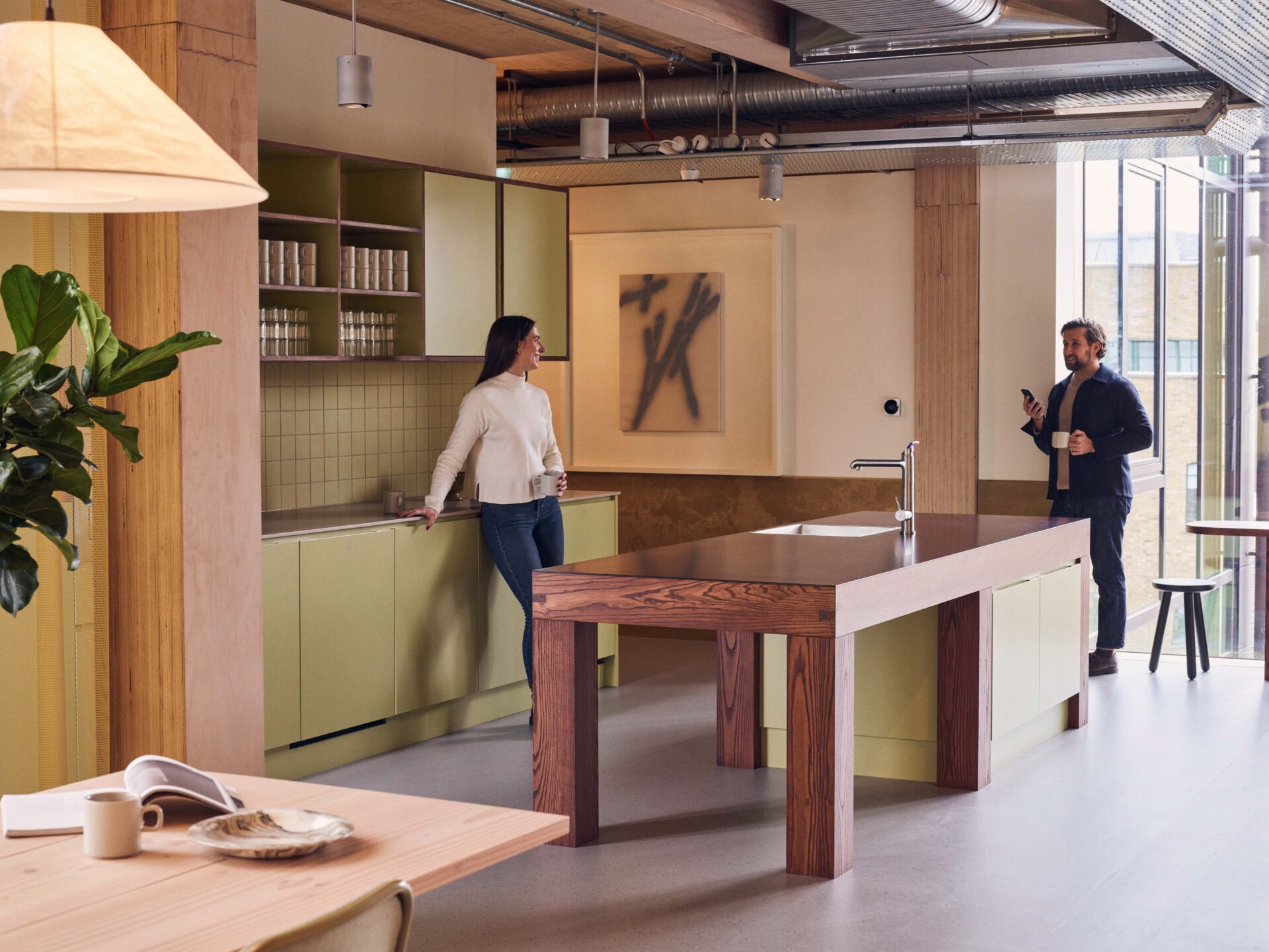 The signature bouclé textiles from Tibor, woven in England, and softly upholstered furnishings, such as the Puffer chairs by Philippe Malouin, also contribute to the acoustic comfort. Upstairs, there are a variety of private offices which are essentially spruce timber shells that can be adapted according to the various needs of tenants. In keeping with TOG's focus on community and collaboration, each floor boasts a shared kitchen and social spaces. Like the lower floors, these shared spaces celebrate the unexpected. Take, for example, the avocado and caramel palette of the kitchens and shower rooms.
"These colours were fashionable in the 1970s, and are now modernised through new finishes and refreshing contrast," says Potter. The rooftop, with panoramic views across London, offers yet another opportunity for social gatherings. "We wanted to bring the art and creativity that east London is known for to the atmosphere of the building, so we explored how artists' studios and makers' workshops could influence the spaces to feel informal and playful," explains Halstead. "One recurring theme is the importance of craft and artisanship in opposition to mass production."
As a result, the majority of furniture pieces are bespoke designs from British makers and artists, selected for their originality and integrity. Another key expression of this is the Makers & Mentors programme, a collaboration between TOG and social enterprise POoR Collective. The mentorship scheme paired design students with established British designers Sebastian Cox, Matteo Fogale, and Andu Masebo to create furniture, accessories and artwork for the ground-floor lounge that reflects the sustainable, materials-driven principles that are the driving force behind the Black & White Building.
The results range from a playful rocking stool by Alejandro Canales and coffee tables crafted from different timber types by Emilie-Gabrielle Lemaitre-Downton, to a pair of curved benches by Isobel Browne-Wilkinson. "Users sit in and use these pieces everyday," says Potter. "It is really empowering for young people to see their own designs translated to usable pieces in a commercial setting."
Like the work environment that TOG strives to create, the Black & White Building is clearly built on community and collaboration. Each element of the fit out interprets the concept and the brief in its own unique way and adds another layer to this rich narrative. "It's impossible to pick a favourite, but the work of Jan Hendzel embodies the project as a whole," reveals Halstead, referring to the series of imposing totems crafted from beams salvaged from the original site that adorn the reception and lounges.
"The efforts made to achieve a project that is genuinely progressive has been rewarding for us all – and there are so many stories and moments that reveal themselves over different visits. The Office Group are understandably extremely proud of the Black & White Building, both as a building and as a message. It fills us all with hope."
Images by Jake Curtis, Ed Reeve, Ian Tillotson
As featured in OnOffice 162, Spring 2023. Read a digital version of the issue for free.