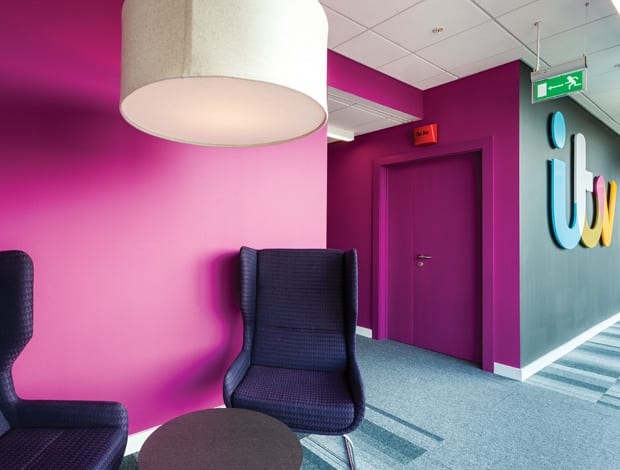 Strong colours give spaces more potential for filming digital projects|No amount of colourful furniture can counteract a Salford sky|ITV is settling in to new digs on three floors of Orange Tower in MediaCityUK|Exposed ceilings are put to good use as fixings, for lights, TVs and curtain rails|Curtain tracks run around the kitchen, so it can be segregated for meetings|The fourth-floor news studio, overlooking the Imperial War Museum North||
ID:SR has created a collaborative working space for ITV's Salford HQ
Prior to the advent of satellite television at the tail end of the 1980s, there were only two serious players vying for the attention of the great British public – BBC and ITV.
Much like the two-party political system before focus groups and image-managers diluted it, audiences knew where they stood with both. Licence-payer-funded Auntie was expected to "educate and inform" and developed a mildly stuffy reputation, while its commercially driven rival could never quite shake off its less intellectual tag.
Although the proliferation of channels further dented ITV's audience share, it remains a familiar voice on the TV landscape. Which is why, following the BBC's unprecedented £1bn move to Salford, it was crucial that ITV joined them. Otherwise, the slightly cliquey MediaCityUK moniker would ring very hollow indeed.
On paper it appeared much easier to shift the workforce a few miles down the road than convince London-based journos and their families to troop halfway up the country. But, as with everything, the reality was a little more complicated.
For 57 years the broadcaster operated from Granada Studios in Manchester's Quay Street.
Despite its cellular layout, the building had a potent emotional pull, producing internationally acclaimed shows like Brideshead Revisited from its basement studios. ITV was primed to move into a spec office building at MediaCityUK with few of these broadcasting tools, and tasked with smoothing this migration was ID:SR – the interior architecture arm of Sheppard Robson.
Headed up by Helen Berresford, the practice has honed itself a name as the experts in designing for broadcasters, delivering projects for Channel 4 and the BBC's offices in Salford. onoffice met Berresford in the slick corporate reception of Orange Tower (the building itself was also designed by Sheppard Robson) before jetting up to the sixth floor – the top floor of the three that ITV occupies.
"The link between production and your office is now much greater"
"At one point it was felt we were too aligned with the BBC and Channel 4 but we knew the brief was to make it feel like ITV, which is a massively different story," says Berresford. "Media is changing and the digital world is very much upon us. Moving lock stock and barrel to somewhere meant that [ITV] could rethink working practices. And although there were efficiencies and space savings it was as much about bringing the organisation together."
It's all part of One ITV, an initiative that company communications manager Amanda-Jane Read says aims to establish the brand on a global as opposed to regional level.
Rather perversely, this lofty goal has manifested itself in a massive injection of cash into regional news, which goes live from the fifth floor in the one substantial TV studio in the building.
Our tour, however, begins with the number crunchers on the sixth floor. Thanks to the raw finishes, it feels anything other than a finance department, and Berresford reveals that accounts needed to feel better connected to the business they worked in, so the aesthetic is consistent with the more creative departments. The desks are arranged in a fairly perfunctory manner but there is a nice segue into the kitchen/dining area near the core – all collaborative spaces and meeting rooms are situated at the office's centre. Allied to this informal space is a small, tastefully furnished breakout area tucked into a glazed corner. The kitchen doubles as a meeting room, and can be sealed off, if necessary, by colourful curtains.
Far from a cheap echo of the industrial buildings colonised by media types in east London, the exposed ceiling is admirably functional, with light fittings and TV screens suspended from bespoke metal frames.
"It was about making it feel like a studio," says Berresford. "We were trying to create a landscape into which you could put stage sets." For these sets the practice called on local joiners Blue Aardvark to make some freestanding MDF and plywood structures which are used as dividers, to create intimate railway carriage-style meeting areas and lockers, which support the behavioural change that ITV was after. "No one has a pedestal. We're not hot-desking, but flexible desking, so staff have areas rather than fixed desks," says Read. "Staff who have never seen each other before now meet up."
"We were trying to create a landscape into which you could put stage sets"
Previously impossible owing to the Granada Studios building's silo-like environment, this mix is bolstered by positioning the staff canteen on the middle floor.
Overlooking the canal and Imperial War Museum North, even the most trenchant departments chow down in here.
The largest (and most rambunctious) of these is the Jeremy Kyle Show, who are indulged with their own segregated area – a move that undoubtedly drew a relieved exhale from the rest of the office. It's empty today (the team are on holiday) but a Marie Celeste feel is not unusual even during term time: ITV leases TV studios in a building opposite, and correspondingly, teams swell and contract depending on filming schedules. In this regard Berresford and her team have grasped broadcasting's increasingly multi-faceted nature and designed accordingly.
"Content has become much more varied and so the link between production and your office is now much greater. Production is not always in a TV studio. The lighting and curtain rails give a studio feel, but the colour palettes in here are so strong they come across well digitally, so you can also film in here."
One of the main frustrations with the old Granada building was the anonymity of the newsroom. Buried deep in a labyrinth of rooms, no one outside of the staff really knew where it was.
Here, it is brought centre stage on the fourth floor, with Libeskind's sculptural war museum forming a distinctive backdrop for the local bulletins while journalists are arranged circularly nearby. The sales department and children's television are also here, and some small model TV sets are exhibited in glass cases, connecting the offices with the end product. Tucked away at the rear of the building are the post-production studios, which demand a highly focused approach.
The one problem area is the reception, which, with no desk, lacks a clear definition. Read confirms ITV is considering a kind of maître d' service to usher visitors towards the nearby couches.
The only other questionable element is the nod to ITV's heritage. Many of the meeting rooms are named after TV shows or Manchester's cultural icons – one can thrash out a contract with a troublesome starlet in the Hacienda, for example.
As the BBC found in London, it is tricky to imbue a new building with a spirit of the old when the protagonists have only just moved in. That said, ID:SR has hit the most important notes in creating a flexible and dynamic environment for a company with renewed enthusiasm for the digital universe. That the practice pulled it off aided by well-constructed but decidedly low-tech joinery adds a pleasing irony.