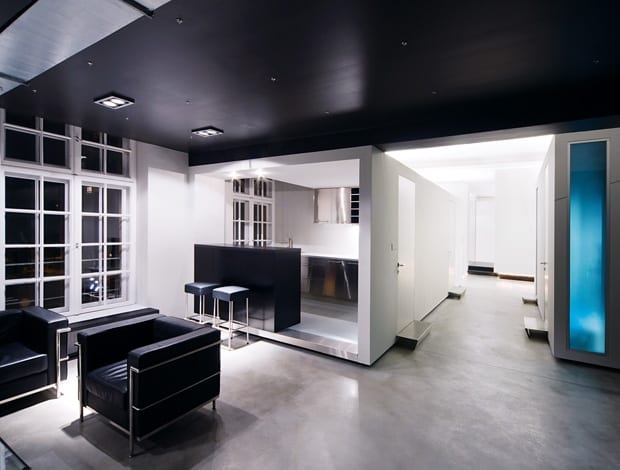 A kitchen/bar services the break-out space|A cuboid desk designed by Wanda Reich dangles from the ceiling|What do you think you're playing at, Jenkins? See me in my cube. The managers office features a grey linoleum floor|They say it changes when the sun goes down. LED lights hint at Goldberger's secret life as a nightclub|Heating pipes and electicity cables are covered by grey pebbles||
Hungarian architecture and design practice Tervhivatal shredded the open-plan set up, added some square steel boxes and created an office-cum-nightclub for a Budapest advertising and graphics company
Flattened out workspaces, the end of hierarchical work structures, egalitarian layouts, people power, that's what it's all about, isn't it? Well, not necessarily, as Hungarian practice Tervhivatal found out in its fit out for internet advertising and graphics company Benedict & Helfer. Here the ubiquitous open-plan set up coupled with optional gimmicks (slides, table football) has been replaced by a selection of white cuboids arranged in a line (plus a poker table), which appear to encourage solitary pursuits.
So what gives? According to Dániel Lakos, one half of Tervhivatal, the client wanted a flashy contemporary office but one that carved definite lines between departments.
"There wasn't much interaction between the graphics department and the advertising department, for example," he says. "We suggested this box-like arrangement, which they liked." The venue for these cuboid pods was a former textile factory in the Old Buda, a rough and tumble district close to the banks of the Danube, which has been rebranded as Goldberger.
At five metres high, the generous verticality of the ceiling was matched conversely by the rake thin floor plate, which prohibited anything more adventurous than a parallel, linear composition. Visitors are greeted by a reception box facing out towards an exterior corridor, while the boxes are divided up between a mixture of meeting rooms, work pods and individual cells culminating in a large meeting room at the far end.
Elsewhere, a dangling box created by designer Wanda Reich serves as a floating desk. The boxes themselves are deceptively solid. Constructed from a steel skeleton and enveloped in plasterboard, they seem overly sturdy for the task in hand. But they do lend a sense of permanence to a space that could be mistaken for a pop-up office. This is clearly a company that does not envision upping sticks in the near future.
"We suggested making them from building boards or timber frames, but they didn't want any kind of wooden board. Maybe they were afraid of wood, I don't know," says Lakos. In fact, he admits that this woodless environment was probably for the best. Looking a little cold is vastly preferable to having your young trendy workforce holed up in something akin to a large cargo box.
"When the sun goes down the office converts into a nightclub"
Goldberger leads a strange double life. When the sun goes down the office converts into a nightclub.
LED lights around the bases of the boxes illuminate the space and the large meeting room features a kitchen area-cum-bar to ensure everyone is nicely lubricated.
Although this feature was always a part of the brief, it's a metamorphosis that puzzles Lakos somewhat. "They are doing parties there at night. But I think maybe it is not for the workers, but company clients."
By way of compensation the office workers have a poker table "to do deals at", according to Lakos. Around the perimeter of the office's polished concrete floor lie the office's heating and electricity cables, subtly covered by a smattering of grey pebbles. By a happy coincidence, Benedict & Helfer's new company logo is a rotating cube. While this might not win any prizes for originality, it certainly suits the Goldberger office and understandably has made the client's top bods very happy. So too are Tervhivatal. "The project was fun. We designed it almost for free and we're very happy people like it so much."