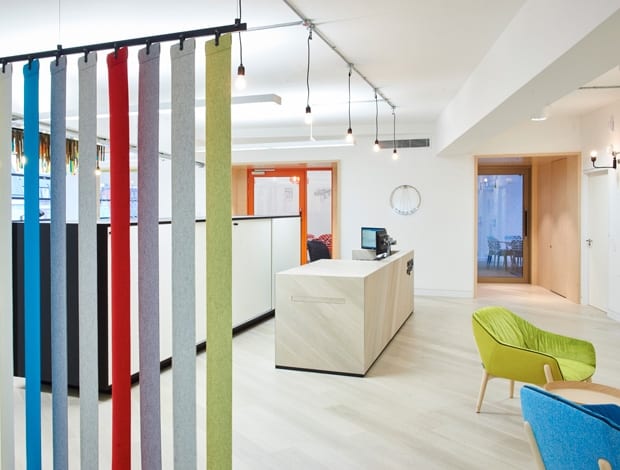 In the company's previous office the reception was cut off from the rest of the team on a different floor. The new space aims to bring everyone together.|The reception desk made with the same timber as the floor to create a seamless appearance|Graphics in the reception detail the company ethos|Pastel furniture from Hay and Muuto in the reception|A meeting room with Hay About A Chair seating, and Rosthchild & Bicars pendant lamps|An informal working space with colourful Eames Dar Chairs|The bespoke lighting feature made with bamboo dipped in colourful paint|Another informal work area with a Morgan Miami sofa and Donna Wilson poufs|Another informal work area with a Morgan Miami sofa and Donna Wilson poufs|Striped felt divider by Selina Rose|The kitchen contains window plantings, writable cupboard surfaces and a special table for "cake of the week"|Wall graphics detailing the company's driving principles|Wall graphics detailing the company's driving principles|Surface-mounted squirrel cage bulbs||
Colour and connectivity were the key tenets in MoreySmith's brief for business advocacy group London First's new workplace. But in a small space with a budget to match, too much colour and a poor layout risked making staff feel cramped and a little too connected.
"It's a charity so we had to maximise space and be clever about prioritising [our spend] to create something that'd work for everyone," says MoreySmith's design director Nicola Osborn.
The fourth-floor office in Derwent's Middlesex House, Fitzrovia, measures 400sq m. It accommodates 45 employees, ranging from 19-to-75-years old, with 22 permanent desks and a variety of "smart-working spaces" for those that are in the office infrequently and "can be seen whizzing around London on Boris Bikes".
The office has largely been left open plan with kitchen and meeting rooms separated only by glass to maintain visual cohesion and take advantage of the Crittall-style windows on both sides of the building.
The reception desk is clad in the same pale wood as the floorboards, each with the grain set on an opposing diagonal. This adds interest, while allowing it to blend seamlessly with its environs.
The neutral architectural palette provides a backdrop for the colourful elements and different textures that are cleverly layered to add depth and balance. In reception, the colours are more muted – a pale grey banquette, a coffee table and chairs in pastel green and pink respectively. These give way to an informal working area characterised by bright pops of colour from a bespoke lighting feature made with bamboo tubes dipped in paint and the plastic chairs placed around a communal table.
A soft-seating area beneath one of the large windows is demarcated by a divider made from strips of coloured felt by Selina Rose, which can be angled to offer greater privacy.
"Before they had the new office, [chief executive] Jo Valentine and the other execs used to camp out in coffee shops," says Osborn, "and Jo said, all we need is a comfy chair, a laptop and a nice view and we want to encourage others to work like that too."
A series of doors and windows leading onto the meeting rooms are set back within angled timber walkways of varying depths, which draws the eye in and conceals cupboards within their walls. The glass opening in the internal windows and doorframes are patterned with a web of silvery lines meant to represent London's infrastructure and the networks created by the company's client members.
The lighting needed to be surface mounted, so MoreySmith made a feature of the exposed conduit, which ties in with the industrial windows and stops the space becoming overly pretty. The team created bespoke boxes to hide electrical fittings and mounted squirrel cage light bulbs on the walls. Similarly, pendant lights in orange, yellow and blue from Rothschild & Bickers were used in the meetings rooms and kitchen to create continuity while distinguishing each room with its own colour.
Other projects by MoreySmith