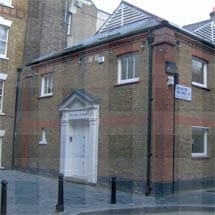 Words by Helen Parton
Helen Parton visited the new addition to the London offices of What If to investigate what kind of workspaces a self-styled "innovation company" might occupy
I'll have what the What If team is having, please. The company's blurb speaks of an "action orientated, happy and hard working team". This is no exaggeration. I'm not sure whether it's nature or nurture, whether they were created this way or if their hyper-stimulating office induces this much positivity, but either way it seems like a great working environment. And the company has been voted best place to work in both 2004 and 2005 in a survey for the Financial Times.
"We facilitate with idea generation sessions," explains Julianne Vanderkar, head of What If's environment team. "Whatever a client's issue is, we help go through the whole process to see who they are as a company and where their ideas are coming from." Having bounded up the stairs of What If's main office building on a narrow street a couple of minutes' walk from Marylebone High Street, we're now standing on the top floor, as Vanderkar continues, "We refer to this space as the Treehouse and we have held a lot of discussion sessions here. It's definitely not your typical corporate environment, in fact it's more like someone's living room."
So impressed were What If's clients with the informal yet effective space it had created – think comfy sofas, big wooden table, Smeg fridge filled with ethical bottled water, kind of like the set from Friends if Ross and Rachel had decided to go into the consultancy business – that they had increasing numbers of requests to hire it out, something which their lease agreement didn't allow for. And so the concept of the Old Laundry was born. While the look of the original building in Ashland Place was developed over a number of years by the creative input of What If's staff, for this new annex, interior design practice Fox Linton Associates was brought on board. A short walk around the corner, located in a 19th-century building, the Old Laundry is the very antithesis of your typical conference room – there are no hard back chairs and Formica tables and not a hint of fluorescent strip lighting, and it doesn't have that enforced-fun ethos of paintballing on a company away day either.
The compact reception area doubles up as a small kitchen area too. "Lack of space was a real headache," admits Fox Linton's associate director Caroline Smith. "We didn't want this area to look messy, which is why we put in a big sink, so that if dishes were left, it wouldn't clutter the place up. At the same time, we wanted people to feel comfortable enough to come in and make themselves a cup of tea whenever they wanted." Like the rest of the project, it has a distinctly domestic feel to it; with simple touches such as the decorative suspension lights making it seem much less like an office. "Originally the building was a double height space, but we decided to create two separate floors, so we could have a different feel to each one," says Smith.
The Greenhouse can be found upstairs and is another light-filled, airy space, very much an evolution of what had been achieved with the design of the Treehouse. "It has its own full demonstration kitchen connected by a hatch, which is quite important when we're holding tasting sessions, because then there can be that full interaction between the kitchen and the meeting space," adds studio manager Melissa Bate. This area also serves as a base for What If's own in-house catering division, Food is Love.
The materials used in the scheme are all quite simple and unobtrusive: a mix of white-painted walls and original bare brickwork, plus warm oak flooring. Much of the idea generation comes from covering the walls in colourful Post It notes, so these really needed to be a blank canvas.
One of the first things you notice when entering this room is the tree decorated with fairy lights. Yes, a real Christmas tree, all year round. "It goes through to downstairs as well. We had to go through numerous health and safety restrictions to get it in and we've fixed it using these supporting retention wires," explains Smith. "It just means that there's something to touch and explore straightaway." adds Bate.
On one wall there's a brick display shelf, full of products from around the world. On every available horizontal surface there is some kind of talking point: vases, pots and international objets trouvés. If there's any criticism to be levelled at the project, it's one of sensory overload, but better that than acres of grey fixtures and fittings.
There's a mixture of seating arrangements from a semi-formal meeting table in one corner "for kitchen table type discussions" to large modular seating and organically shaped chairs and stools. Specification was a mixture of designer and high street from Coexistence to Ikea with several spun aluminium lampshades designed by El Ultimo Grito for Mathmos suspended from the ceiling. Smith says, "We wanted to make it feel homely and comfortable and for people to be around furniture they might recognise. Also, it was a really tight budget. We had to be creative in how we spent our money and had to do some quite clever shopping.
"With the toilets, we kept the design quite simple with lilac rubber flooring, and, using some stencilling on the wall, we created a frame for the mirrors." On the outside of the doors some 21st-century, end-of-the-pier postcard style graphics give the project added quirkiness. Downstairs is the Emporium, which, like the Greenhouse, comes complete with plasma screens, surround sound and internet connectivity. Bate describes it as "more of an Aladdin's cave than a meeting space." Far moodier lighting is employed here to give a contrast with the upper floor, and the room is again filled with stimulating objects, which are designed to spark a watercooler-like conversation or help employees avoid that mid-afternoon slump. Smith says, "We have put in these huge felt doors, which when opened can divide the space up. Behind them is a mirrored surface, which is designed to make the space appear bigger."
Both rooms can accommodate around 15 people and can be used for "anything legal and decent" including workshops, brainstorming sessions, photography or video shoots. The space is relatively flexible, as What If didn't want it to look as if it had been too obviously interior designed. It also offers a theming service, turning the rooms into a mini Rio Carnival or an out-of-season Christmas for the day.
If What If is sounding a little too touchy feely, a little bit all style and no substance – with its brand values of freshness, passion, love, action and bravery and employee rewards for demonstrating these – the solid success of the company stacks up to rubbish such a suggestion. Set up in 1992 by Matt Kingdon and Dave Allen in what they describe as a "dingy office in Pimlico" with a shared career frustration with the bureaucracy within big corporations, the firm has worked with some highly sought after clients. It has found an angle for Pepsico to sell salty snacks to China, aided the UK government's Department of Constitutional Affairs to help judges manage their workloads effectively and assisted with BAA's revamp of its fast track security system at Heathrow airport. From one UK office, it has expanded rapidly and as well as its London base has offices in New York, Sydney and Manchester with others already in the pipeline. The Old Laundry space has clearly been a key part of the development of the company and it fits in seamlessly with the existing interior back at the main reception area, which has diner-style seating, a bright red bed (also a meeting area) and even a pub table and benches acquired when their erstwhile local was closing down. That's not forgetting the life-size cow painted in a Superman costume greeting you as you walk in. What If maintains that "environment is one of the keys to having a productive, creative and useful meeting" and I can see how taking a break from the usual corporate routine to visit this company would inspire most people.