Living firmly outside its comfort zone, Fuego Camina Conmigo's ethos is reflected in its bright new office design
When asked what their comfort zone is, advertising agency Fuego Camina Conmigo answers: "It is not a place where fires are kindled because change and instability are good for thinking. Thinking is the first step towards creating different strategies, different solutions."
With a rebellious spirit that isn't afraid to challenge the norm by getting out of the comfort zone, the interiors of the agency's new radiant office space in Barcelona, where creativity is invoked through a state of calm and serenity, reflect Fuego Camina Conmigo's wider ethos with clever design.
Barcelona-based architect Isern Serra oversaw the project located in the industrial neighbourhood of Gràcia, Barcelona, and his signature zen-space approach is embedded in the workspace. The goal was to create an open and dynamic space, steering away from the typical glass enclosures found in offices.
As a response, Serra employed micro-architecture to divide and respect the spaces people would linger in and kept the original architectural elements and windows which allow the location to bask in the sunlight.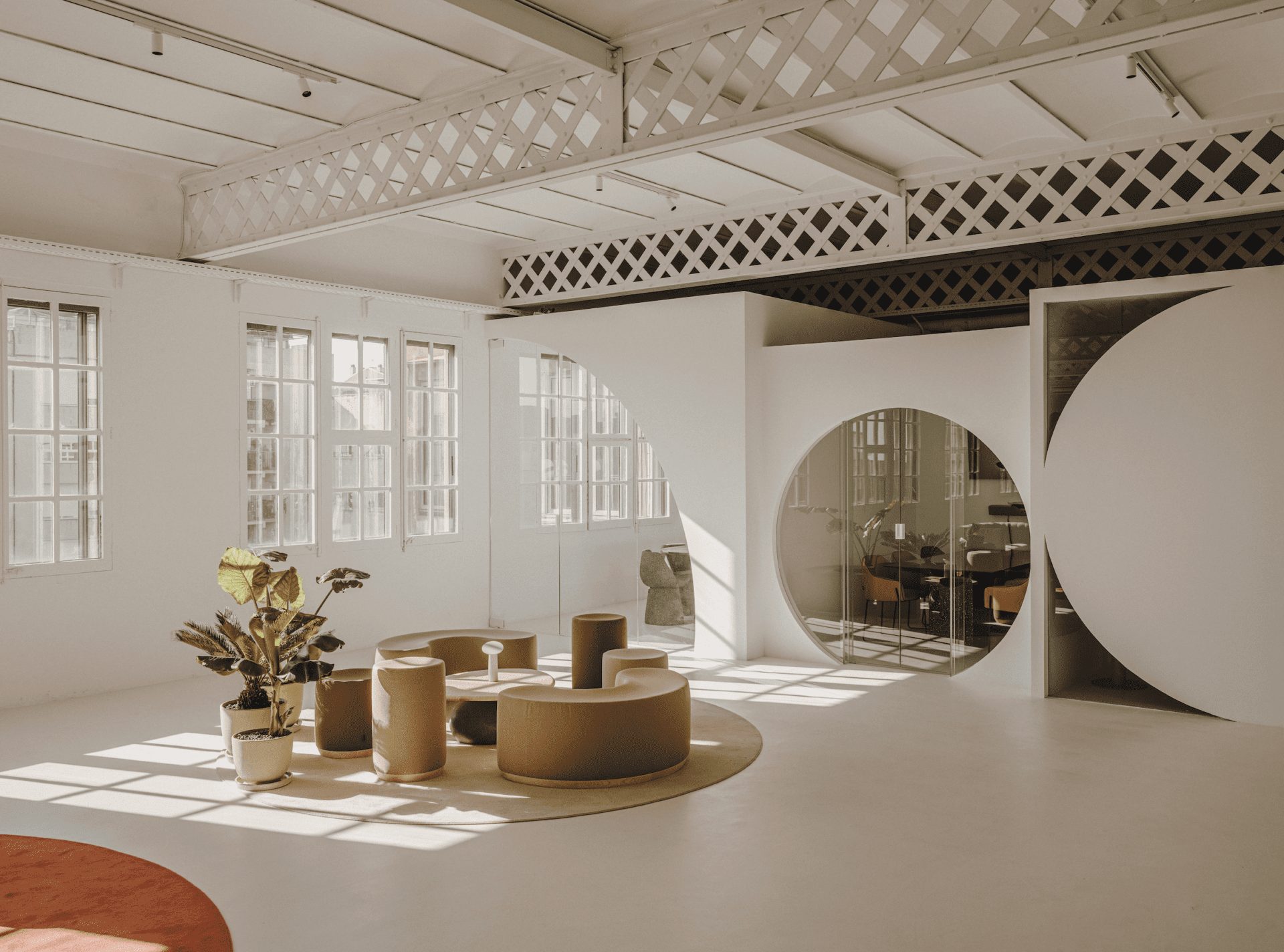 Upon entering, the first zone greets with storage, bathrooms, and meeting rooms, each room boasting a distinct height, length, and width to emphasise the sculptural concept. Circular, crescent-shaped, and curve-like transparent glasses toy with art sculptures and overview the inside to thread the seamless flow of the design.
The furniture of each room has a neutral colour palette to complement the environment and is handpicked by Spanish furniture brand Sancal, who is sharing the office with Fuego Camina Conmigo as their new showroom.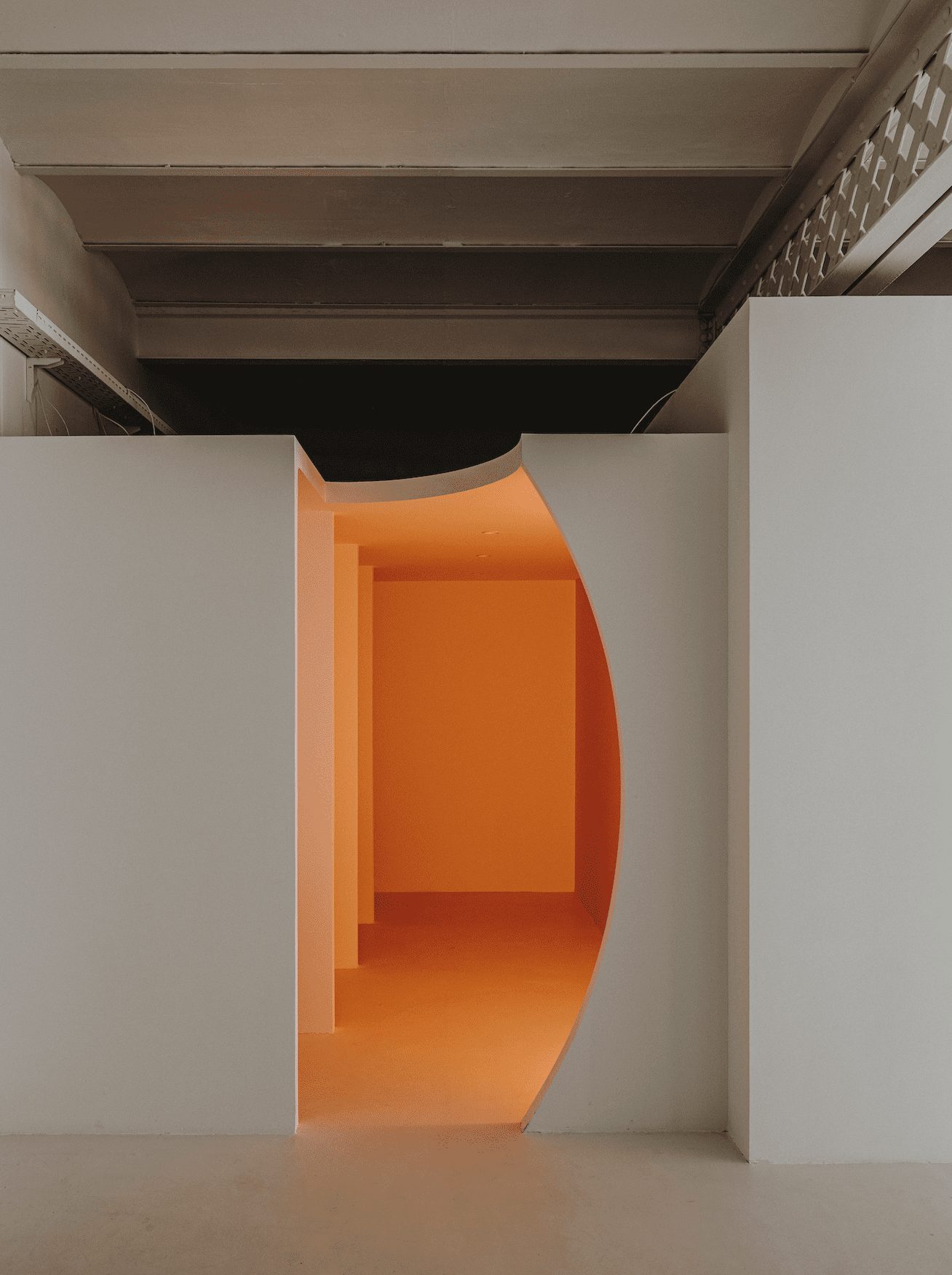 Serra also dedicated an area for those who need to make quick calls, just beside the first zone, where the architectural forms and lighting design of this illuminated space intend to lessen the rush and strain of phone conversations, an idea inspired by James Turell.
The kitchen, with its matte black structural base and natural wood seats, welcomes everyone through its circular opening and glass sliding doors, resembling the gate to a fantasy world. Every rectangular table is paired with eight seats from Sancal whose ring-shaped stem evokes the infinity of well-being the interior displays.
The agora, a multipurpose space that reminisces a plaza, is an instant favourite. It bears the concept of small islands in an open area with the use of circular carpets that bring together sofas, coffee tables, and tropical trees and plants.
Each island is treated with a distinct colour palette – all neutral to please the eyes – and fabrics chosen for each carpet match the assigned tones. Going to the back office, private areas respect the work hustle. The warm light that floods the entrance confers a serene ambiance into the individual workspace composed of a desk and cushioned seat.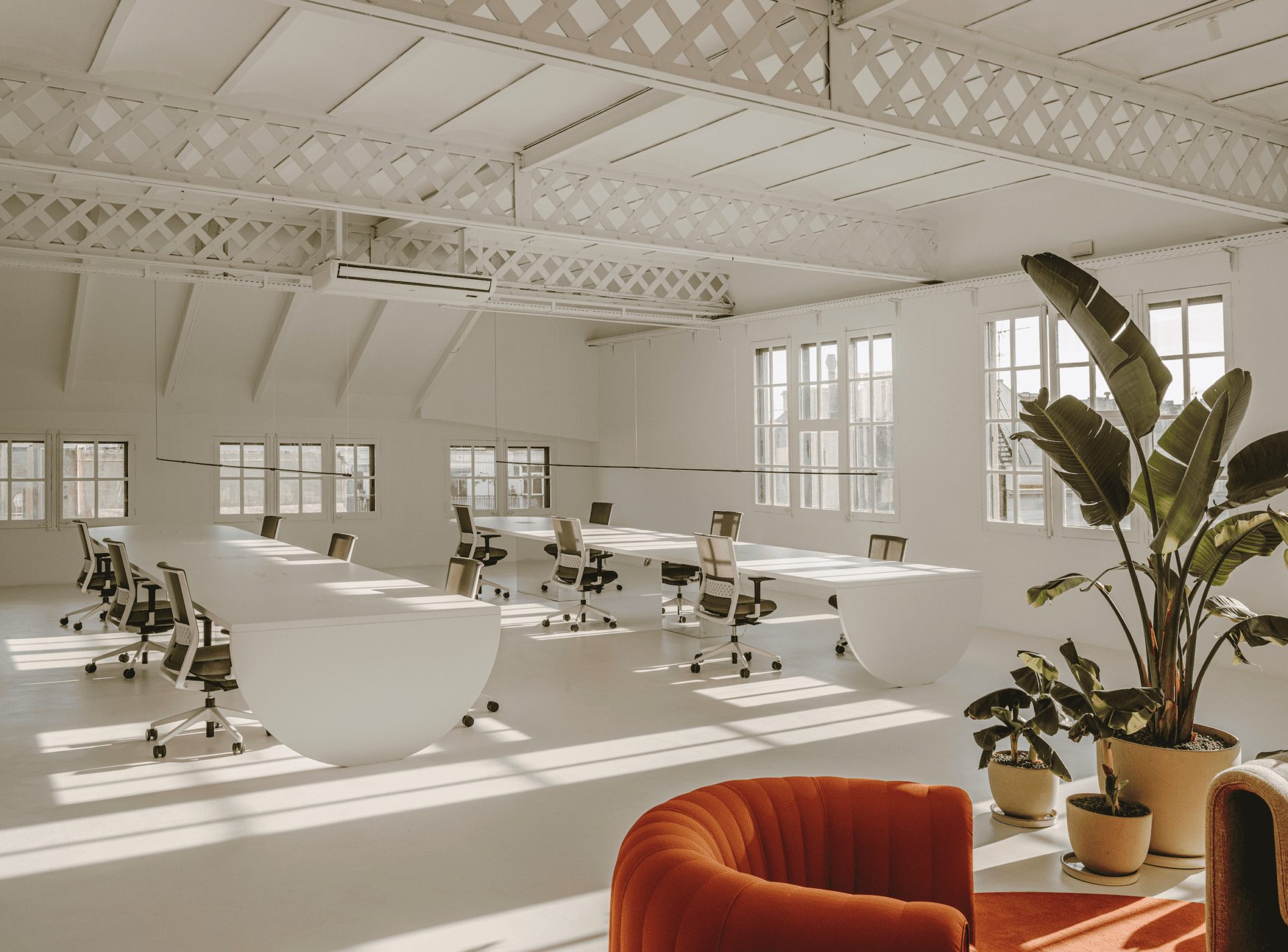 Fuego Camina Conmigo's declaration of intent, as the brand puts it, restates their belief in change. "In the digital age, everything changes. Nothing stays the same." It may be the truth, but two elements remain the same: the forces of calm and creativity that charge their renovated space.
Images by Salva Lopez