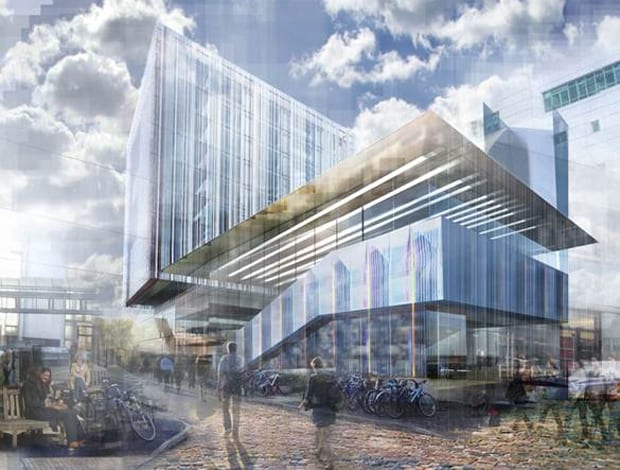 FCBS' design for the University of Edinburgh's Darwin Laboratory|A view from the inside of FCBS' proposed renovation of the Darwin Lab.|Mecanoo Architects has been appointed to design Manchester University's new engineering building||
Russell Group Universities – including those in Cambridge and Manchester – are carrying out major development schemes over the next four years, to the tune of £9 billion.
The top 24 universities in the UK will invest £9 billion between 2012/13 and 2016/17 on architect-led work over the next four years – more than the total amount spent on the 2012 Olympic Games.
The capital investment plans, revealed in a first-of-its-kind report by Russell Group, cover a range of projects from new libraries and student accommodation to facilities for start-up businesses and major urban regeneration programs.
Of the 69 projects the report used to develop its economic model, seven are part of major development schemes for new mixed-use campuses. Each of these will include academic, residential and commercial infrastructure, and will cost £1.3 billion in total.
This week, it was announced that Netherlands-based Mecanoo Architecten has been appointed chief architect and designer the University of Manchester's new engineering campus. At a cost of £200 million, the project will be the largest single capital works project ever undertaken by the university. The new campus is part of the £1 billion, ten-year plan to overhaul the university's facilities and consolidate them in a single location by 2022.
Earlier in the month, Feilden Clegg Bradley Studios (FCBS) won a competition to overhaul Edinburgh University's science facility, the 10-storey Darwin Lab building. The 1960s tower will be reclad to improve its prominent appearance and environmental performance. The practice will also design two additional lab buildings and an atrium that'll connect the three buildings to a hub for meeting rooms, offices and catering facilities. The redevelopment job is pencilled for completion in 2019, and builds on the studio's laboratory work carried out for University College London's Nanotechnology building in 2005.
Other universities undertaking major building projects include Imperial College's new campus 'Imperial West' in White City on the former BBC Woodlands site; the University of Cambridge's £1 billion, multi-phased expansion, which was formalised in 2013; and the University of Sheffield which is investing £81 million in a new engineering building.
The universities covered in the report, the so-called 'Russell Group Universities' include Oxford, Cambridge, Imperial, Manchester, Newcastle and Edinburgh, among others.