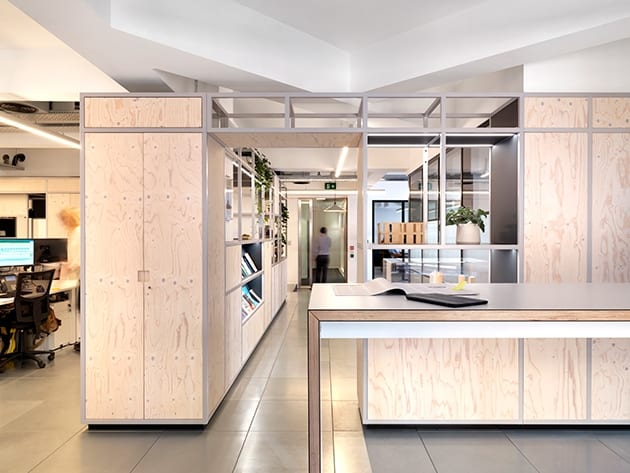 |||
Home development company Pocket Living sums up the city lifestyle in a nutshell. The UN estimates our world population is set to hit 8.5 billion by 2030, and in the West, a lack of affordable housing, rising prices and social issues such as loneliness are affecting more young urban dwellers than ever before.
Pocket Living offers a promising alternative. Aiming to get more Londoners onto the housing ladder, the firm provides well-designed homes to suit lower income budgets due to their compact size and clever use of space. What makes the company unique, however, is their focus on building developments that foster a strong sense of community among inhabitants. With inclusivity and accessibility at its heart, the firm's community-minded values and ethos – to make home ownership more accessible – is also what prompted the concept behind their dynamic new workspace in Covent Garden.
Devised by Threefold Architects, the polished headquarters spans some 6,900 sq ft, with the design structured around a 40-metre-long inhabited wall, which creates an active threshold between the public and private sides of the office. Led by their affordable and design-efficient approach, the plywood-cladded wall provides functionality, but also lends the space a playful quality, as it doubles up as storage and shelving to display quirky objects.
What makes the wall a unique design element is its permeability. With openings along its length, the wall was smartly co-ordinated to set up vistas throughout the workspace and onto the original windows boasting cityscape views, which enhances the everyday working experience for employees. Here, office activities are separated from other needs; lively canteen spaces balance out wellness rooms and private meeting hubs, demonstrating the design's functionality.
Cost-effective and durable, the wall is crafted out of Nordic Plywood, chosen for its modesty and to reflect the firm's wider ethos. The robust tactility of the wood merges beautifully with the more contrasting light grey steel structural framework, while hints of midnight blue add personality to the space throughout.
Providing a growing and versatile workplace, which blends open, collaborative spaces with more studious private working stations, Threefold Architects have succeeded in creating a modern office environment that embodies Pocket Living's convivial spirit and inclusive design principles.
The innovative developer has created an office with cleverly divided spaces