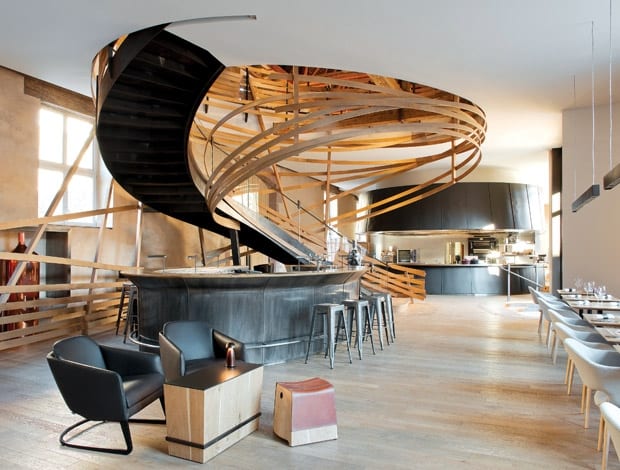 A vortex-like steel and timber staircase dominates the brasserie|Philippe David's glowing mural tells the story of the hotel's equine past|A vortex-like steel and timber staircase dominates the brasserie|Hefty exposed beams make the rooms monumental and rustic at the same time||
Agence Jouin Manku has transformed a former stud farm into a luxurious hotel, melding old with new and incorporating subtle design cues that hark back to its former use
You might think that this Strasbourg hotel and restaurant's four-star rating, Michelin-star chef, and the designer names behind the interior would be substance enough to recommend it. But its credentials go deeper than that.
Hôtel Les Haras, conceived by Agence Jouin Manku (Paris-based designers Patrick Jouin and Sanjit Manku), is leased to the Research Institute Against Digestive Cancer (IRCAD). Not only is it ideally placed to put up some of the 4,000 specialist surgeons who annually visit the nearby IRCAD headquarters each year, but the revenue generated by tourism will help finance its research and also fund an on-site 'bio cluster', a hub for biotech start ups.
That's not to say such worthiness has dampened Jouin and Manku's creative flourishes: far from it. Their aim was to come up with a contemporary response to the mid-18th-century buildings, including their splendidly restored facades.
The site, formerly a national stud, retains a strong equine theme in its current interior. In the 800sq m brasserie, bespoke banquette seating is inspired by horse stalls; the official blurb's comparison of the chefs in the open kitchen to a dressage competition might be taking the horsey theme too far, though.
The designers also wanted to exploit the original fabric of the buildings, such as the timber frame and joists in the brasserie. A new flight of stairs with wooden steps and a raw blackened steel structure rises up from the ground floor, encouraging diners to take in the original architecture.
The micro-architecture continues upstairs with a yurt, which is covered in saddle leather. The curves and layers here are intended to resemble the shape of a saddle and the wooden bars that hold the structure together are covered in a colourful textile, like a large-scale horse blanket.
In the hotel itself, a giant mural tells the story of the project. As well as a couple of Black Beauty-like silhouettes, man is represented both as rider and also scientist, alluding to the IRCAD connection once again. The collage, by graphic artist Philippe David (who also created Les Haras' wider visual identity) is made of laser-cut blackened steel and sheets of sandblasted and screen-printed glass, layered in front of the building's brick and stone walls.
Echoing the material interplay found in the restaurant, the timber reception desk is covered in leather and the headboards in the bedrooms are finished in saddle leather, which wraps around the walls, replicating the pleasingly enclosing feeling achieved by the yurt. Completing the bedroom aesthetic, the small occasional stools are intended to resemble a pommel horse or a saddle stand.
Hôtel Les Haras is a great example of how to merge new with old, using a carefully restrained colour and material palette. Its interior is memorable even before you factor in the meaningful story behind it – no steward's enquiry needed.