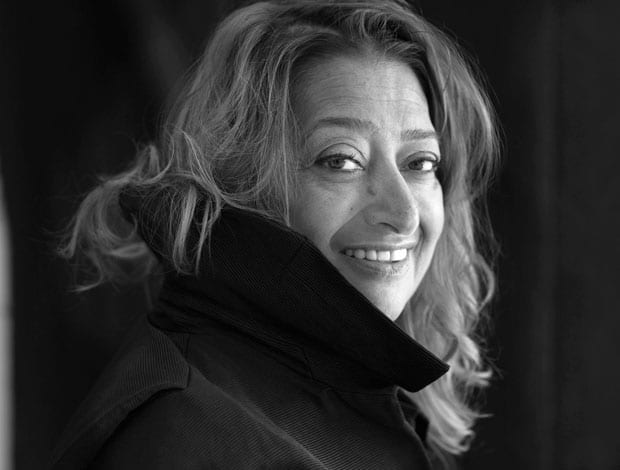 ||
Zaha Hadid was named New Londoner of the Year at the NLA Awards last week. In her acceptance speech, she lambasted the city's architects for a lack of daring in their work.
She commended the capital's creative communities, which she said attract the best people to live and work here. However, she tempered her praise adding that this pool of talent wasn't being realised in new London architecture.
"It has become a really great metropolis and deserves to have adventurous work that is not shy and polite and modest. This city deserves some radical ideas."
It was a double win for Hadid as her design for the Black Cultural Archives took the overall award for best new building. The project, in the heart of Brixton, brought a derelict Grade II listed building back from the brink and now provides a permanent home for the black heritage archives.
Allford Hall Monaghan Morris also had an extremely good afternoon, picking up the 'built' winner in the education sector for Burntwood School and the Mayor's Prize in the 'unbuilt' category for the Camley Street Incubator and Gateway Sites.
The latter is a proposal for three separate but interlinked sites adjacent to the Regents Canal, which would act as a strategic 'gateway' between King's Cross and Camden Town.
The project would include an enterprise incubator that'd provide workspaces for over 300 businesses. With a combined total of over 3,800sq m commercial floorspace, it will also cater for expanding SMEs that have outgrown their original premises.
The practice also picked up the prize in the 'built' category for 10 New Burlington Street for the Crown Estate. This represents its best showing since 2011.
Meanwhile, the Mayor's Prize went to the London Borough of Waltham Forest and Greater London with architects We Made That for their work in Blackhorse Lane. Streetscapes, shops and industrial frontages have been transformed and a new shared-access workshop has been added to the mix. The judges praised its 'accumulative and aggregated approach to regeneration."
Finally, proving onoffice knows a good scheme when it visits it, here's our earlier coverage of winning and commended projects.
Commonwealth House
Architect: Orms
Conservation & Retrofit
Winner (unbuilt)
Read article
82 Baker Street
Architect: Marks Barfield Architects
Interiors: Forme UK
Conservation & Retrofit
Commended
Read article
Ham Yard Hotel
Architect: Woods Bagot
Interiors: Kit Kemp
Hotels & Hospitality
Winner (built)
Read article
Wombats Hostel
Architect: Andrew Mulroy Architects
Hotels & Hospitality
Commended
Read article