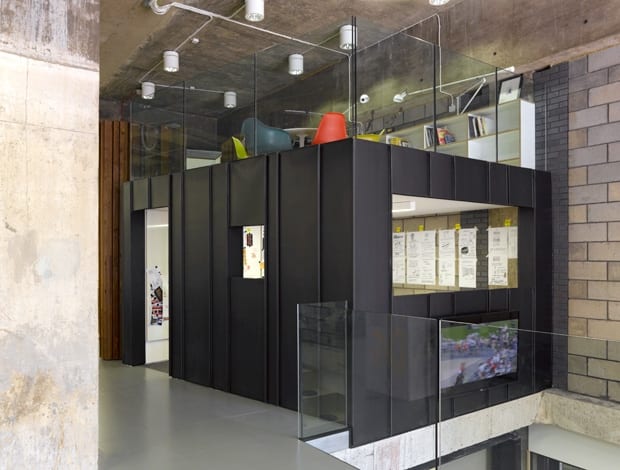 A zinc-clad pod incorporates an extra glass-enclosed meeting space on top|Four pods in varying sizes and materials create a miniature cityscape in the office|BDG's interior design is open, flexible and ad-hoc in feel, with exposed ceilings and services, breeze-blocks and concrete, and large writable walls|The four rooms are like miniature buildings within the ground-floor workspace||
BDG has created work pods that play with texture and materials, bringing pleasing irregularity to a creative agency's office
Four meeting 'cubes' have become the centre of gravity at The Brand Union's Clerkenwell offices, courtesy of clever surface design. BDG's interior design is open, flexible and ad-hoc in feel, with exposed ceilings and services, breeze-blocks and concrete, and large writable walls – perfect for a fast-growing creative agency.
This raw setting, however, is counterbalanced with a more refined choice of materials for the meeting boxes, giving them a strong presence and indicating the diverse work environments they offer.
The four rooms are like miniature buildings within the ground-floor workspace, independent and freestanding, with slanted angles and different heights. Each is designed for different work types, housing booth seating, stand-up desks and soft seating, and they're all "non-bookable, to promote spontaneity of creative thought," says BDG.
The smallest, wrapped in pale plywood that gives it domestic scale and warmth, is designed to be a more intimate space for individual working. Overlapping it is a tall box clad in mid-grey felt with a slender doorway, again designed for individual or small group work.
Next to this is a similar-height room clad in irregular planks of rough timber with a wide, open doorway, and three white walls intended for presentations. Last in the line-up is a zinc-clad box, which drops down in height to more or less mirror the plywood box at the other end of the series.
This also allows a mezzanine level meeting area to be added on top, which is bordered by glass walls to give views over the workers below. Inside the zinc box is a casual small meeting or group-work room, with a window overlooking a staircase that also doubles up as a meeting and presentation area.
From the workspace, the meeting cubes appear like a cityscape in varying tones and textures, each with its own personality.