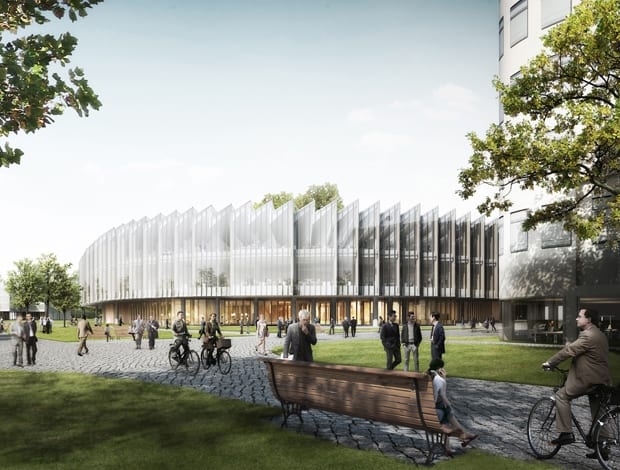 AstraZeneca's HQ from the plaza ©Herzog & de Meuron|The inner courtyard echoes the Cambridge Colleges' designs ©Herzog & de Meuron|Communal areas are designed to encourage interaction ©Herzog & de Meuron|The laboratories sit behind glass for 'visual integration' ©Herzog & de Meuron|The Cambridge biomedical campus ©Herzog & de Meuron||
The building forms a two-storey triangle supported by transparent blocks housing laboratories and amenities, while the 'saw-tooth' roof carries on through the façade, aiming to unify the design.
"The whole structure is connected in a single loop, providing short connections within the building and modern, innovative workspaces that support collaborative working," said Stefan Marbach, senior partner at Herzog & de Meuron.
A grassy courtyard sits at the centre of the building, reflecting the designs of the historical colleges in central Cambridge, echoed by its proportions and low-rise structure.
Within the building, high-tech laboratories are separated from other work areas and circulation spaces by glass walls to encourage 'visual science' and position innovation as Astrazeneca's primary function. The layout features a number of public thoroughfares and open spaces, including a covered walkway that encircles the courtyard. These are designed to foster collaboration, both within the company and with the wider scientific community.
The AstraZeneca space within the biomedical campus is divided into north and south plots. The HQ and global R&D centre will be based on the north plot and be carried out in the first phase of the project. An R&D enabling building and energy centre will be located on the south plot and will be developed once the first phase is completed.
Construction is expected to begin in early 2015, with the new site coming online in late 2016.
AstraZeneca has previously announced collaborations with the Medical Research Council and the Cancer Research UK Cambridge Institute at the Cambridge biomedical campus.