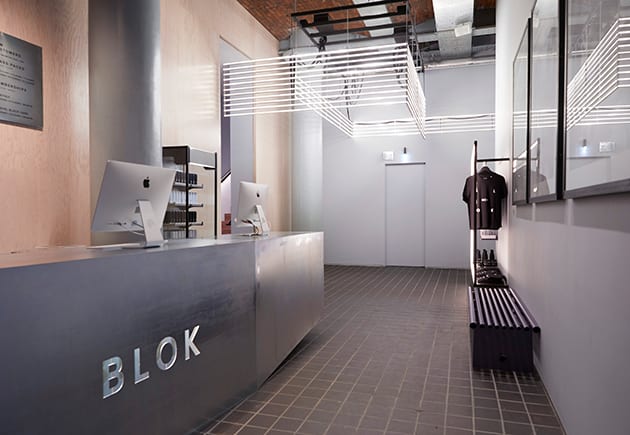 |||
While London's boutique fitness space BLOK first opened its doors back in 2016, the firm's creative approach to fitness and design has continued to set pulses racing since, and no more so than at its latest opening in Manchester. Building on the success of two studios in the heart of East London, the new outpost takes the gym's forward-thinking fitness experience to its first site outside of the capital.
Helmed by Ed Stanbury, along with creative director and award-winning photographer Max Oppenheim, as well as sales and marketing director Reema Stanbury Founder, BLOK was set up to inspire a culture of movement that spans across multidisciplinary class-based fitness, which are led by various experts and innovative instructors, specifically selected to deliver progressive training.
Besides the boutique offerings and high-end gym experiences, BLOK has also teamed up with cultural tastemakers and disruptive brands in recent years to inform its ultra-modern city lifestyle. Most notable is the firm's collaboration with London-based Daytrip.studio, founded by Iwan Halstead and Emily Potter, who were enlisted to consult the design process of the space's architecture and interiors. Creating spaces that are considered yet edgy, their unparalleled attention to detail and appreciation of ground-breaking style perfectly matches BLOK's own rebellious nature.
The design-driven space marries Victorian and contemporary aesthetics
Established within Ducie Street Warehouse, the Northern Quarter of Manchester, the former Victorian complex has fast become the ultimate cultural destination in the northern city. Following the same multidisciplinary approach as its London counterparts, BLOK Manchester presents a unique environment, which marries fitness, fashion, art and design, with a programme of 25 different class concepts and over 180 workouts a week on offer for its discerning clientele.
Meanwhile, the design-driven space marries Victorian and contemporary aesthetics by employing durable textures like quarry tile flooring, cast structural glass walls and metallic pops of colour in blues and lilacs to match the existing hues and materials, including the vaulted brick ceilings and beam structure, which redefine studio and circulation spaces by emanating movement and light throughout.
Level changes and cantilevers provide a navigation route, while an expressive art installation by London-dwelling artist Ben Cullen-Williams, revered for his work that aims to create an engagement with the phenomenological elements of the world around us, brings new energy to the workout space.
An art installation by artist Ben Cullen-Williams adds new energy to workout spaces
Titled Kinesthesia, the suspended and free-standing light sculpture, comprising pulsing LEDs, takes on form and movement within the capacity of light. By replicating the awareness of the body through sensations in the muscles, joints and tendons, as movement stops, energy is caught and harnessed into a single sequence within the sculpture. Allowing viewers to experience the movement of the bodies as an echo of their own nerve evenings, the light entices visitors into the space to discover its contemporary universe.
This is further enhanced by a core palette creating a gallery aesthetic through light washes that are paired with neutral hues and sleek, clean lines, adding to the calming feel of the space. Inside the boxing studio, concrete floors, a large steel rig structure and expanded metal create a robust environment, while the yoga studio pairs soft timber and acid etched mirror glazing to produce a tranquil atmosphere.
To add to the juxtaposing environments within the studio, Daytrip partnered with There's Light to form a distinct ambience in each room. Darker tones are combined with natural light in the barre studio, enveloped by inky mirrors to enhance the overall sophisticated palette. In the changing rooms, a complex grid of glazed tiles embellish the walls to create a utility feel, offset by floating tile benches to complete the graphic fit out. Plus, for those keen to complete their gym kit in style, a selection of unisex products by New York born and bred brand Malin + Goetz are available for purchase.
The barre studio is enveloped by darkened mirrors for a touch of sophistication
The buzz continues post-workout at BLOK x Klatch, a collaboration between BLOK, neighbour CULTUREPLEX and coffee counter Klatch offering bespoke shakes developed in partnership with Chef Director Blaine Duffy of Bistrotheque and Form nutrition. The premium shakes – think immunity-boosting blends that combine banana, papaya, turmeric and baobab with goji berries and flax seeds – are specifically made for clients' needs in house at Klatch to continue the unique customer experience.
Echoing the brand's commitment to individuality, BLOK isn't afraid to disrupt the traditional health club. Drawing loyal fitness fantatics to its high-end studios from across the nation, unsurprisingly, BLOK has become an instant hit among gym and design buffs alike.
A grid of glazed tiles embellish the walls in the changing rooms
Premium fitness brand BLOK has unveiled their third site in the heart of Manchester