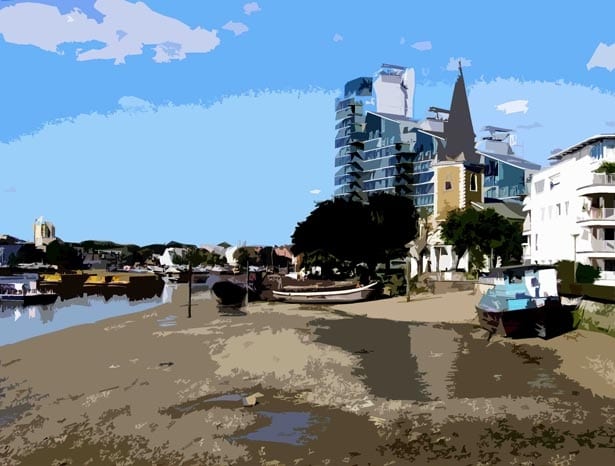 By Jenny Harborne, IMAGO architects|By architect David Adjaye|By Laurie Chetwood, Chetwoods Architects|By architect Rafael Vinoly|By artist Frank Green|By Chris Wilkinson, Wilkinson Eyre Architects|By designer Annette Taylor Anderson|By architect and sculpture Celia Scott|By architect Peter Barbalov, Terry Farrell and Partners|By artist Antony Gormley|By architect Mike Stiff, Stiff + Trevillion|By artist and illustrator Paul Cox|By architect Tim Gledstone, Squire and Partners|By artist Rebecca Campbell|By architect Ian Ritchie|By artist Wolfgang Buttress||
Architecture charity Article 25 will next week auction off artworks by such architecture luminaries as Rafael Vinoly, David Adjaye, Terry Farrell and Ken Shuttleworth, as part of its annual 10×10 fundraising event.
The charity, which is now stable but earlier this year faced insolvency after £200,000 disappeared from its accounts and its former book-keeper was charged with fraud and false accounting, is hoping to exceed the £120,000 raised as last year's event, with the funds earmarked for projects that improve the standard of health in the developing world.
"2015 has been an eventful year for Article 25, bringing forth extraordinary support from the architectural and wider built environment community," said Article 25's chair of trustees and former RIBA president Sunand Prasad. "We hope to go beyond what we achieved in the records setting 2014 10×10 and make the 2015 10×10 the most memorable one yet."
The event, which takes place on 1 December at the RIBA headquarters, takes its name from the grid of 100 squares laid over an area of London – this year, along the River Thames. The participating artists, designers and architects were each allocated a "square" along the river, and took inspiration from the architectural landmarks along its banks.
Other participants this year include architects Chris Wilkinson, Eric Parry, Angela Brady, Ivan Harbour, Will Alsop and Eva Jiricna, and artists Antony Gormley, Norman Ackroyd and Wolfgang Buttress.
Featured above are some of the works that will be sold at the auction.
Architecture charity, which faced insolvency earlier this year, hopes to put troubles behind it by exceeding record set at last year's 10×10 event