The design of the new work space at Bermonds Locke incorporates a surreal interpretation of the Californian desert
The latest opening from hotel brand Locke may be located in Bermondsey, South London, but Bermonds Locke takes its style cues from the Joshua Tree and Mojave desert.
Interior architects Holloway Li brought the concept to life with reclaimed materials and an unusual colour palette – a psychedelic interpretation of a desert sunset.
The tone is set for the entire 143 room hotel from the outset, in the hotel's reception and co-working area, providing a space for visitors to use for both business and leisure, delivering a modern interpretation of this bohemian style inspired by the creative communities in these Californian desert towns.
Above the reception, with its Native American-inspired motifs, is a half moon light reflected in overhead mirrors – an installation inspired by Olafur Eliasson's much celebrated Weather Project.
Decorative metalwork features throughout the co-working space – an industrial process of zinc-passivation creating an iridescent rainbow patina over the metal to recreate the idea of a hallucinogenic-induced desert sky.
The idea of upcycling, also synonymous with Joshua Tree's junkyard-style desert art galleries, has been incorporated into the design – a first for Locke's hotel interiors.
"By innovating the reuse of materials, we hope to highlight how a circular material economy can generate an incredibly unique aesthetic and a new kind of living experience – doing more, with less," say Holloway Li's co-founders, Alex Holloway and Na Li.
Recycled construction materials have been used to create bespoke furniture and interiors for the space, including recycled concrete testing tubes forming bases for the six-metre long tables in the work space, and recycled steel rebar and clay bricks used as ornament throughout the space.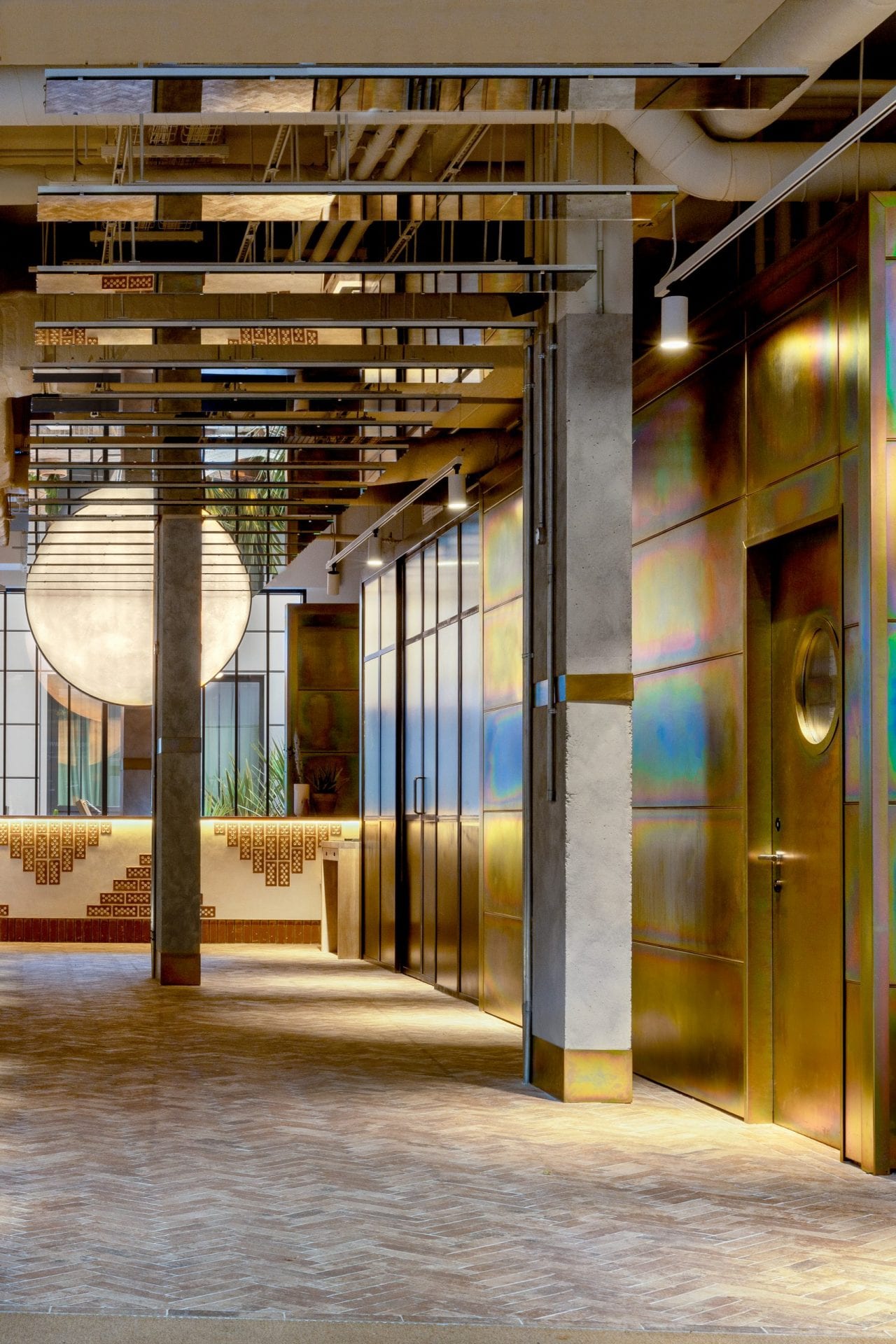 Bermonds Locke is the first of a series of collaborative projects between Holloway Li and Locke, experimenting with a circular material economy, and low-cost, sustainable practices.
All photographs courtesy of Holloway Li