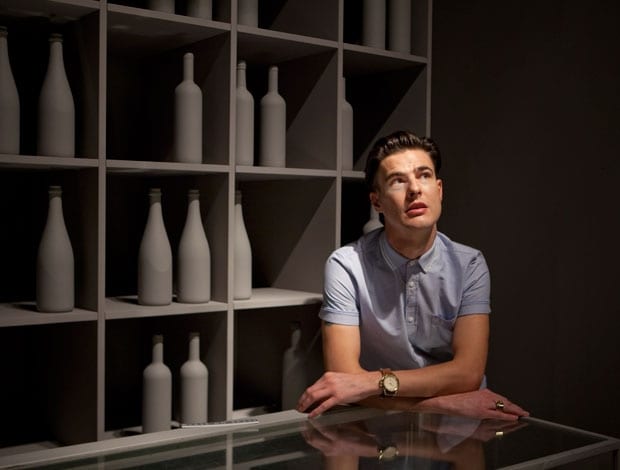 |||||||||||||||
Lee Broom produced a thrilling show in Milan this year, displaying his largest-ever collection in a fictitious department store. onoffice played shop assistant and spoke to him about his new work onoffice played shop assistant and spoke to him about his new work
"We certainly won't do a collection like this in Milan next year, or probably for the next couple of years," says Lee Broom about the showstopping installation he put on at Salone del Mobile this year.
Called The Department Store, it took a row of disused shops and decked them out to evoke a theatrical pastiche of a department store, with naked mannequins, cinematic curtains and geometric plinths to set off more than new 20 products. Having focused on developing smaller collections over the past couple of years, this presentation at the world's premier design event revealed the scope of Broom's ambition and true creative capacity.
The Department Store is the latest in a succession of much-heralded events that the Shoreditch-based designer has curated in recent years to ensure his work is experienced in a suitably memorable and engaging setting. But given the scale of it, it's no wonder that he won't be attempting such a launch again for a while.
"We'd be making too many products and I want people to enjoy these pieces," he explains – but that doesn't mean he'll be slowing down. In the same 12 months he put this collection together, the studio Broom founded just eight years ago has also completed several significant interiors for clients in the hospitality sector, as well as an epic residential project in Dubai.
"It's been very hectic and the whole team has been working really hard but it's also exciting and great to finally get all of these pieces out there," said Broom ahead of his trip to Milan. "Fortunately, everyone here has a strong work ethic and we've always managed to make big things happen in a short space of time."
Perhaps the demands Broom places on himself and his staff offer a clue as to how he has achieved so much in those eight years. He manufactures and distributes his own award-winning products, collaborates with leading brands and creates cutting-edge interiors. He's just won The Queen's Award for Enterprise in International Trade. And all of this before the age of 40, which invites the question, where did it all go so right?
Following a youth spent at theatre school, and a crucial connection with maverick designer Vivienne Westwood, fostered in his teens, he went on to study fashion at London's Central Saint Martins, which he partly subsidised by taking on small commissions for bar and restaurant interiors, together with his friend, Maki Aoki.
In 2007, after Aoki chose to return to Japan, Broom set up his own studio and developed his first product range – the six-piece Neo Neon collection – comprising hand-carved mahogany furniture in a Baroque style with outlines traced in neon lights.
"When I graduated, my main goal was to work for myself," Broom recalls. "I didn't really mind whether it was in fashion or interior design but I was making money and had built up a network so it made sense to concentrate on interiors."
The restaurants and bars Broom designed during the early phase of his career combined eclectic cultural references – from the souk-chic of London's Beduin to the 1960s pop vibe of Mojama in Glasgow.
Above all, the interiors exuded a sense of spectacle that would come to define the designer's flamboyant signature style – the 2014 opening of Old Tom and English in London's Soho provided a contemporary take on 1960s entertaining.
For many of the projects, Broom created custom furniture and lighting that made the development of his own product collections a logical progression. "
Sometimes I get product ideas from an interior I've been working on, or I will design an interior that takes some inspiration from the products, so they go hand in hand," he says. An ongoing theme in his work is the combination of traditional hand-craft and contemporary forms, resulting in objects that are recognisable and practical but possess a playful character.
From furniture and lighting decorated with glazed tiles or carpet, to faceted lamp shades that reference art deco jewellery, Broom's design consistently riffs on historical archetypes and treads the fine line between irony and kitsch.
Since that first collection in 2007, Broom's elegant and quirky statement pieces have acquired a loyal following, particularly among interior designers looking to bring a fun element to commercial or residential projects.
The products also have mass appeal and have garnered numerous prizes, including several Elle Decoration British Design Awards. The interior design magazine's editor-in-chief, Michelle Ogundehin, recalls being impressed by the "wonderfully simple but exquisitely executed"
Decanterlight, which launched in 2010 and was made by removing the base of a vintage crystal decanter and suspending a lightbulb inside. The Decanterlight informed one of Broom's most popular designs, the Crystal Bulb, which applied the traditional craft of cut crystal to a mass-produced object that has become a staple of high-end retail and hospitality interiors.
Ogundehin says that "it was a real game-changing product, because of the way he took something mundane and ordinary and elevated it to the extraordinary."
Finding unexpected applications for existing manufacturing processes is integral to Broom's creative philosophy and, as a champion of British craftsmanship, he loves to design products that require him to learn about different craft skills.
The latest collection incorporates a diverse range of materials and production processes, many of which were new to the studio. There's a dome-shaped spun metal pendant lamp with a stained-glass diffuser; a side table and lamp made from pieces of glossy acrylic; and a chair comprising two brass hoops that support an upholstered seat. Designs incorporating bent steel and chromed metal provided new challenges, while more familiar materials such as marble and crystal are revisited.
By collaborating closely with workshops and factories around the country, Broom and his team were able to figure out the capabilities of the various specialists and refine their designs accordingly.
"What was interesting when developing the collection was that the things I thought would be easiest to produce turned out to be the most challenging, and the things I thought would be tricky were actually easier," says Broom, adding that hand-crafted pieces like the stained-glass Chapel Light caused fewer headaches than achieving the precise tolerances required for some of the metal objects.
"I guess when you're relying on something that's handmade you can be a bit more forgiving," he adds.
Broom's willingness to explore different materials, finishes and colours is just one example of the way he consistently challenges himself and his team to try new things.
This quest for variety extends to the scale of the latest collection, which is in stark contrast to the three-piece On the Rock glassware range he launched in Milan last year. "It's about varying what we do for each collection and not sticking to the same format, which would become boring," he says.
Making strategic decisions about what pieces to produce and when is crucial to Broom's successful enterprise, but he says he has always followed his own path and done what feels right for him, rather than responding to the demands of the market.
Around three years ago, his boyfriend Charles Rudgard joined the business full-time as the company's commercial director, and his experience in management consultancy has enabled Broom to focus on designing, which he says he enjoys more now than ever.
"I'm incredibly lucky that I'm able to design what I want," he enthuses. "One of the things I desperately wanted to do with this business was design and manufacture our own pieces and create a brand. That way you have the chance to live out your dreams and fantasies, and I really feel like that's happening at the moment."
Despite overseeing a team of 19 employees spread across a studio and production facility in London, managing interior projects in several countries and flying around the world to speak at conferences and design fairs, Broom says he now has more time to design than he's had in years. This is reflected both in the volume of pieces in the new collection and the quality control he is able to exercise.
According to Michelle Ogundehin, it is this attention to detail that sets Broom apart: "Lee understands that a successful design, and designer, is about seeing the big picture," she says. "As well as possessing talent, he knows that success is as much about presentation and marketing as excellence of the product."
Having achieved what he set out to by realising many of the product ideas that had recently been percolating in his head, the designer is reverting to a more focused approach over the coming months.
Following Milan, Broom says the studio will focus on completing its project in the Middle East, which he'll visit before flying to New York to participate in a panel discussion as part of the Designjunction Edit event. He'll then return to London to focus on other residential interiors and begin the build-up to the London Design Festival in September.
After the huge undertaking of producing his largest collection ever, the designer could hardly be blamed for wanting to enjoy a relaxing summer, but he's not one to take his foot off the gas. "I just think you should do as much as you can while you've got the energy," he says.
This typically positive statement suggests there's plenty more to come from one of British design's most prolific and prodigious talents.