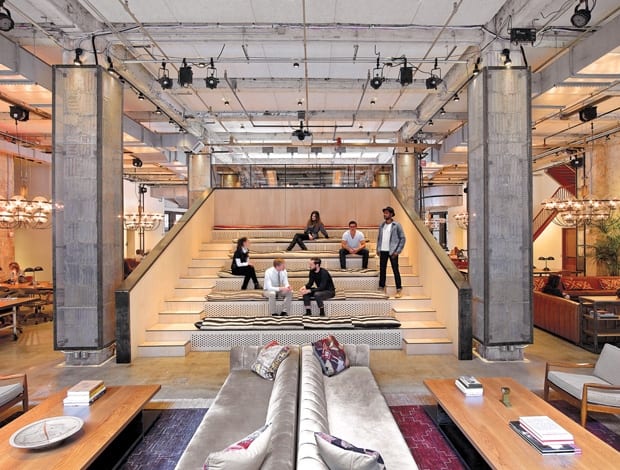 The Spanish Steps act as meeting space and seating for lectures|Open workstations on the first floor have an industrial yet warm aesthetic|The chandeliers were made in Brooklyn and can be manually lowered|Rockwell Group's visual cues all came from its hospitality experience|NeueHouse's clubby sumptous style is attracting an influential NYC clientele|Natural, tactile materials contrast with raw industrial elements|Teams of up to 10 can take up private offices and resize them accordingly|Atelier members have a fixed desk or group of desks for up to four people||
Rockwell Group has transformed a historic building for NeueHouse, a modern co-working space, with lush interiors inspired by hotel lobbies.
One need only hear about NeueHouse's high-profile visitor roster and sold-out $1,000-per-month memberships to know it's not your standard co-working office. Described by its entrepreneurial founders as a "private workspace collective", it's more Shoreditch House than start-up incubator, with an interior that merges industrial cool with cosy university common room, where members are encouraged to work and network in equal measure.
Intended to attract creative professionals in design, publishing, tech, film, fashion and arts, facilities include a recording and broadcasting studio; cinema room; an IT concierge (inspired by Apple's Genius Bar) that becomes a chef's table in the evening; food carts that deliver trendy foodstuffs to your desk; and, of course, social spaces galore.
There are three membership types: Gallery members, usually so-called 'solopreneurs', can use any workbench on the first floor or basement; Atelier members have a fixed desk, or group of desks for teams of one to four people, on the middle three floors; and Studio members have a private office on the top floor for teams up to 10, which can be resized as their business grows.
NeueHouse's business plan is to create a multi-use work/meet hub that small organisations can call home, so for the Rockwell Group, which designed the industrial revamp in Manhattan, it was vital the aesthetic instigated that behaviour.
"So much of design is based on creating an authentic culture," says David Rockwell, founder and president of Rockwell Group, and also a partner at NeueHouse. "In terms of other co-working spaces that existed, there was nothing we saw that was an interesting reference. They tended to be start-up tech slums with a 'churn and burn' sense; you'd come in and leave asap. All our references were from the hospitality world, and people don't want to leave here."
"There's a huge emphasis on craft. It's an environment that creates conversation"
It's not uncommon for workplace designers to cite hotel lobbies as a source of inspiration, which Rockwell does, but here the lobby-like details draw from his vast well of experience in hospitality design and are expertly refined to make meeting places efficient and adaptable. Rather than big communal areas, which Rockwell says become unapproachable as soon as two people sit down, the floors are cleverly packed with little corners and pockets where members can easily find their perfect meeting spot – a couple of Arne Jacobsen Egg chairs, a square of sofas round a coffee table or maybe a banquette by the cafe – all designed to feel welcoming and comfortable.
To help plot the busy layout, Rockwell looked at urban plans, organising the floorspace like a city. "We wanted to create a flexible space that would elevate accidental encounter. There's a way you move through cities; there's planned spaces and then there's unplanned spaces, door stoops, interstitial spaces." NeueHouse is therefore split into zones: the Park is where open public areas exist; the Neighbourhood comprises private spaces such as conference rooms and offices, enclosed by panels of glass and blackened steel, which act like city blocks; and the Pier is an access point to hospitality services like the cafe.
Within these areas, the layout can be changed at the hands of its members.
"We realised part of the concept was not solving every problem, not being precious with the furniture, letting it be open," says Rockwell.
The space can also transform from daytime to evening. The Spanish Steps at the heart of the Gallery floor, for example, are used for small meetings during the day, then as an auditorium for lectures and performances in the evening. The Brooklyn-made chandeliers in the lounge areas can be lowered via a manual counterweight rig, shifting the atmosphere to intimate and club-like.
The building, a 1913 industrial renovation, came with the 6m-high ceilings and raw, non-corporate aesthetics the founders and Rockwell were looking for. Original terracotta walls were sandblasted (to boost their rich tones), wrapped in metal mesh and lit by spotlights, treating them as art installations. Concrete floors were flash-patched to keep an aged look and concrete beams were left exposed, and all-new mechanical systems and lighting were installed. Tectum acoustic panels were added where possible on walls and ceilings, to ensure NeueHouse businesses maintain their privacy.
"So much of design is based on creating an authentic culture"
Against this mostly grey backdrop, the furnishings add warmth. Wood is used heavily, with desks in walnut and oak, and vintage mid-century soft seating (from online antique dealers' portal 1stdibs) upholstered in orange, cream or brown leathers and velvets. Details like the black steel table lamps and the Emeco canteen chairs maintain the industrial edge. There's also a diverse display of artwork throughout, a key element of NeueHouse's creative identity.
"It's warm, urban and the materials are very seductive and tactile," says Rockwell. "There's a huge emphasis on craft, and how things feel, so it's not slick and anonymous. I think it's an environment that creates conversation."
NeueHouse's merge between membership club and serviced office has certainly got people talking, with stories in the Wall Street Journal and the New York Times marking it as the next step in shared offices, and the latter stating Chris Blackwell (founder of Island Records) and Jefferson Hack as members. The chance to rub shoulders and, more importantly, collaborate with such influential fellow members has created so much demand that the company and Rockwell are already looking at further space in New York and Los Angeles.
"Should they come to London?" Rockwell asks, but one gets the feeling that the question is rhetorical.