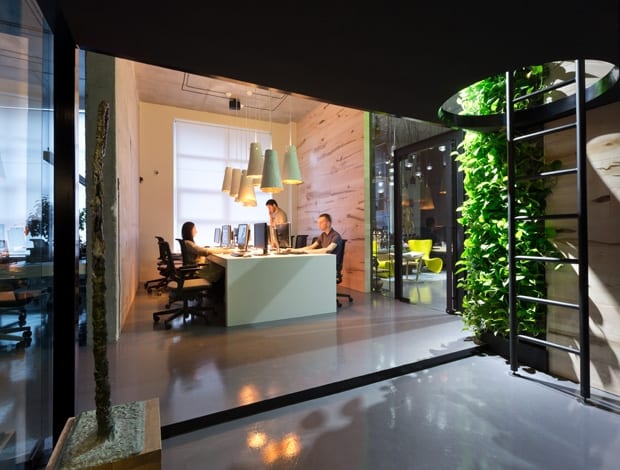 A cluster of low-hanging pendants are a nod to the domestic|A cluster of low-hanging pendants are a nod to the domestic|Staff have to climb up a ladder to reach the mezzanine|Nazar Bilyk's sculpture and bas-relief panels are part of a wider collection of Ukrainian art|A bold experiment where modern art meets ancient artefacts|Downlighting washes over walls to amplify their textured finish|Kristalia's Elephant chairs and Magis' Chair One in a meeting room|As a designer, Mackhno is primarily interested in materials|A hard shell of concrete and glass is softened by timber and a leafy living wall||
Architect Sergey Makhno describes his self-designed workplace as a"bold experiment", where modern art meets ancient artefacts
For architect Sergey Makhno, co-designing his office in Kiev, in a new-build in a residential area near the city's main square, appears to have been a dream project. Rather than having to meet a client's brief – however open – Makhno, who also designs furniture, lighting and decorative wall panels, has indulged his own taste with abandon. And, together with his colleague Illya Tovstonog, he has come up with the antithesis of a greige corporate office or a more clean-lined, contemporary alternative. Indeed, this flamboyant 200sq m studio, called Makhno Workshop, resembles, by turns, a boutique hotel, an art gallery, an upscale homeware shop and – almost incidentally – an office.
A major factor differentiating this workplace from more conventional ones is that it doubles as a showroom for Makhno's homeware. As a designer, he is primarily interested in materials, and when talking about his favourite ones, he doesn't limit himself to one or two: "Concrete, stone, glass, copper, bronze and various types of wood". In other words, Makhno, who designs offices, hotels, restaurants and private houses in Kiev and Moscow, is an inveterate maximalist.
Also distinguishing this office from more common-or-garden ones is its cultural and historical mash-up of styles, brands and objects. Nowhere is this more apparent than in Makhno's private office, with its eye-poppingly busy interior: here there are Marc Newson's Felt chairs in a searing sulphur yellow, leather Moroccan pouffes, surprisingly trad vases of peonies, Makhno's own pendant lights, shaped like giant jam jars, and, most arresting of all, his rather kitsch collection of folksy, Ukrainian ceramic animal figurines (cockerels, bulls, horses) arrayed on a comparatively utilitarian shelving unit. When he's on holiday, his website says, Makhno likes nothing better than to dive into antique shops, and it shows.
Admittedly, there are some relatively sparsely furnished, office-like areas in this largely open-plan studio. Two of these have white desks and neat rows of computers, and the third is a meeting room whose seating – Konstantin Grcic's Chair One and Kristalia's Elephant chairs – is nevertheless stylish and eclectic. The only clue that workers get down to serious business here lies in the colours of the chairs, floors and bookcase, which are a sober grey and black.
When I spoke to him, via Skype, Makhno, a former karate coach, looked suitably flamboyant, wearing a dandyish pastel blue scarf, one sleeve of his navy jumper tugged back to reveal a long, elaborate tattoo. I asked him about his "zoomorphic ceramics" as he describes them. "I collect Ukrainian ceramics, some from the Trypillian culture [dating from c4800 to 3000 BC], others from the 1920s," he explained. "They're mainly from the Ukrainian cities of Opishnia, Lviv and Kosiv and were traditionally used to decorate weddings."
How does his studio's design compare with other modern offices in Kiev? "It's more adventurous; I'm trying to do something new here," he says. "My idea was to create a space that will inspire my team and clients. We want our clients to take on the challenge of embracing my bold experiments."
A slightly eccentric set-up perhaps, but Makhno sees it as an environment where, thanks to its "cosy kitchen, bathroom and lounge" his team can "feel as if they're at home, at a pleasurable place to work".
By extension, he thinks the studio encourages "good relations within his team, [and] makes them feel like a family". Incidentally, the lounge he mentions is, idiosyncratically and playfully, on a mezzanine level reached by a ladder. It's modelled on a Japanese teahouse, another illustration of the office's multicultural character (apparently, Makhno is an ardent tea-drinker and seems to want to convert his staff to its joys). The space is informal and carpeted, with floor-level cushions, a low wooden table (Makhno's own design) and a shelving unit made from reclaimed wood and brimming with the kind of wares you'd expect to find in an exotic bazaar: Chinese, Japanese and English teapots and china.
In conjunction with these cross-cultural elements, Makhno is also keen to promote local culture, namely "work by talented Ukrainian artists". In the reception, which is furnished with a decadently plush indigo-coloured sofa, stands a verdigris-patinated bronze sculpture of a human figure by Ukrainian sculptor Nazar Bilyk and a painting of a palm tree by Oleg Tistol.
In the main office areas just beyond this hang two white bas-relief abstract artworks, also by Bilyk. These spaces are illuminated by Makhno's own moody lighting – spidery pendant lights in the reception and quirky wall lights incorporating retro, reclaimed shades in the desked areas.
There is one obvious antidote – a kind of palate cleanser – to this interior's multi-layered aesthetic, which some might deem indigestibly rich: the comparatively stark concrete walls and floors (the latter are non-porous, waterproof and anti-bacterial, and were apparently made from the same material widely used in hospitals in Ukraine in the 1930s). There are other clean-lined features, too, including glass partitions separating several different areas. Moreover, according to Makhno, the office doesn't feel oppressive despite being cluttered, thanks to its soaring, 4m-high ceiling.
That said, while tempering Makhno's taste for the baroque, the concrete walls also provide a neutral backdrop for his rampantly eclectic collaging of styles. This approach first hits you in the reception where a floor-to-ceiling panel covered in plaster simulating beaten metal looms above the desk. Then, in the second office space, is a large panel made of hornbeam wood with a decorative grain and, beside it, a green wall planted with epipremnum (a luxuriant, evergreen vine) imported from the Netherlands. A small WC contains a black wall with a very on-trend, pixellated bas-relief pattern; on another wall is a vibrantly colourful mosaic, created by Makhno. What's more, the staff have their own bathroom, with shower area clad in white Calacatta marble and Dornbracht taps. Elsewhere there are panels covered in a render manufactured by UK surface-finish specialists Armourcoat. Made of lime putty and recycled Italian marble, the render has been used, on one panel, to mimic a topographical map of a mountain range.
The ultra-individualistic Makhno is ploughing his own furrow, fusing art, craft and architecture to create a highly sumptuous aesthetic. But he's also on a mission to persuade others to embrace his eclectic vision – and, while he's at it, to raise Ukraine's profile as a centre of art and design.