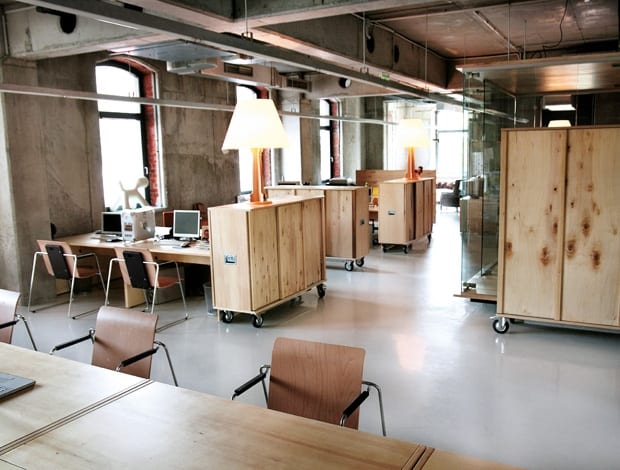 The plywood storage on castors comes in all shapes and sizes, and can be reconfigured to suit|Space for play means a ping-pong table and a climbing wall that can access neighbouring companies|Lamps and Chesterfield sofas contribute a cosy domesticity that contrasts to the industrial building|The company's logo is a hunting dog, so man's best friend makes several appearances around the office|Formerly the Romanian Stock Exchange, the building was refitted by architect Mario Kuibus before Corvin Cristian worked on the interior fit-out|The conference space is a room within a room – a plywood and glass box, with the approximate dimension of a shipping container, which seems to float above the floor||
Architect-turned-set-designer Corvin Cristian drew inspiration from wooden shipping containers to furnish an ad agency's Bucharest office space
Originally trained as an architect, Corvin Cristian has spent the last ten years working as a set designer and art director on movies and productions in Romania and London. Advertising agency Headvertising came to know him through their crossover work on commercials and corporate events, and when it came to their new office, they decided not to hire an architect who had only worked in interior design, but someone 'in between' who might have a different take on the space they had secured. Cristian was that in-betweener.
"It's on the first floor of the building that used to shelter the Romanian Stock Exchange," says Cristian of Headvertising's newly created headquarters in Bucharest. "The building had been derelict for years but was then beautifully revamped by a team led by architect Mario Kuibus."
The original 1900 redbrick facade, all that's left of the original building, has been reinforced inside by concrete walls.
"Headvertising liked the bare concrete, but were concerned about its 'coldness'", says Cristian. "They wanted an intervention that would keep the sincerity of the building, but add warmth and character. I pitched for the job alongside other architectural practices, but I think they were drawn to my background in set-making."
He explains of his concept, "There was every chance this was a space that could be over-designed, something I wanted to avoid. I looked at a lot of advertising agencies, all of which were trying to do something spectacular, all trying to achieve the 'wow effect', as if to suggest an overspill of creativity. I wanted to stay away from this, and incorporate core concepts of the company, such as its efficiency, into the design."
Cristian's first concern was the agency's need for space. "They had stacks of files left over from old campaigns that they needed to keep. But anywhere where you tried to put a room for storage just wasn't a good use of space." The more configurations he experimented with – closing off areas to form different rooms and cupboards – the more he became determined to maintain the open-plan environment that the space offered.
This is when the idea came into play of using volumes based on shipping cases. Cristian was drawn to the idea after attending an international car fair, and watching the trucks unloading their packed-up pavilions in hundreds of plywood shipping crates, all on wheels, sealed, rough and stamped with their former destinations and owners: Geneva, Tokyo, Dubai, Paris, Volvo, Daimler, Porsche.
"Although they are simple, functional objects, for the protection of valuable contents, after all the pavilions were erected and the crates removed, I thought they were more beautiful and intriguing than their load," he says. Cristian developed his ideas in close conjunction with a bespoke furniture manufacturer. "There were a few prototypes that we worked with," he explains. "Initially, I think we imagined them very obvious – more rough and ready, with red and white tape, and 'handle with care' stickers – but slowly we moved away from this, to something less obvious. The idea was still there, but it didn't need the overstatement."
"There was every chance this was a space that could be over-designed. I wanted to incorporate core concepts of the company, such as its efficiency"
While they also provide storage for filing, the collection of cubicles – some made of thicker wood, some narrower, higher, taller or squatter than others – create a physical layout for the office without completely blocking off space. Each case is on castors, and can be moved freely around the office. "It's not an office that people will reconfigure every day," Cristian says, "but it gives that inbuilt flexibility; the arrangement that is in there now, for example, is very different from the one we had in mind at the beginning."
The cubicles are designed to be accessible, and look good, from all sides, and not be hidden up against the wall. Since moving in, people have moved them into spaces where they create a comfortable degree of privacy around their desks.
"In a creative environment like this, people don't like to feel too exposed, or that everyone can look over at their computer screen," says Cristian. "Of course, this can never be achieved 100 per cent in an open space with 45 people, but it can be helped."
As well as creating storage space, the plywood casing bought a warm contrast to the resin floor and concrete walls that were already in place from the refit. "Lots of different ideas were put forward to bring warmth to the space: painting the whole floor yellow, using shock colours," says Cristian, "but there are a lot of different ideas of warmth. I was keen to use texture and natural materials. Little domestic elements, like the plywood lamps and the leather Chesterfield sofas, were enough."
The wooden and ceramic dogs dotted around the office on window ledges and crates add a further touch of domesticity: they're there because the logo for the company is a hunting dog ("there was a whole collection of them in storage").In the centre of the space is the agency's conference room. Modelled on the dimensions of a shipping container, but with glass walls and a plywood base, it is impressive but not overbearing, and does not dominate the overall space.The conference room sits 20cm above the floor, and its roof hovers below the high ceilings.
"The structure that holds it in place is all recessed, and because you don't see the support, the room appears to be floating," says Cristian. "It's nice to be able to elevate people when they have meetings."
The room also has an arrangement of tall crates around it, which "makes the space semi-transparent; it creates an ethos of open communication within the company, without making people feel exposed when they are inside it."
The building houses three floors in total, and two other companies: a concrete climbing wall, next to the ping-pong table, allows employees to climb up to their neighbours' office. "It's funny seeing two people playing ping-pong, while someone else, harnessed up, climbs up the wall behind them," says Cristian.
Further inspiration for the project came from looking at offices around the world: "I saw how the offices of TBWA in San Francisco Bay, by Marmol Radziner, used curved plywood to suggest a ship's ribs, which recalled the building's maritime history. This project is very different, but it uses plywood to bring warmth to an industrial building in a similar way."
Headvertising's office is unique for Bucharest, and for Romania: "You wouldn't normally find this kind of office space in the city." However, there is nothing extravagant or over the top to give away the filmic background of the architect behind the project, and Cristian admits that "I enjoyed working on a space as an architect rather than a set designer."
Recently, however, the office has been scouted as a location for the filming of a new TV series, Efect 30 – the Romanian take on Sex and the City, based on a group of 30-somethings working in advertising. The irony of this is not lost on Christian: "It's funny," he says, "in an attempt to move away from movie sets, I've accidentally ended up designing for television."