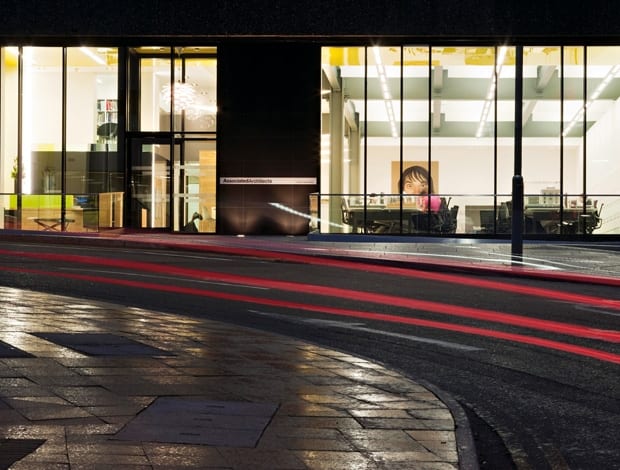 The inner workings of the firm are visible from the street|Bits of recycled floorboard from the neighbouring Polo outlet were used on the bespoke reception desk and partial height wall division e|A sculptural stair to the mezzanine is also the library|A key part of the brief was "no more mess", so plenty of storage was incorporated into the scheme|The studio is set up in four teams. Personal belongings are kept in "hot boxes" so, in theory, people can move from desk to desk||
Birmingham-based Associated Architects cleans up its act in a building it designed ten years ago
Out of Birmingham New Street station, around the corner and up a hill, past a monolithic shopping centre called the Mailbox, one will find the home of Associated Architects. On a dark day, its shop front window is a beacon from the top of the hill – a road that isn't particularly bright and inviting but sets the scene for this newly vamped space to stand out from the crowd. It's a canny rental location for Associated because the building (part of the wider Mailbox development) was originally designed by the firm in the late 1990s.
"We were always aware that the ground floor of this building had never been fitted out and had been used for temporary art installations," says director Matt Goer, who is refreshingly candid about the decision to move.
"We were really cramming people in to our old office, it was awful. There was no real storage or break out space, or even a place where people could get a cup of tea and make a sandwich. It was a just a tip – it was embarrassing," he chuckles. "As architects, we're meant to convince people we'll provide them with a nice building or interior or whatever. But when it came to our own office, people were kind enough to say it was a 'creative environment', which actually just meant 'it's a disaster'."
So as the lease on the old office expired, and as the company swelled from 20 to 55 people – Associated moved to its fourth location since establishing in 1968.
"We felt it was time for a fundamental change from the way we've worked in the past. Actually changing premises and workstyle all at the same time," he says.
The main benefit of having designed the base building a decade ago was that Associated had already carried out studies to help other tenants in the building, such as the BBC, explore the best ways of fitting it out as an office space.
"It was all out of coincidence really," says Goer.
The other plus was that this segment of the structure has its own front door to the street (instead of having to go into the mall). There is enormous height – six metres floor to floor – and a structural grid of twelve metres, which provided huge, airy spaces for the architects to work with.
"The general idea was that we'd have one space dedicated to computers and also a range of spaces where you can go off and hold meetings – from formal meeting rooms to groupings of furniture in a corner so staff have flexibility to work where they want to," says Goer.
The core studio, visible from the street, is arranged in four sections of bench desks, which – although lovely Knoll Plateau numbers – is dangerously close to feeling like a football pitch. The mini break-out spaces dotted along the side, the yellow Barrisol ceiling detail, and the Modular and Artemide light fixtures help to overcome this. Acoustics are kept under control with perforated plasterboard around the periphery, which was necessary because of ceiling heights. Very little architectural work was done in this area, says Goer, except for the addition of a sculptural metal staircase (with inset bookshelf in lime green – a good idea) leading up to a mezzanine spill-over meeting room.
"The general idea was that we'd have one space dedicated to computers and also a range of spaces where you can go off and hold meetings"
In theory, staff can move around between desks because personal belongings are locked away in 'hot boxes' and stored in customised KI locker units.
"That was underpinned by the aspiration to have a wireless environment, which was slightly idealistic," says Goer.
Human nature means people still tend to sit at their usual desks but the option is at least easier than it used to be.
"You don't have clutter so it is more likely that people might move around than if they have a little pile of books or pictures of their kids," he adds. In fact, storage was a key element of the project – a full wall of paper storage now tidies away the unsightly mess that could be found in the last office.
Toward the back of the space, a break out area with galley kitchen provides to hold small design briefings or grab a cup of tea. A wall raises and lowers from the adjacent meeting room to make a larger space for company meetings. Goer also wanted the fit-out to be as green as possible by way of heating/cooling systems and using sustainable materials. The most visible of these is a dividing wall of reclaimed timber flooring stripped out of an old Polo outlet in the mall.
The partial-height wall is multipurpose: it divides the studio from reception; it creates a corridor where the company's work is displayed; and it forms an alcove where architects can quarantine pushy sales reps near the front door. (Genius!) A lot of glass needed to be put into the external envelope due to lack of natural light, however, which was a challenge in terms of heat loss.
It's clear that a lot of love went into the design. The black glass panel and mirrored wall of the corridor (into the meeting rooms) was inspired by a cigarette case from the 1930s once owned by Goer, for example. Onoffice's favourite feature by far is the animated photo-realist pastel artwork at the far end of the studio. The panicky expression of its subject seems apt in a room full of architects, beavering away.